Air Force docuseries premieres Thursday, offers 'raw' look at basic training
by
Rose L. Thayer
Stars and Stripes
October 26, 2021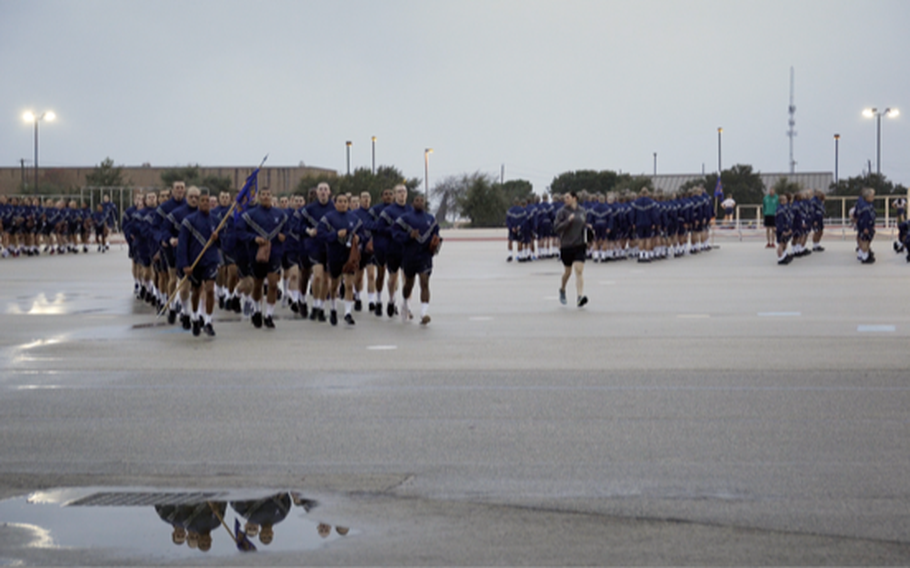 As Emma Lollar prepared for Air Force basic training in 2019, she spent hours scouring the internet for what to expect once she arrived at Joint Base San Antonio-Lackland in Texas.
Lollar said she found plenty of people offering advice in video blogs and many personal stories, but outside of marketing videos, there was no actual footage of what would happen during the nearly eight-week program meant to turn her from civilian to airman.
"I was just trying to be as prepared as possible and, honestly, just to get myself excited to go. The day that I left, I was ecstatic," said Lollar, now 21 years old and an airman first class.
Meanwhile, Ken Raimondi, an Air Force veteran who now works as a producer and director for the 3rd Audiovisual Squadron at Lackland Air Force Base, also saw this void in content about basic military training and decided to pitch an idea. He proposed a documentary that followed the experience of trainees from beginning to end, capturing the typical physical training shown in marketing videos but also the mundane and human experience. He wanted to show the hours spent folding socks, life inside open bay housing with dozens of other people and what it's truly like being yelled at by instructors.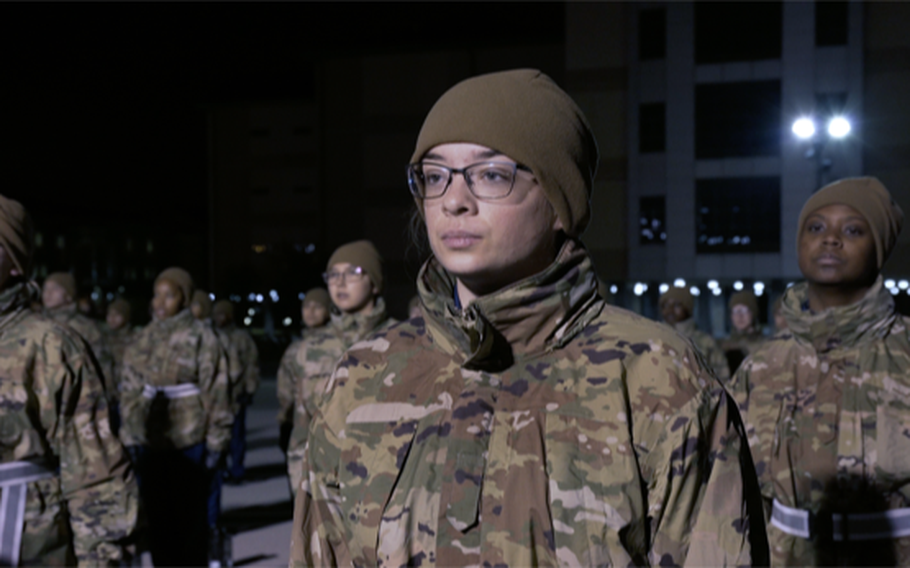 During the years, the Air Force hasn't released much about nuances of basic training, so Raimondi said he was surprised when he got the green light on the project. The result is an eight-episode docuseries titled "Basic." It premieres Thursday on YouTube on the official Air Force recruiting channel and it will roll out one episode a week for a combined 5.5 hours.
"I'm excited to provide this unique look into the journey America's sons and daughters take as they become airmen in the world's greatest Air Force," Chief Master Sgt. of the Air Force JoAnne S. Bass said in a statement about the series. "Their service to our Air Force and nation has never been more important, and seeing our military training instructors in action as they develop these airmen to fulfill those roles is motivating to say the least."
Lollar is one of five trainees who offered to be followed by cameras six days a week for 12 to 18 hours a day during an experience where success wasn't guaranteed.
"A very interesting thing you'll see in this documentary is how people's opinions of what takes place changes as it goes on," Raimondi said. "[It's] important to watch somebody go through it and express exactly how they feel about it at the time."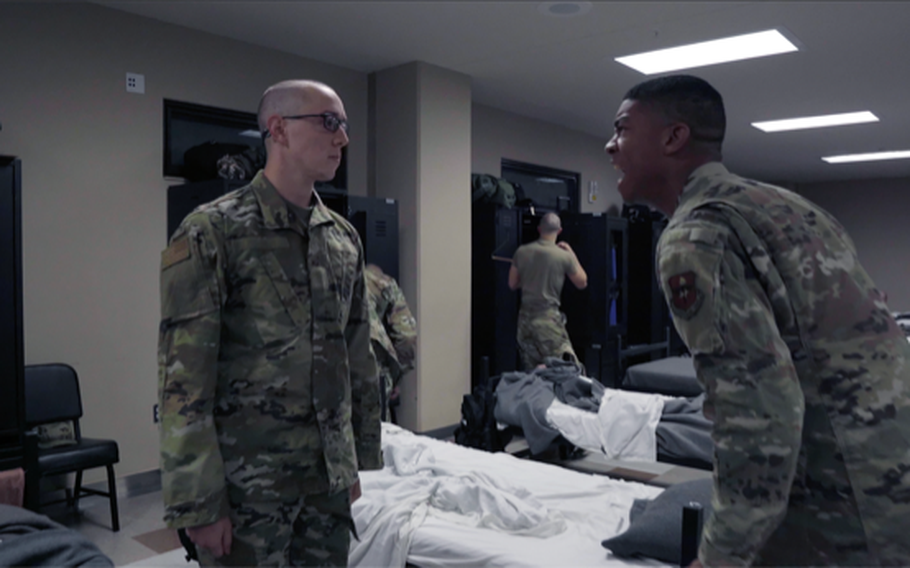 'Once-in-a-lifetime opportunity'
Every week, about 600 people arrive at San Antonio on a Tuesday to begin their Air Force or Space Force journey the following day. In total, that's about 35,000 trainees each year, with about 96.4 percent making it to graduation, according to the 737th Training Group, which oversees basic training.
"They go from a group of individuals to a functioning team. That really is amazing," Raimondi said. "They get there because they are forced to live together in a dormitory and accomplish group tasks. If they don't all work together to accomplish those tasks, there are consequences to that. Basic training is set up to be an environment where they can fail safely, so that when they get out into the real world, into the real Air Force, they don't fail when lives are on the line."
To find the five who he would follow, Raimondi put a call out to recruiters to find people scheduled to arrive for basic within a certain time frame and were willing to have cameras embedded with them for the entire training process. He narrowed his responses through interviews and an effort to capture a variety of backgrounds, geographic locations and Air Force job aspirations.
Lollar said she was intrigued from the moment that she heard about the project.
"I honestly, really truly hope that people looking to join the Air Force will watch it because I feel like there's so much that you can take from it," she said. "It's so honest. We were never prompted to say anything or be biased towards anything or sound good. It was completely raw emotion."
Raimondi and his crew of three airmen spent six days a week following the trainees. They began filming in October 2019 in each trainee's hometown and wrapped with their completion of basic training in January 2020. They took hundreds of hours of video, said Raimondi, who edited the footage down into the final series.
Lollar, whose mother served in the Air Force, enlisted from her hometown of Springfield, Mass., after her first year of college. She agreed to participate in the docuseries to give others enlisting something to see before they show up at basic training. While she arrived with full knowledge that the crews would be following her every day, the other women in her training unit, known as a flight, had to adjust to the constant presence of cameras.
"It became like second nature. Sometimes, it was a challenge for some of the girls to have a crew around listening to our conversations," she said. "Overall, everybody is pretty excited. … it's a once-in-a-lifetime opportunity for every single one of us, not just the few of us who got the camera time."
The human aspect
The instructors working with the trainees also inadvertently became stars of the series.
Tech. Sgt. Matthew Rice and Master Sgt. Phillip Lowery, basic training instructors who are featured in the series, said they were happy to be involved, even if it meant that their own mistakes could make it into the final version and face scrutiny on social media.
"[People] don't want to see heavy editing. They don't want to see only the cool highlights. They want to see the ups and the downs and the highs and the lows of something. That's what makes life great and what it is," Lowery said. "I think it's something that needs to be required."
The instructors said they always ask trainees how they prepared for basic training, but they said no one can really be completely prepared for the human aspect of it. When that many people live in an open bay together, "you're going to have to learn how to deal with people," Lowery said.
Even in the isolation of basic training, life happens. During filming, someone in the flight got a letter with bad news. That happens, Lowery said, and trainees have to learn to work with someone that they heard spend the entire night crying in the bed right next to them.
"Not only are we getting a solid piece of work to reference or to be entertained, but you're actually seeing real people going through real things for an extended period of time through basic military training," Rice said. "What [the trainees of the series] are doing, I think is honorable. I believe that it is something that shows leadership characteristics."
As for instructors, Lowery said the series shows a true portrayal of them, as well – something the public might have only seen in movies, which creates stereotypes.
"In this game, there's no defeat," he said. "My biggest thing is just the positivity that we try to exude, so that when we push flights, we can hopefully get a higher caliber of individual coming out that not only meets the Air Force basic training standard, but also has a high value of themselves when they come out due to how positive we are."
Though Raimondi's project had to be cleared through various levels of command, he said there was only one instance where someone recommended he cut anything. One scene included a jody, or a cadence sung in formation, that instructors had stopped using in the two years since filming. Raimondi trimmed it out.
The final product, he said, is a "time capsule of five individuals and their journey through basic training."
As Lollar's experience is set to be public, she said she isn't nervous, she's excited. She can already see how much she has grown in the two years since filming began.
"Whenever I'm a master sergeant or wherever I get to, I can show my younger airmen, or if my children decide to do it," she said. "I think it would the coolest thing to be able to show when I'm like 20 years older."