An extreme and potentially 'historic atmospheric river' is battering California
by
Matthew Cappucci, Diana Leonard and Jacob Feuerstein
The Washington Post
October 24, 2021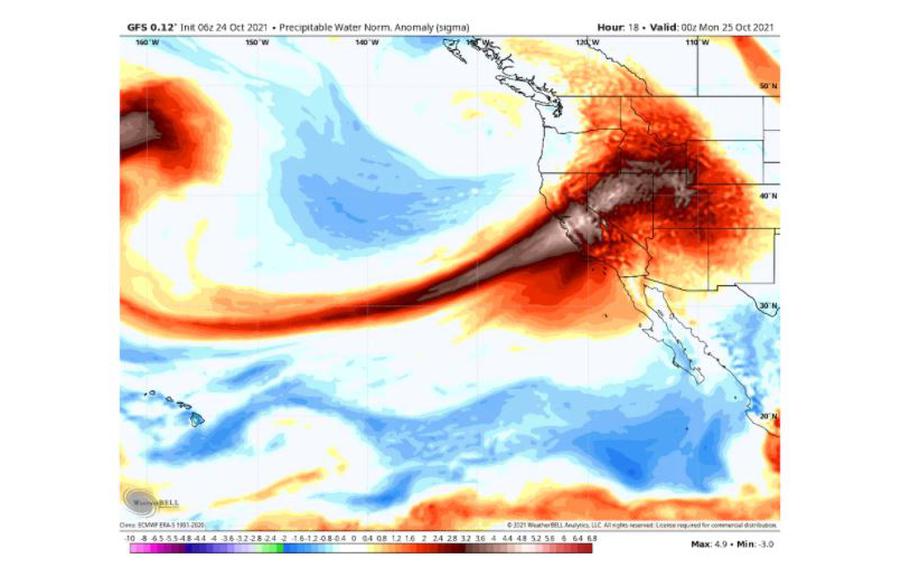 Amid an exceptional drought that has wrought havoc on California for years, a Level 5 out of 5 atmospheric river is soaking the region, dumping double-digit rainfall totals and up to 6 feet of mountain snow. This heavy precipitation will help ease the drought but produce dangerous mudslides and debris flows in areas recently devastated by fires.
Atmospheric rivers are long, narrow swaths of exceptionally moist air, sometimes sourced from the tropics, that can produce excessive amounts of precipitation.
"It will be a wild 24 to 36 hours across northern California as we will see an extreme and possible historic atmospheric river push through the region," wrote the National Weather Service in Sacramento, calling it a "dangerous, high-impact weather system."
Flash flood watches are up for most of Central and Northern California, blanketing some of the same areas that went upward of six months without a stitch of measurable rain. Sacramento recorded its first 0.01 inches of rain last week since March 19, capping off a record-setting 222 days without precipitation. Now it is bracing for more than half a foot of rain and flooding.
A rare "high risk" of excessive rainfall has been hoisted for parts of Northern California. The National Weather Service is referring to the potential for "life-threatening flash floods and mudslides." The threat is maximized over burn scars left by wildfires since 2018.
Parts of the Pacific Northwest could see a marginal risk of tornadoes and severe thunderstorms, too, a rarity for that part of the world. Strong, gusty winds will pervade even outside of thunderstorms, particularly in the higher elevations, where extreme snowfall is expected. Parts of the Sierra Nevada will measure snow by the foot.
Along the coast of the Pacific Northwest and as far south as Northern California, winds may gust up to 60 mph while waves along the shoreline top 20 feet.
The offshore storm system instigating the deluge is also setting records as an exceptionally intense "bomb cyclone," with minimum central air pressures that could rival those of Hurricane Sandy in 2012.
- - -
On Sunday morning, the parent storm system was located about 600 miles due west of the Washington-Oregon border, low pressure swirling a rich stream of moisture from the tropical Pacific north of Hawaii into the California coastline. Moderate to heavy rain was located from just north of San Francisco and Modesto all the way to extreme-northern California, with a nonstop stream of drenching moisture continuing to charge ashore.
Weather models indicate that the atmospheric river will remain aimed at the Bay Area before thinning and sliding down the coastline on Monday.
Atmospheric rives are rated on their integrated water vapor transport, or a measure of how much moisture they are transporting over a given distance. Nearly a ton and a half of water is moving over every one-meter cross section of the atmospheric river each second, which makes this event a Level 5 on the scale devised by the Center for Western Weather and Water Extremes in La Jolla, Calif.
Atmospheric rivers carry most of their moisture at the mid-levels of the atmosphere, meaning the greatest rain and snow totals will be in the higher terrain. Rainfall rates could top an inch per hour, with snow falling at nearly six inches per hour above the freezing line.
- - -
Impressive and, in some spots, problematic rainfall totals are on the way for Northern and Central California just days after slightly tamer atmospheric rivers laid the groundwork for flooding. Up to 1.39 inches fell on Amador County east of Sacramento on Saturday, but the real rain didn't pick up in areal coverage or intensity until very early Sunday.
Downtown San Francisco saw roughly two inches out of the first set of atmospheric rivers, quadrupling this month's performance compared with an average October.
There's a decent chance that Oakland sees a record "PWAT," or Precipitable WATer value, in a Sunday weather balloon launch. PWATs describe column-integrated moisture, or how much water is present in a column of atmosphere.
A general five to eight inches of rainfall is expected in the higher elevations of the Coastal Ranges with up to a foot possible in the Sierra Nevada. The lowlands of the Central Valley may see comparatively lesser amounts, generally between two and five inches, but that's still remarkable considering the recent half-year spate of no rainfall. The National Weather Service in Sacramento is forecasting half a foot there.
Already, as of early morning Sunday, Mount Tamalpais, just north of the San Francisco Bay area, had received 6 inches of rain as the atmospheric river moved in.
The same moisture could translate to more than four feet of snow in the Sierra Nevada, mainly at elevations above 8,000 feet. Below that level, mostly rain is expected; however, the rain may change to snow before ending on Monday down to about 5,000 feet in elevation. Near mountain peaks, winds could gust up to 60 to 100 mph.
- - -
The Weather Prediction Center issued a "high risk" of excessive rainfall and flash flooding in the northern Sierra Nevada on the "upslope," or west-facing side. That's where moisture-loaded air will be forced up the mountains, cooling, condensing and ridding itself of humidity.
The National Weather Service has cautioned that there's a moderate risk of mudslides with this system, particularly in the mountains.
The ground in California is mostly starved of moisture and can more efficiently manage rainfall, a small token of good news. That said, intense rainfall rates in the heaviest bands, which may also include some thunder and lightning, could overwhelm soils and quickly brew concern.
- - -
Given the widespread heavy rain and predicted high rain rates, the risk of debris flows in areas recently affected by widfires is high. A combined 6.7 million acres have burned in the past two years, much of that in Northern California.
The threat remains greatest for the Dixie and Caldor burn areas because of the recent and severe nature of the fires, the steep terrain and forecast extreme rainfall overlapping with the fire footprints. While many of this year's fires did not burn near densely populated areas, small and remote communities are at risk, as are transportation corridors, such as Highway 50 near the Caldor Fire.
On Sunday morning, the Weather Service in Sacramento issued a flash-flood and debris-flow warning for the Dixie Fire.
"We are getting reports of debris flows within the Dixie Burn Scar area especially impacting Highway 70 from Jarbo Gap to Greenville," it tweeted.
Mudslides and debris flows are still possible on areas burned in the 2020 wildfires, including those in the San Francisco Bay area and on the Central Coast. The Weather Service in Sacramento has issued flash-flood watches for fires dating to 2018.
Jason Kean, a research hydrologist with the U.S. Geological Survey, called some of the rain rates forecast for Sunday "concerning" in terms of the likelihood of initiating mudslides and debris flows.
He also said that the vast area burned by wildfires in Northern California presents a particular challenge because the process is less well understood there than it is for Southern California, where debris flows that follow wildfires are historically much more common.
"This just exposes huge terrain that we didn't have before," he said.
With the forecast impacts escalating in the last few days, weather offices have stepped up messaging for Sunday's storm. Officials have issued evacuation warnings, asking residents of several counties to prepare to evacuate. Preemptive evacuation orders have been issued in parts of Santa Cruz and Santa Barbara counties.
Having a storm of this magnitude so early in the season means that there has been less time to assess and plan for post-fire hazards. Recently burned slopes are also more susceptible to flooding and erosion.
Amy East, a research geologist with the U.S. Geological Survey in Santa Cruz was in the field studying the Dixie and Caldor fires last week. "The early timing of such a major storm means that the 2021 burn scars have had very little opportunity yet for vegetation recovery," she wrote in an email. "The Dixie Fire is still smoldering, and that area is showing only the very beginning of plant regrowth."
- - -
The storm offshore of the Pacific Northwest driving this atmospheric river into the coastline is rapidly intensifying at a staggering rate. Meteorologists refer to a storm as a "bomb" if its minimum central air pressure drops by 24 millibars or more in 24 hours, signifying intense and speedy "deepening." That sucks in more air and allows the storm to intensify.
This particular storm may strengthen at twice that rate as a "double bomb" with its pressure tanking to just above 940 millibars, which, according to the Weather Service, would make it "the strongest known system for the area."
Over the mainland United States, such low atmospheric pressure is practically unheard of. Even on the East Coast, where cyclones regularly strengthen into massive nor'easters, pressures seldom fall this low. The powerful March 1993 "superstorm," among the most intense and damaging storms ever to strike the United States, bottomed out at 'only' 960 millibars.
This Pacific storm's air pressure may drop nearly as low as Hurricane Sandy's in 2012, which dipped to 940 millibars.
Along the West Coast, monumental low-pressure systems generally weaken before landfall; this storm will be no exception. That being said, a 963 millibar pressure was recorded in coastal Washington during a destructive December 1995 event; while weaker than Sunday's Pacific low, the 1995 storm's proximity to land allowed it to cause tremendous damage.