30 Afghan orphans are Colorado bound after traumatic escape
by
Carol McKinley
The Gazette
October 24, 2021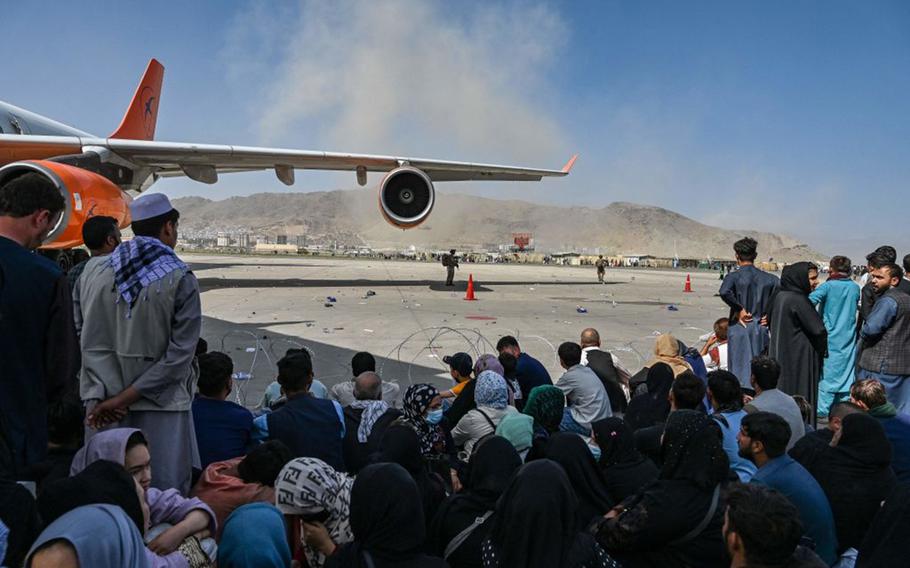 COLORADO SPRINGS, Colo. (Tribune News Service) — Thirty Afghan orphans who somehow survived the chaotic exit from Kabul airport, in addition to months of uncertainty traveling alone, are headed to Colorado.
Denver Human Services says it's the biggest influx of parentless kids the organization has seen in recent memory.
"We aren't sure of the details as to how they became unaccompanied," said DHS Unaccompanied Refugee Minors Program Manager Tamara Smith. "Some parents sent their kids to the U.S. and stayed. Some of the children's parents are dead. A lot of them come with significant trauma."
Smith said that the best-case scenario for the young refugees would be for them to be cared for by people in the Afghan community. If DHS can't find enough Afghans to take the children in, she advises any non-Afghan potential foster parent to be aware of cultural differences like religion, food and language.
She acknowledges that DHS is entering the situation blindly, as the organization doesn't know if the children speak English and is unaware of the male-to-female ratio and how badly the youth have been traumatized by the war.
"Most of them are teenagers," she told The Denver Gazette. "There aren't many 2-year-olds."
The most recent numbers show that 360 unaccompanied and separated Afghan children have been registered in Doha and Ramstein, Germany air bases, UNICEF's Nina Marie Costa told The Gazette. Of those, 150 children have left for other countries, including the 30 headed for Colorado. UNICEF reports that it is currently working to reunite any children with their parents if they are still alive.
The orphaned child evacuees will have refugee status, and DHS has been told they may be coming sooner rather than later, Smith said.
Though many of the up to 2,000 Afghan evacuees expected to resettle in Colorado are intact families with a mom and dad, there are also heartbreaking cases, The Gazette has learned, including displaced pregnant women and elderly. In addition, the city and county of Denver is working with state and federal partners, as well as local resettlement agencies, to fill the gaps, including locating permanent housing, job placement and medical care.
After months of living on borrowed time, one Afghan family's first taste of freedom was peanut butter and jelly sandwiches in a 15-passenger van, courtesy of his American sponsor and former battle buddy.
Matiulah, his wife, Aziza, their seven children, ages 2 to 11, and his brother are headed to Lafayette in Boulder County after a five-week vetting period at Holloman Air Force Base near White Sands Missile Range in Southern New Mexico. (The Gazette has agreed to not to use the family's last name for security reasons.)
Matt, as soldiers called the interpreter during wartime, hid in a water tower as the Taliban looked for him, intent on punishing him and those he loved for his work with the U.S. He began working on his special immigrant visa last year with a former Army lieutenant when COVID forced him to close a cellphone store he owned on an Army base in the Eastern Province. That lieutenant —now Maj. Chris Liggett — personally drove the family via a 15-passenger van from Southern New Mexico to El Paso, where they caught a flight to Denver Thursday.
The special visa that enabled Matt, his wife and children to enter the U.S. was created for hundreds of thousands of Afghans who assisted the U.S. military effort in the 20 year Afghan War.
His brother has a different type of visa based on humanitarian parole, created as part of the Immigration and Nationality Act. Humanitarian parole allows immigrants to temporarily enter the U.S. either because of an urgency or because their being here offers a special benefit to society.
Refugees hoping for humanitarian parole must have an American sponsor in order to be eligible. Recently, The Gazette highlighted the generosity of a Colorado Springs veteran who opened his home to a stranded Afghan woman, offering to be her sponsor.
Recently, however, Paul Studdard told the newspaper that he has changed his mind about sponsoring 30-year-old Fahemeh Amini.
"As much as I would like to help, I will not sign that form," wrote Studdard in an email. "This is what happens when good intentions collide with bureaucracy."
The bureaucracy Studdard referred to is a requirement to deposit a bond if the immigrant becomes a public charge. Further, signing the form gives the government the right to sue the sponsor if the immigrant applies for and receives government benefits like food stamps.
Several immigration experts who spoke with The Gazette said Studdard's hesitance is not uncommon; however, a law just three weeks old may warm more sponsors to the notion of coming forward.
On Sept. 30, when President Joe Biden signed a continuing resolution that extends fiscal year 2021 government funding levels through Dec. 3., he included a provision that gives humanitarian parolees refugee status, which no longer makes it illegal for them apply for government benefits.
Denver immigration attorney James Land says that this development nearly guarantees that there is no chance the government will make sponsors subject to lawsuits or bond deposits.
"The concern that people like Paul might have has been greatly reduced by this new eligibility for refugee benefits. It's huge," Land said. "There's legal liability, but is there a hook for that to become a reality? Probably not."
Land has been working pro bono untangling legal problems for Afghan refugees since the fall of Afghanistan because many of them don't have money.
"My perception is, whether or not we needed to get out of Afghanistan, we pulled the rug out from under people and that's on us," he said. "I felt like we have a duty to help in some small way."
Wahid Omar, an Afghan American volunteer, said sponsorship is a commitment some people are not prepared for.
"Sponsorship should come from the heart, and people must be willing to do whatever it takes. If you don't have commitment, then don't come forward," he said.
Maj. Chris Liggett, who met Matt in 2014 when he was a 24-year-old lieutenant, has been the catalyst for his former interpreter's evacuation, arranging for special immigrant visas and organizing an escape route that involved an Alabama Marine he didn't know, mysterious WhatsApp messages and secret airport gates. He has no reservations about sponsoring a war buddy who got him through the many dangerous scrapes that came with his job guarding gates at an American base in Afghanistan's Eastern Province.
"I'm so deep down the rabbit hole, I'm not hesitant at all," said Liggett. "When we saw Afghanistan falling to the Taliban, veterans felt helpless because we'd been invested for so long and we were watching it crumble."
This weekend, Matt and his family will rearrange the pieces of an abandoned life to begin a new one. One Boulder resident donated a $600,000 home, and the kids will enroll in school with notebooks, new backpacks and winter clothes, all courtesy of the generosity of hundreds of people who watch a Facebook page called "Boulder For Afghanistan."
In response to the need, Liggett formed the OEF Resettlement Project, an all-volunteer, mostly veteran team committed to help Afghan refugees.
"The way this story ends is we did the best we could when the government fell," Liggett told The Gazette as he assessed the peanut butter shelves at a New Mexico Walmart ahead of the reunion with Matt. "But in true American fashion, we figured out things we could do and we did it."
———
©#YR Colorado Springs Gazette.
Visit at gazette.com.
Distributed by Tribune Content Agency, LLC.