'Marine Corps taught me not to [mess] around': Veteran disarms robber during stick up at convenience store
by
Caitlin Doornbos
Stars and Stripes
October 21, 2021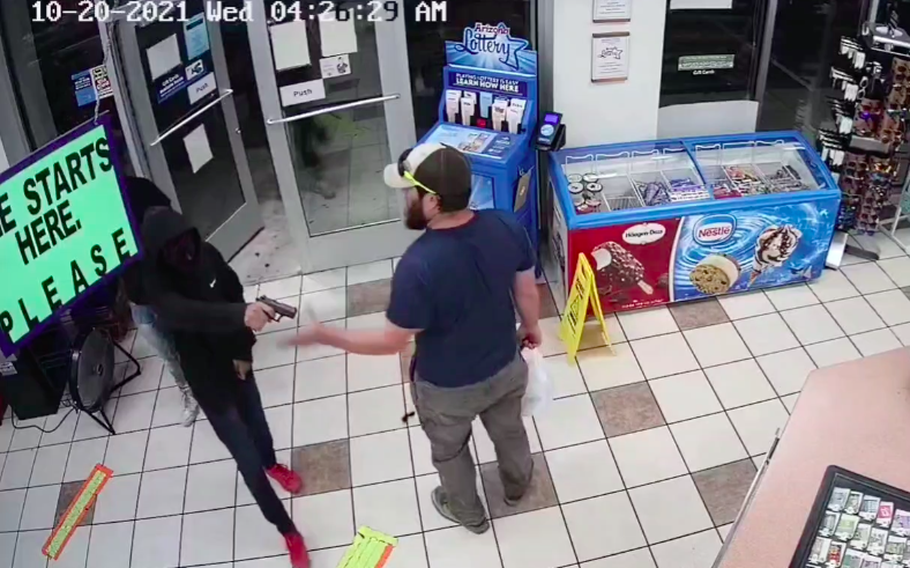 WASHINGTON — A Marine Corps veteran is being heralded in Yuma, Ariz., for his quick reaction in disarming a would-be robber Wednesday at a gas station convenience store, according to the Yuma County Sheriff's Office.
James Kilcer's heroics were captured in eight seconds of surveillance footage that show him standing with his back to the store's front door as two masked men — one with a handgun and another with a bag — enter the store. The armed robber immediately pointed the gun directly at Kilcer, who turned to see the two men.
The armed robber then turned the gun toward the cashier. That's when Kilcer quickly acted, grabbing the handgun. He then wrestled the robber to the ground and out of the camera's view. He also hit the man in the face with a bag of drinks, The Associated Press reported Friday.
"I guess I was just in the right place at the right time," Kilcer said, according to the Yuma Sun. "I was doing what needed to be done."
The unarmed robber and a third person not seen in the video escaped before police arrived.
"The customer was able to detain the suspect he disarmed until law enforcement arrived," the sheriff's office said in a statement late Wednesday. "No injuries [were] reported from any of the victims."
When deputies asked Kilcer how he was able to take control of the situation, he said: "The Marine Corps taught me not to [mess] around," according to police.
Kilcer served four years in the Marine Corps, rising to the rank of sergeant before separating in August 2011, Capt. Ryan Bruce, a service spokesman, said Friday. He was a tactical air operations technician and deployed to Afghanistan in 2010.
His awards and recognitions include the Marine Corps Good Conduct Medal, National Defense Service Medal and Sea Service Deployment Ribbon, Bruce said.
The incident happened at about 4:30 a.m. at a Chevron gas station, police said. An investigation is underway.
Kilcer, who works as a civilian employee at Army Yuma Proving Ground, told the Yuma Sun that the incident "was definitely not what I was expecting, but you always have to be ready for that kind of stuff."
The armed robber is a minor who was booked into the Yuma County Juvenile Justice Center on charges of armed robbery and aggravated assault, according to police.