Aid agencies regroup from Trump-era cuts as Afghan influx puts them to the test
by
J.P. Lawrence 
Stars and Stripes
October 15, 2021
Immigrant assistance agencies that were gutted under President Donald Trump are rebuilding on the fly amid the whirlwind resettlement crush from tens of thousands of Afghan evacuees.
Aid providers had been warning that the loss of almost a third of their local affiliates would hamper resettlement services should there be a crisis. Now that scenario has arrived.
"We expect to be resettling in one given week the number of refugees we would have resettled in a year," said Krish O'Mara Vignarajah, president and CEO of Lutheran Immigration and Refugee Service. "That is a significant ramp-up after the program hit rock bottom and was decimated during the prior administration."
More than 50,000 Afghans who fled their country need to be resettled. That is almost five times the number of refugees the U.S. admitted for resettlement during the last fiscal year.
This comes after more than 100 resettlement offices closed or suspended federal refugee programs over the past four years.
The Trump administration had told resettlement agencies that offices handling fewer than 100 refugees would no longer be authorized to resettle new arrivals, Reuters reported in 2018. The State Department said at the time that consolidation would reduce costs.
"There was a real downsizing of resettlement, and now there's a real surge to put sites back online," said Alicia Wrenn, senior director for resettlement and integration at HIAS, founded as the Hebrew Immigrant Aid Society. "Everybody's kind of scrambling a bit to try to meet the demand."
The Lutheran Immigration and Refugee Service, or LIRS, lost more than 100 employees during the Trump administration in response to the decrease in the number of refugees, Vignarajah said.
At the beginning of the evacuation, Vignarajah said she wondered whether resettlement organizations would have enough people to help refugee families with tasks such as picking them up from the airport and driving them to medical checkups. 
Immigrant aid organizations are hurriedly rehiring employees and renewing relationships with landlords and employers.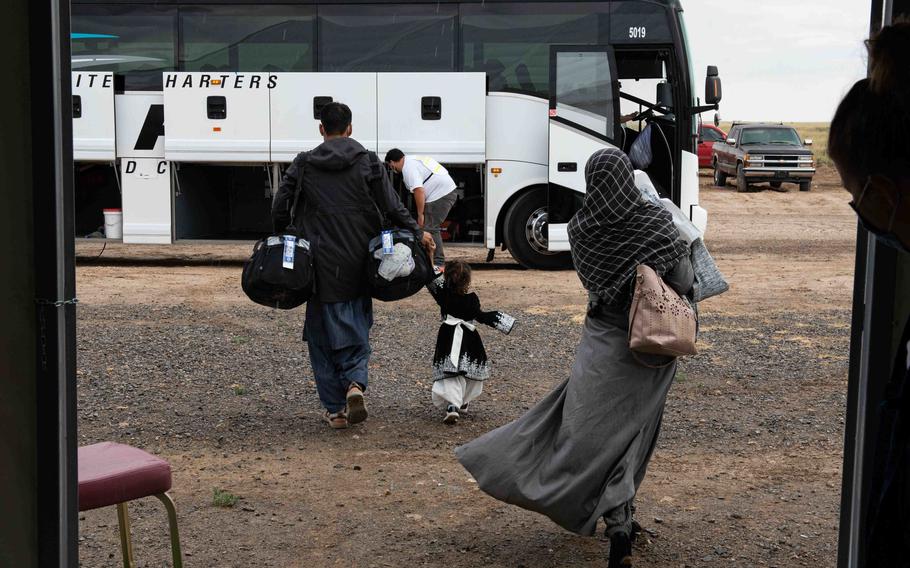 "Rebuilding those networks takes time," said Jennifer Quigley, senior director for government affairs at the advocacy group Human Rights First. "And there are fewer places within the U.S. where those networks exist, where we can bring Afghans into the communities."
The federal government assumes that resettlement agencies will "contribute significant cash or in-kind resources" to supplement U.S. government funding, according to the State Department's website. This is often done through partnerships with local charities. 
Nine private resettlement agencies team up with the State Department to assist refugees. These agencies work with local affiliates to greet refugees at the airport, provide initial housing, try to help them find jobs and enroll their children in school. 
The State Department provides the resettlement agencies a one-time payment of $1,225 per person to cover living expenses for refugees, such as rent. Agencies also receive $1,050 per person to pay for administrative costs.
The funds are supposed to help refugees during their first 90 days, but the money has "never been sufficient," Quigley said.
The search for housing poses a particular hurdle for Afghans resettling in the U.S. now. A nationwide housing shortage is driving up rent rates, aid agency employees said.
Refugees also lack rental or credit histories, and many face uncertain employment prospects. As a result, many landlords are hesitant to rent to them, with some currently asking for six months' rent upfront, Vignarajah said.
Advocates said they've been encouraging people to go to areas with lower housing costs.
Refugees also have access to the Supplemental Nutrition Assistance Program, commonly known as food stamps, as well as additional financial support after the first 90 days that is provided on a case-by-case basis.
So far, the public has been enthusiastic about helping Afghan refugees, many of whom worked with U.S. troops or government agencies, said Eskinder Negash, president of the U.S. Committee for Refugees and Immigrants.
The organization has received so many donations for Afghan evacuees that it had to rent another warehouse, and employers seem to be more eager to help than usual, Negash said.
Corporations such as Airbnb, Verizon, Walmart and Amazon have offered evacuees housing assistance, aid or jobs.
"The level of support, including employers, is overwhelming," Negash said.
---
---
---