For the first time in a century, visitors may walk along the Tomb of the Unknown Soldier Plaza 
by
Caitlin Doornbos
Stars and Stripes
October 14, 2021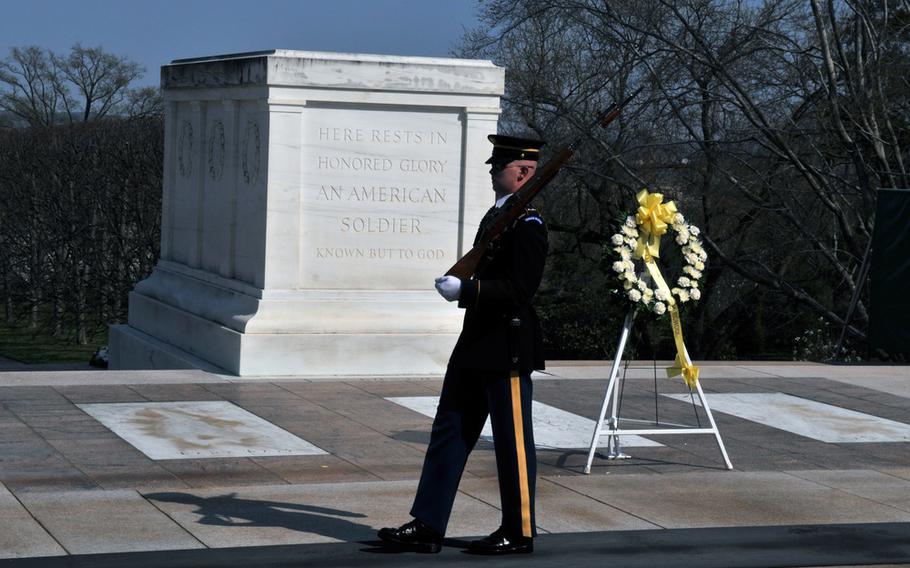 WASHINGTON – For the first time in a century, visitors may walk along the Tomb of the Unknown Soldier Plaza, an honor typically reserved for soldiers of the 3rd Infantry Regiment, Arlington National Cemetery announced Thursday. 
The event – designed to allow the public to lay flowers before the Tomb of the Unknowns – will happen from 9 a.m. to 4 p.m. on Nov. 9 and 10 to commemorate the monument's 100thanniversary on Veterans' Day, according to the cemetery's website. 
The tomb is traditionally guarded day and night by the "sentinels" of the 3rd Infantry Regiment, which is also known as "The Old Guard." Those soldiers are known for conducting the solemn changing of the guard ceremony, which attracts thousands of cemetery visitors each year. 
The tomb honors unidentified and missing troops and was created to hold the body an unknown soldier from World War I. Another two unknown troops from World War II and the Korean War were later interred at the site, according to the cemetery.  
A third from the Vietnam War was buried there in 1984, but he was exhumed in 1988 after DNA testing identified him as Air Force 1stLt. Michael Joseph Blassie. 
"The Tomb has served as the heart of Arlington National Cemetery. It is a people's memorial that inspires reflection on service, valor, sacrifice and mourning," the cemetery's executive director Karen Durham-Aguilera said in a statement.  
"As a sacred memorial site and the grave of three unknown American service members, the Tomb connects visitors with the legacy of the U.S. armed forces throughout the nation's history," she added. 
The event is free, but participants must register in advance at https://anctomb100.eventbrite.com, according to the cemetery. Visitors are encouraged to bring their own flowers to lay at the tomb, but complimentary roses, gerbera daisies and sunflowers will be available.