Idaho senator wishes Navy a happy birthday with photo of Chinese-made warship
by
Wyatt Olson
Stars and Stripes
October 14, 2021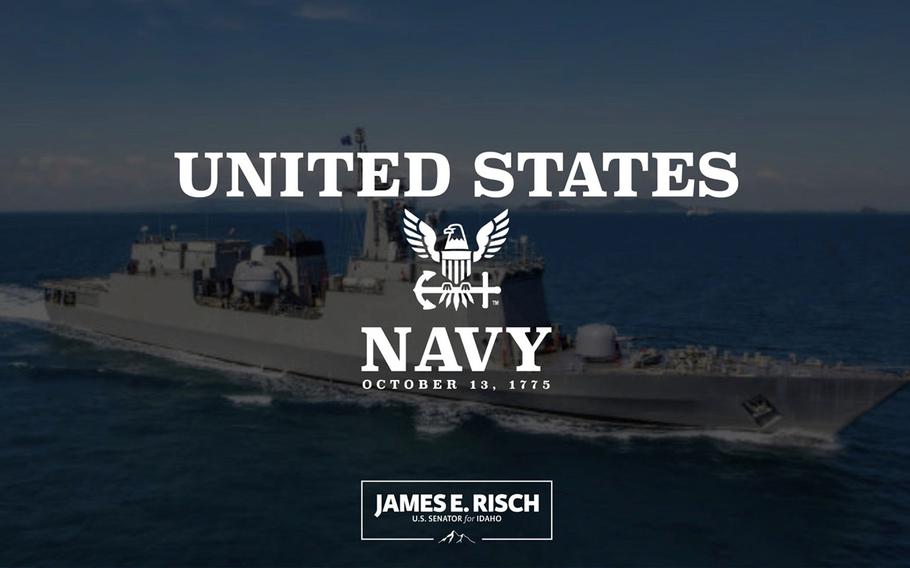 A U.S. senator's birthday greeting Wednesday to the U.S. Navy on Twitter turned out to be anything but happy after commenters noticed the photo of a ship accompanying the tweet was not one of the Navy's.
"For 246 years, the @USNavy has answered the call to defend America from threats abroad so we can remain safe at home," Sen. James Risch, an Idaho Republican, wrote. "Today, we celebrate them."
Below the message was the U.S. Navy logo over a somewhat shaded photo of a large, gray vessel.
"Not a U.S. ship," Dave Brown, defense editor at Politico, tweeted back. "Appears to be a Pattani-class offshore patrol vessel belonging to the Royal Thai Navy, which means in it was built by China."
Risch sits on the Select Committee on Intelligence and is the ranking member of the Committee on Foreign Relations.
"Purely a staff level oversight when creating a graphic, which was pulled down when the error came to our attention," said Marty Cozza, a spokesman for the senator, in an email to Stars and Stripes.
The photo and Risch's message were removed later in the day but not before taking some heat from the twitterverse.
"Is it really that hard for Congressional staff or consultants to Google photos of US ships?" a commenter by the handle of hammach asked. "This seems to be a frequent occurrence."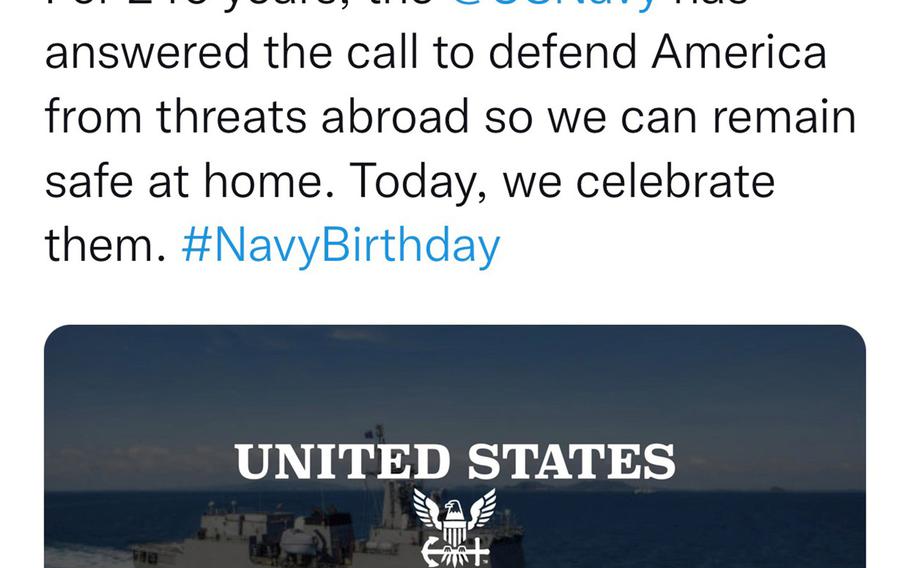 Well, perhaps not frequent but certainly not rare.
In October 2019, Rep. Brian Mast, a Florida Republican, posted a similar birthday greeting to the U.S. Navy that was accompanied by a photo of the Russian battlecruiser Pyotr Velikiy.
Commenters brutalized the tweet before the lawmaker's office deleted it.
On Wednesday, Brown apparently continued to scour Twitter for errant Navy birthday greetings. He later retweeted a message and photo that had been posted by the Naval Criminal Investigative Service.
"That's a Kirov-class Russian battlecruiser," Brown wrote.