In the Army, even a cowboy and rodeo champion has to earn his spurs as a cavalry scout
by
Chad Garland
Stars and Stripes
October 13, 2021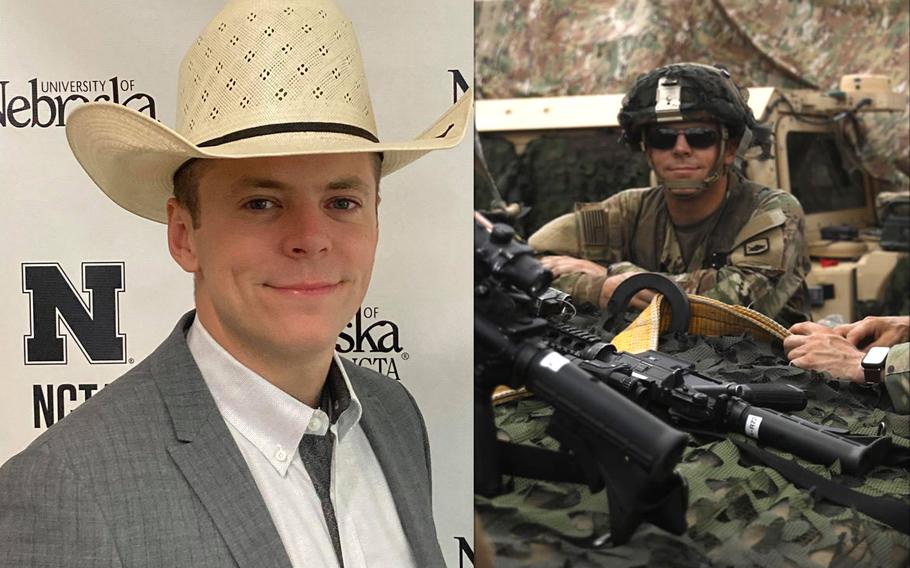 A real-life cowboy who recently took the helm of a collegiate rodeo team has his sights set on earning his spurs as an Army cavalry scout.
Spc. Jaden Clark of the Nebraska Army National Guard's 1-134th Cavalry Squadron was named the full-time rodeo coach for the Nebraska College of Technical Agriculture's team this summer. He's also an agriculture instructor at the two-year institution, which is part of the University of Nebraska system.
He joined the military last year out of a sense of duty and a desire "to get a little more ownership of our country," he was quoted in a Nebraska National Guard statement as saying this month.
He hasn't had a chance to complete a spur ride, the cavalry's traditional test of leadership, grit and proficiency, he said in an email, but he "will jump at the next opportunity to do so."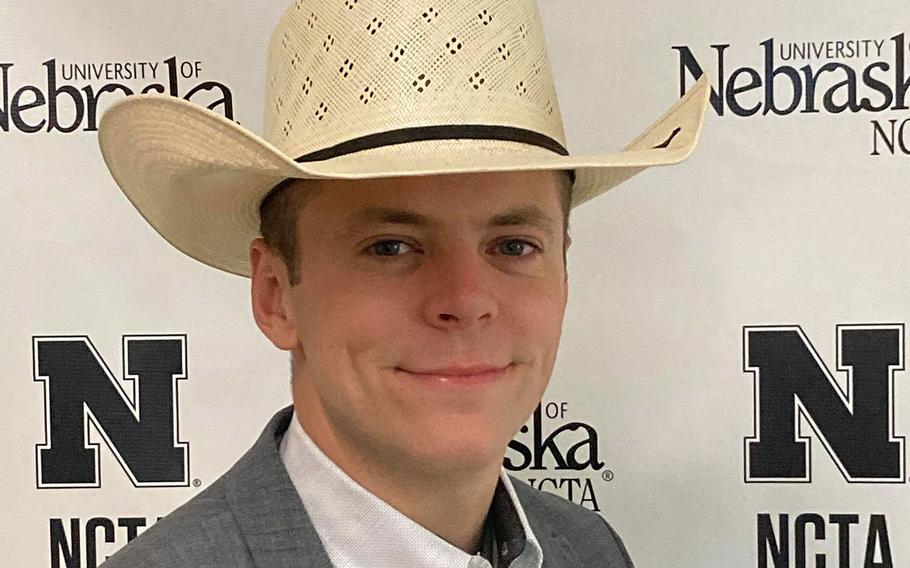 Troops who go through the challenging training event earn silver spurs and induction into the Order of the Spur, which for them is like the expert infantryman badge is for infantry soldiers, a U.S. Army Armor School pamphlet states.
They also earn the right to stop at the Fiddler's Green canteen on their descent into hell, according to Cavalry legend.
Clark, 27, is a native of Wellfleet, Neb., about 30 miles south of where another Army cavalry scout, William F. "Buffalo Bill" Cody, made his home in North Platte at the height of his Wild West Show's fame in the 1880s.
Clark rode with the cavalry squadron — in Humvees, not on horseback — during a combat training rotation in Fort Polk, La., during a long, hot and humid stretch in July, the Guard statement said.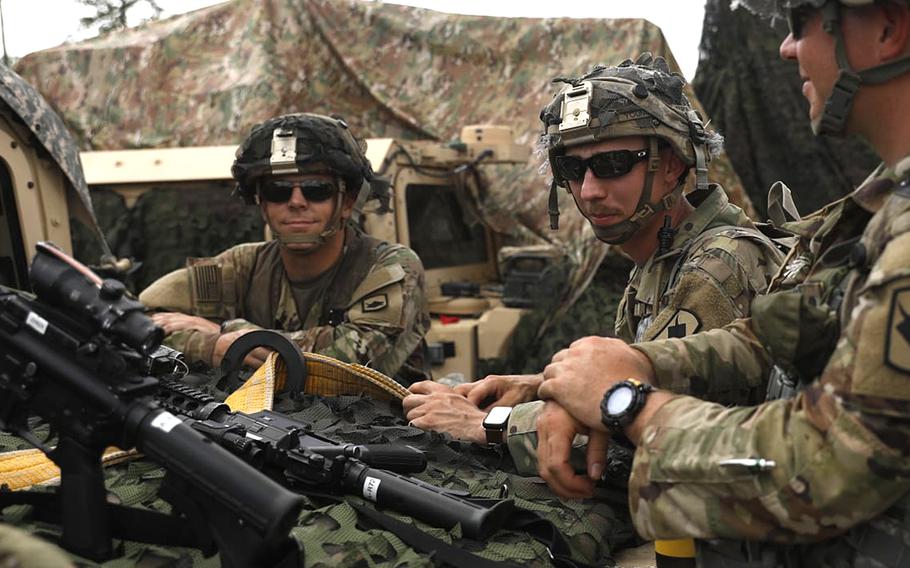 The 10 days "in the box" were an awesome experience and "probably the most educational days of my life," he said in an email Tuesday in response to a Stars and Stripes query.
Before earning their spurs, cavalry troops are dubbed "shave-tails," harkening to when new cavalry soldiers rode horses with shaved tails to mark them as inexperienced riders, the Army pamphlet says.
When it comes to horsemanship, though, Clark is hardly a novice. His family has been roping, riding and ranching for generations, and his parents met at a rodeo in high school, The Rodeo News reported in a May profile of the family.
Once he was "old enough to walk, old enough to get on a saddle," he started getting dragged along into rodeos with his older brother, also now a collegiate coach in the sport, he said in a documentary produced by his sister, Madison Clark.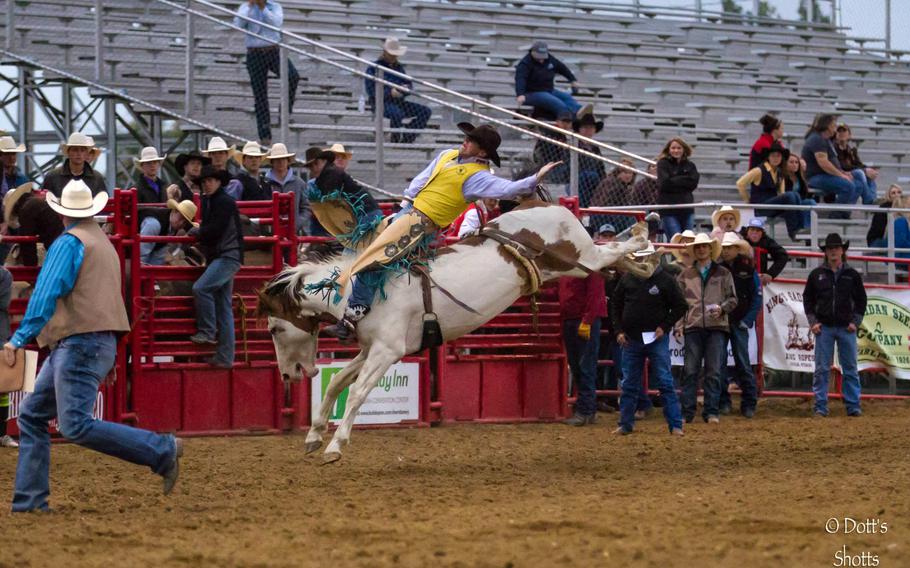 A state high school rodeo champion, Jaden Clark competed three times at high school nationals and earned a full-ride rodeo scholarship to the University of Wyoming in Laramie, according to the Army and NCTA statements. As a UW Cowboy, he competed at the College National Finals Rodeo in bareback bronc riding.
His senior year, a horse rolled over him, shattering his femur, he said in the documentary. He wound up hanging up his bareback rigging for good after that, he said.
"It set my life on a different trajectory, which has ultimately been positive," he said. "I enjoyed the heck out of my bareback riding career, but it had to end sometime."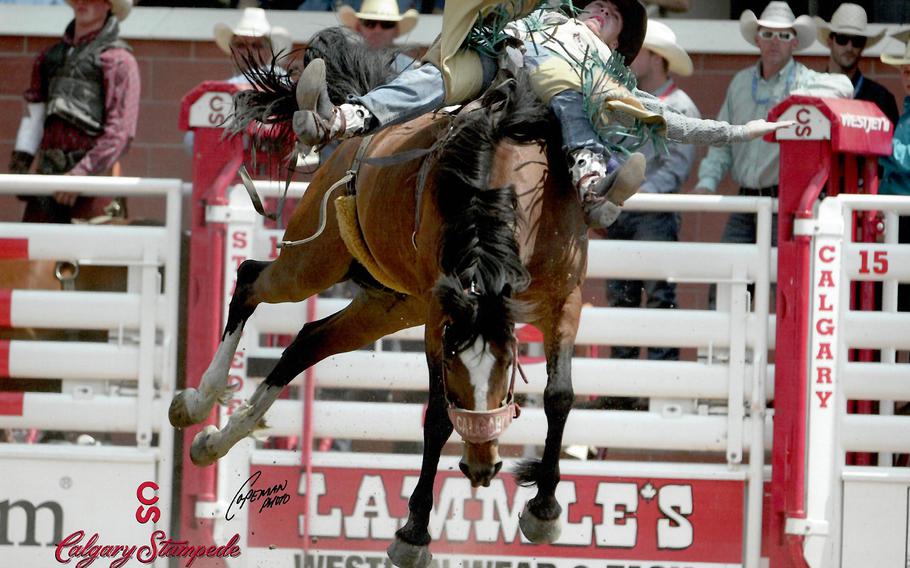 He's since worked several jobs, including selling cowboy hats for Stetson, maker of the hats worn by cavalry soldiers, "which I never thought in 100 years I would be wearing," he said by email this week.
And he may yet get back on the horse. In his email, he said his rodeo career wasn't ended, just postponed.