Biden summons bank CEOs, other business leaders as debt-ceiling showdown with GOP escalates
by
Jeff Stein
The Washington Post
October 6, 2021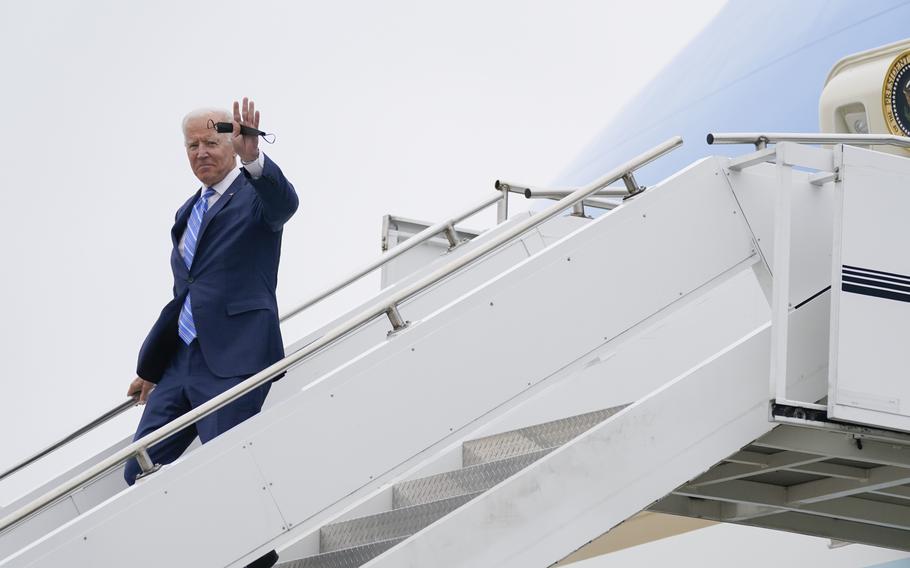 WASHINGTON - President Joe Biden sought Wednesday to ramp up pressure on Senate Republicans to stop blocking Democrats' efforts to prevent a government default, inviting leaders of some of the nation's biggest companies to a White House meeting where they warned that inaction would lead to devastating consequences.
"The Democrats are willing to step up and stop this economic catastrophe if Senate Republicans would just get out of the way," said Biden, referring to the GOP filibuster of a measure to increase the government's borrowing capacity.
Biden was joined by some of the most powerful figures in the banking industry, as well as representatives of other big companies. In their comments, they painted a portrait of a calamitous situation should the United States default on its obligations, one they said would create havoc that everyday Americans would feel, from their Social Security payments to their retirement funds.
"We need to act. These leaders know the need to act," Biden said. "The United States pays its bills."
The event came as the Biden administration is seeking to amplify pressure on Senate Minority Leader Mitch McConnell, R-Ky., to back off his refusal to allow Democrats to suspend the debt ceiling. In leading a filibuster, McConnell has demanded that Democrats resolve the matter on their own through a time-consuming budget procedure known as reconciliation - an approach Democrats have largely ruled out.
The Treasury Department has said it will run out of flexibility to pay all the nation's obligations on Oct. 18, which economists warn could trigger a global economic calamity as major banks, multinational companies and other governments lose faith in the United States' ability to pay what it owes.
Among the attendees who spoke Wednesday were JPMorgan Chase chief executive Jamie Dimon, Nasdaq president and CEO Adena Friedman and Citi CEO Jane Fraser.
Biden asked the business leaders questions designed to elicit descriptions of the economic peril, periodically taking notes as speakers made their points. Some participants joined virtually while others, such as Treasury Secretary Janet L. Yellen, were in the room with Biden.
"If we default even for a day or two, what do you think the impact on the market could be?" Biden asked Friedman.
She replied, "We would expect that the markets will react very, very negatively."
"What does that do to people's retirement accounts?" Biden followed up. Friedman replied that "well over half" of Americans have money in the stock market, which would experience "sharp drops" in value.
Also in attendance - virtually or in person - were Commerce Secretary Gina Raimondo, White House senior adviser Cedric L. Richmond and the chief executives of Intel and AARP, among others.
Reporters were allowed into the room briefly at the start but were soon instructed by the White House staff to leave, even as the meeting continued. A live online video stream was also cut at that point.
After reporters were ushered out of the meeting, Treasury Department spokeswoman Lily Adams tweeted that Gregory J. Hayes, CEO of Raytheon Technologies, asked "why Senator McConnell is giving a strategic victory to China by blocking the effort to resolve the debt limit."
The business community has up to this point largely stayed above the partisan fray while agreeing with both sides that the debt-ceiling impasse must be resolved. But executives appearing at the White House for a Biden-led event appears to signal Wall Street's frustration with the GOP's negotiating posture.
"There are huge economic costs already being borne by companies and lawyers trying to figure out what this means," Dimon said at Wednesday's meeting. "It could go anywhere from a recession to a complete catastrophe for the global economy."
McConnell is unlikely to be swayed by the late pressure from the financial institutions. Senate Republicans, including centrists such as Sens. Mitt Romney of Utah and Susan Collins of Maine, have made clear in recent days that they are also unwilling to provide Democrats with the votes to lift the debt ceiling. Former GOP treasury secretaries Hank Paulson and Steven Mnuchin spoke with McConnell about the matter in September and privately relayed to the Biden administration that the Senate GOP leader was not bluffing.
Further complicating the strategy is that relations between congressional Republicans and the business community are already at a low point. Many large corporations pulled funding from GOP lawmakers who voted against certifying election results after the Jan. 6 insurrection at the U.S. Capitol, while Republicans have accused corporate America of bending to liberal pressure on a range of issues, such as voting rights.
One GOP lobbyist, who spoke on the condition of anonymity to describe private dynamics, said Biden's strategy of summoning the business leaders "fundamentally misses the point . . . because the chasm between the GOP and corporate America has never been greater."
If the White House is determined to force McConnell to bend, it has little time to do so. Congress has less than two weeks before the Treasury Department exhausts its "emergency measures" to avert a default on U.S. payments. The Biden administration has thus far also ruled out unilateral measures to avert the debt-ceiling breach, although the president opened the door Tuesday to changing the rules of the filibuster to resolve the impasse.
"Why not pursue the leverage of the business community earlier?" said Donald Schneider, who served as chief economist to Republicans on the House Ways and Means Committee. "It's like they want to try everything they can before they do the only thing they can."