Pandemic demand for disposable gloves means $400 million in DOD contracts
by
Frank Andrews
Stars and Stripes
October 5, 2021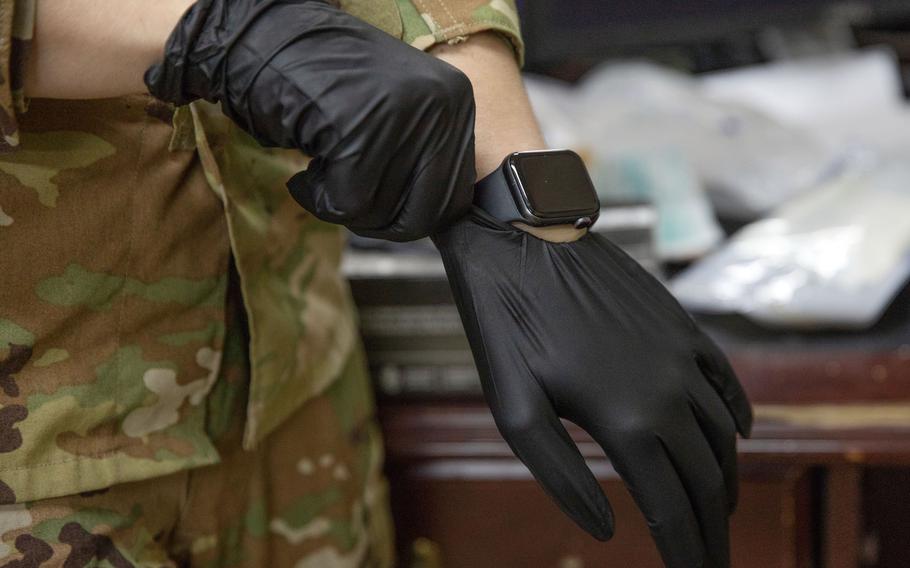 The Defense Department is spending millions to keep its health care professionals supplied with disposable gloves during the coronavirus pandemic, according to recent contract awards.
Demand for medical gloves has meant more than $400 million in contracts for five companies, paid for under a second coronavirus relief package passed by Congress in December.
For example, DOD awarded a Dutch-based multinational firm, Showa Group Inc., more than $81 million in two orders this year to produce nitrile gloves for the Air Force through 2024. Showa produces gloves at U.S. facilities in Alabama and Georgia.
In June, DOD ordered $37 million worth of gloves from Showa Best Gloves of Fayette, Ala. A second, $43 million contract in September called for nearly 67 million gloves per month from the Showa facility in Menlo, Ga., through September 2024, according to the official defense.gov website.
The DOD Assisted Acquisition Cell at Robins Air Force Base, Ga., which ordered the Showa gloves in September, did not respond to requests for further information submitted through its website on Sept. 23.
Nitrile gloves, commonly used by first responders and medical specialists during the COVID-19 pandemic, are made of a synthetic rubber compound that is non-allergenic. According to the Showa Best Gloves website, its nitrile gloves will fully biodegrade in landfills within five years.
The largest contract, worth $123.1 million, went to Blue Star NBR LLC of Berlin, Conn, in May. The second largest contract, for $96.1 million, went to United Safety Technology Inc., of Los Angeles, founded in April 2020 for "re-shoring PPE [personal protective equipment] manufacturing back to the USA," according to the company's website.
On May 28, another contract worth $35 million went to Renco Corp./America Performance Polymers of Texas and New Hampshire according to defense.gov.
Sen. Jeanne Shaheen, of New Hampshire, in a news release May 28, said that contract meant $13.1 million for the portion of the polymer company in her state. The contract paid manufacturers to ramp up production of "lifesaving supplies and ensure we're prepared when disaster strikes," according to her statement.
"Throughout this pandemic, we've seen how important it is to ensure that our health care workers, first responders and essential employees have access to the personal protective equipment they need to stay safe on the job," according to Shaheen's statement.