Milley: 'Of course I wouldn't' alert China if U.S. was planning an actual attack
by
Corey Dickstein
Stars and Stripes
September 28, 2021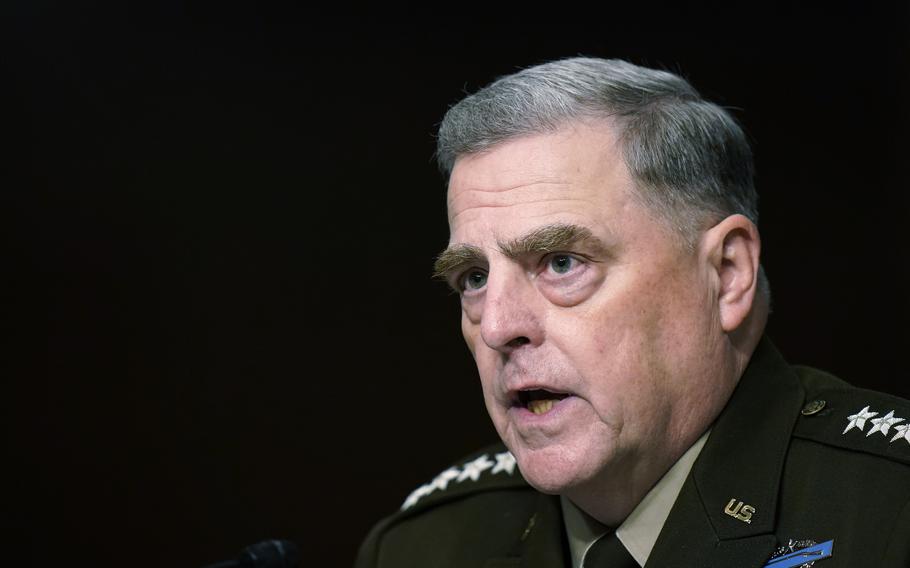 Army Gen. Mark Milley on Tuesday told senators that he never attempted to "usurp authority" from President Donald Trump during the final months of his presidency, labeling calls with China's top general as needed to calm fears of an imminent U.S. attack.
"I am certain that President Trump did not intend to attack the Chinese, and it was my direct responsibility [from] the [defense] secretary to convey that intent to the Chinese," the chairman of the Joint Chiefs of Staff told the Senate Armed Services Committee, addressing allegations raised in the new book "Peril." "My task at that time was to de-escalate. My message, again, was consistent: 'Stay calm, steady and de-escalate. We are not going to attack you.'"
Bob Woodward and Robert Costa first reported in their book the calls on Oct. 30 and Jan. 8 between Milley and his Chinese counterpart Gen. Li Zuocheng. The Washington Post journalists wrote Milley assured Li that he would warn him ahead of time if Trump decided to attack China. The authors also claimed Milley took other steps — some potentially illegal — to work around Trump after his Nov. 20 election loss, and the general agreed with House Speaker Nancy Pelosi, D-Calif., that Trump was "crazy."
Milley admitted Tuesday that he spoke with Woodward before the book's publication, and he pushed back on some of the media reporting about the book. However, he told senators he had not read the book and could not comment specifically on the accuracy of its portrayal of his actions.
Pressed by several Republican senators hours into the marathon hearing Tuesday to examine the chaotic U.S. withdrawal from Afghanistan, Milley defended his decisions to speak with Woodward and several other authors of tell-all style books about the waning days of Trump's presidency.
The general denied allegations raised by Sen. Marsha Blackburn, R-Tenn., that he had leaked sensitive information or private conversations that he had with Trump. Milley also told Sen. Dan Sullivan, R-Alaska, that during calls with Li, his assurance that he would call China before an attack was issued only because there was no chance Trump was going to launch such an assault.
"Let me tell you what I actually said, senator. I said if there's going to be a war — if there's going to be an attack, there's going to be a lot of calls, a lot of tensions ahead of time," Milley told Sen. Dan Sullivan, R-Alaska. "I said, 'I'll probably call you.' … I didn't give him a heads up, because we were not going to attack."
Asked a short time later if he would actually alert Li if the United States planned a real attack on China, Milley said he would not do so.
"Of course I wouldn't," the general told Sen. Rick Scott, R-Fla.
Some Republicans, including Sen. Marco Rubio of Florida, have cited the book's contents in recent calls for Milley's removal from his position. President Joe Biden has said he remains confident in Milley and had no intention of firing the general, who became chairman of the Joint Chiefs in 2019 when he was hand-picked by Trump against the recommendations of his former defense secretary Jim Mattis.
In a statement after the book's contents were reported, Trump called Milley a "dumbass" and suggested he had committed treason if the reporting was accurate.
Milley's appearance Tuesday on Capitol Hill was the first time that the general offered an extended defense of his actions in Trump's final months in the White House. He testified alongside Defense Secretary Lloyd Austin, who was not asked to address the allegations against Milley during the hearing. A senior defense official said the defense secretary remains confident in his top general.
In Milley's opening statement, he adamantly denied wrongdoing. He told senators that he was strongly committed to his oath to uphold the U.S. Constitution and would never undermine presidential authority.
"At no time was I attempting to change or influence the process, usurp authority or insert myself into the chain of command, but I am expected to give my advice and ensure the president is fully informed," Milley said. "My oath is to support the Constitution of the United States of America against all enemies foreign and domestic. And I will never turn my back on that oath. I firmly believe in civilian control of the military as a bedrock principle essential to the health of this republic, and I'm committed to ensuring the military stays clear of domestic politics."
The job of chairman of the Joint Chiefs of Staff was created in 1949 to provide the president and defense secretary a top uniformed adviser who is not within the chain of command. Milley is the 20th Joint Chiefs chairman and about two years into a four-year term. No Joint Chiefs chairman has ever been fired by a president.
Milley said the two calls in question were properly coordinated with the defense secretaries at the time and included other top Pentagon officials on the call. The general said he briefed then-Secretary of State Mike Pompeo and then-White House Chief of Staff Mark Meadows shortly after the Jan. 9 call.
Milley disputed the allegations that he agreed with Pelosi's assertion that Trump was "crazy," but confirmed the House speaker shared concerns about the president and she made "various personal references characterizing the president."
"I am not qualified to determine the mental health of the president of the United States," he said Tuesday.
A handful of Republican senators scolded Milley for spending time speaking with journalists, including Woodward, early this year as the military worked to withdraw from Afghanistan.
Sen. Josh Hawley, R-Mo., accused the general of being "a little bit distracted" in talking with authors. Blackburn went further, accusing him of leaking information to make himself look good.
The general said he spent only "several hours" speaking authors, including conversations on- and off-the-record. He said speaking to journalists ensures they are presented accurate information about events.
Milley, who commissioned into the Army after graduating from Princeton University in 1980, served extensively in Afghanistan and Iraq. He is a Green Beret who previously served as the Army chief of staff and commanded U.S. troops at every level.
He is also no stranger to controversy. Milley faced criticism last year for accompanying Trump on his infamous walk across Lafayette Square outside the White House amid racial protests. Milley later apologized for appearing during the incident, which he worried undermined the apolitical nature of the U.S. military.
Milley has also faced criticism recently from Republicans for the Pentagon's efforts to address extremism in the ranks and promote racial equity in the ranks.
He told senators on Tuesday discussions of the intelligence related to the two calls with China would need to be discussed in a classified briefing. He told them that he would provide them "any emails, phone logs, memoranda, witnesses or anything else you need to understand these events."