Jim Sheeler, Pulitzer-winning journalist who honored fallen troops, dies at 53
by
Harrison Smith
The Washington Post
September 22, 2021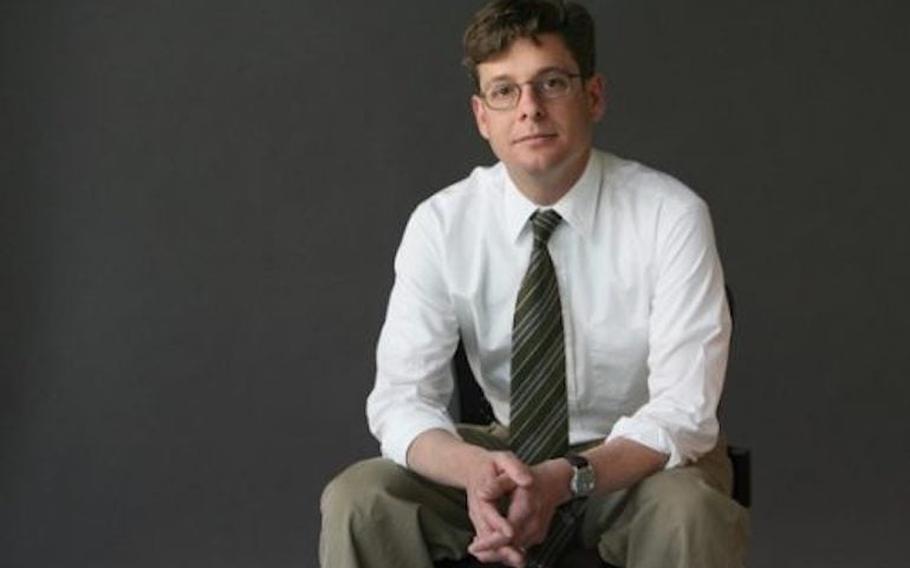 When Jim Sheeler started writing obituaries in 1996, the job was considered among the worst in journalism, a Siberia for wayward reporters. "I saw journalists at my own newspaper punished: 'Obits for you for the next six months,' " he later recalled.
For Sheeler, the assignment was far from a chore. As he leafed through death notices faxed by local funeral homes, typing out obituaries for the Boulder Planet in Colorado, certain details would catch his eye. "There was one in particular that listed the woman's occupation: florist and butcher," he said. "I loved that, and I thought: 'I wish I would have known her. I wish I could have written about her.' And then I realized I still could."
Over the next few years, Sheeler wrote evocative, richly detailed obits of farmers, ranchers, magicians, restaurateurs - preferably anyone whose name had never appeared in print. Combining a lean, understated prose style with an insistence on patient, in-person reporting, he helped shake up the traditional obituary form and established himself as one of the country's leading chroniclers of ordinary people.
"If Nick Papadakis heard a joke at 11:30 a.m.," he wrote in one obit, "everyone on Main Street knew it by 1 o'clock, the punchline escorted by a deep belly laugh, powered by an unashamedly deep belly." In another: "Agate, population seventy, is one of those towns that people describe as 'blink and you'll miss it.' Lois A. Engel loved living in the blink."
Sheeler's obituary writing eventually took him to the Rocky Mountain News in Denver, where he wrote about the first Colorado natives to die in the Iraq War. He attended military funerals at Fort Logan National Cemetery, interviewing bereaved families and friends of the deceased. But he also took in other details, like the way a gravedigger described a fellow Marine killed in action as "part of the family," and the way Marines took special care in standing guard over the casket.
"I kind of saw another side of them that I hadn't seen before," he told "PBS NewsHour" in 2008. "When you see them folding their friend's flag for the last time, and you see those eyes tear up, it's not that blank stare that you see from the recruiting poster. And I decided that I wanted to see what was behind those eyes."
Sheeler, who died Sept. 17 at age 53, went on to spend a year shadowing Marine Maj. Steve Beck, who was tasked with honoring his fallen comrades by delivering the news to their families, supervising funerals and helping them cope with their loss. The resulting article, "Final Salute," was a searing 12,000-word exploration of grief, sacrifice and brotherhood, with photographs by Todd Heisler. Both men were honored with Pulitzer Prizes the next year, with Sheeler winning the feature-writing award.
His death was confirmed by one of his sisters, Cassie Lawrence. Chris Harris, a spokesman for the Cuyahoga County medical examiner's office in Ohio, said the determination of the cause is pending further tests.
Two years after winning the Pulitzer, Sheeler expanded "Final Salute" into a book of the same name, which became a finalist for the 2008 National Book Award in nonfiction.
"Mr. Sheeler took one of the great underreported stories of the Iraq war and brought it to light," wrote New York Times book critic Janet Maslin. She added, "This is not a maudlin book, despite the endless opportunities Mr. Sheeler had to make it one. Instead it adopts Major Beck's quiet decency in his conduct and his empathy for people in dire circumstances."
In a phone interview, Heisler said that Sheeler had "a selfless determination to get the story right," which led him to spend as much time as he could with grieving families. He listened as they read their son's last letters, accompanied them to the airport when a plane landed with their son's flag-draped casket, and set his notebook aside at times to play with their son's children on the living room floor.
At a funeral home, he watched as a pregnant widow, Katherine Cathey, said goodbye to her husband, 2nd Lt. James J. Cathey, hugging the open casket before asking Beck for a sonogram that had been taken two days after her husband's death.
"She stood cradling the ultrasound, then moved forward and placed it on the pillow at the head of the casket. She stood there, watching for several minutes, then removed it," Sheeler wrote. "She walked the length of the casket, then stepped back, still holding the only image of James J. Cathey Jr. She leaned in and placed it over her husband's heart."
In part, Sheeler was able to disappear into a room because he was so unassuming, with a slender frame and youthful, bespectacled face. He also "knew how fragile these situations were," said Heisler, now a New York Times staff photographer, "and he treated them with great care," telling family members to give him a wave or a glance if they wanted him to leave the room.
"The thing is," Heisler added, "I don't know that anybody ever asked him to leave."
'Stories in the shadows'
James Expedite Robert Sheeler III was born in Houston on May 3, 1968. His father ran oil services companies and later became a rancher; his mother was a homemaker who filled her bookshelves with novels by Ernest Hemingway as well as Nora Roberts.
"As a young boy, reading late at night with a flashlight under the covers, I reveled in stories of darkness and light," Sheeler wrote in a biography for Case Western Reserve University in Cleveland, where he had been a journalism professor since 2010. "As a journalist and teacher, I continue to search for stories in the shadows, revealing everyday philosophy and wisdom hidden in people and places that are too often overlooked."
His interest in journalism was sparked by a high school teacher in Hedwig Village, on the west side of Houston, who showed him "that writing could be as rewarding as reading." Sheeler went on to write for the school newspaper at Colorado State University, where he graduated in 1990, and received a master's degree in journalism from the University of Colorado in 2007.
Interning at radio and television networks, including CNN, he learned "to think in terms of scenes and pictures," as he put it. But he gravitated toward writing and got his first reporting job at the Boulder Daily Camera in 1992. He later freelanced for the Denver Post, creating a Sunday obit feature, and co-wrote "Life on the Death Beat," a 2005 guide to newspaper obituary writing. Two years later he published "Obit," a collection of his work.
"I never complained about having my stories in the back of the newspaper," he told a University of Colorado interviewer, "because I knew that most of the front-page stories would be fish wrap in a few days, while the obits would be cut and pasted on refrigerators and scrapbooks and read for generations."
Survivors include his wife of 28 years, Annick Sauvageot; a son, James Sheller of Rochester, N.Y.; and two sisters.
Sheeler said he often agonized over his stories, staying up all night to write and sometimes tucking his notebook under his pillow when he went to sleep. "Final Salute" was especially arduous: "It absolutely tore me up inside," he told Deadbeat, an obituary website. He started teaching at the University of Colorado while writing the book, and later invited Beck to speak to his classes at Case Western Reserve.
In a phone interview, Beck recalled warning Sheeler and Heisler early on that their reporting would take its toll. "I said this is going to be one of the hardest things you've ever done. And they were willing to walk that walk," said Beck, who retired from the Marine Corps as a lieutenant colonel. "I could see over time that it was creating its own pains for them that they would have to carry. That over time they would become haggard and exhausted. But they didn't ever quit, and that's a big thing for us as Marines."
"It took putting them through this crucible with the families," he added, "and feeling their pain - approaching these heroes in their caskets, being in their rooms, understanding their lives and the lives they left behind, and walking the same footsteps I and my Marines walked every day - to truly, fully grasp the humanity that we were dealing with in bringing our nation's service members home to their family members and their final resting place."