Pentagon requested to help move thousands of migrants in Del Rio, Texas, to other processing facilities
by
Caitlin Doornbos
Stars and Stripes
September 20, 2021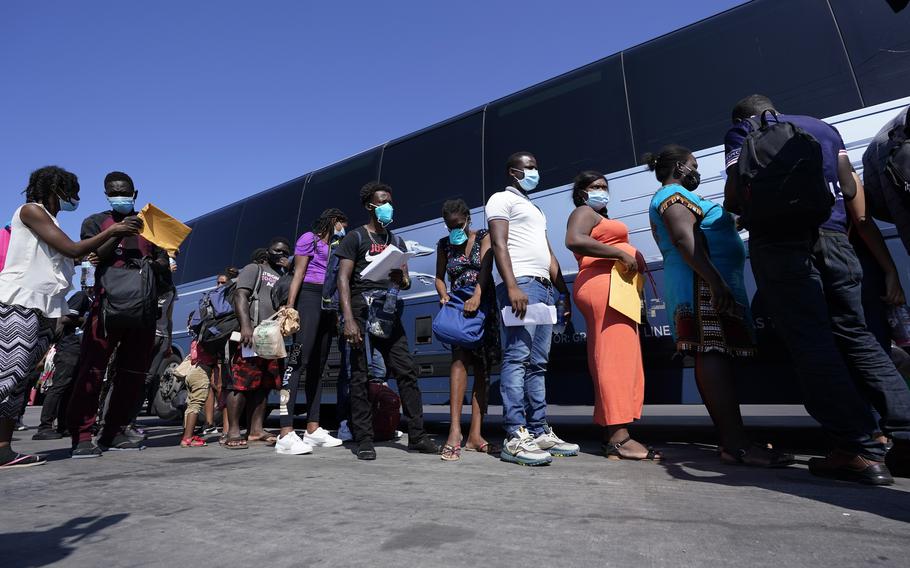 WASHINGTON — The Department of Homeland Security has asked the Defense Department to help move migrants awaiting asylum processing in Del Rio, Texas, to other locations as the number of migrants at the U.S.-Mexico border continues to surge, chief Pentagon spokesman John Kirby said Monday.
The Pentagon is reviewing the request to provide contracted air transportation to U.S. Customs and Border Protection on a reimbursable, temporary basis "to help its efforts moving non-U.S. citizen migrants from Del Rio, Texas, to other CBP processing facilities," he said.
"This will conclude on or before Oct. 20 of this year, and it can be provided with minimal risk to current DOD missions," Kirby said.
If approved, the plan would have the Pentagon lend some of its contracted air support — not military aircraft — to the mission, he said.
More than 12,000 migrants — mainly from Haiti — are camped underneath a bridge in Del Rio seeking asylum and awaiting immigration processing, The Associated Press reported Monday.
It's unclear what prompted the sudden surge of migrants 2 ½ weeks ago at the border crossing between Del Rio and Ciudad Acuña, Mexico, though many Haitians had been gathering recently in camps on the Mexican side of the border before trying to enter the United States, according to the AP.
Processing facilities in the town of about 35,000 residents are overwhelmed, and Homeland Security officials said Saturday that they had moved about 2,000 migrants from Del Rio to other locations Friday for processing and possible removal from the U.S., the AP reported.
Kirby said the request "really has just come in" and had no further detail about possible plans to assist.
"We're doing the same thing we would do with any request for assistance," he said. "We're examining it and reviewing it and determining the best way forward."