Analysis
Fact-checking Conn. senator's claim that 8 out of 10 US drones miss their target
by
Glenn Kessler
The Washington Post
September 16, 2021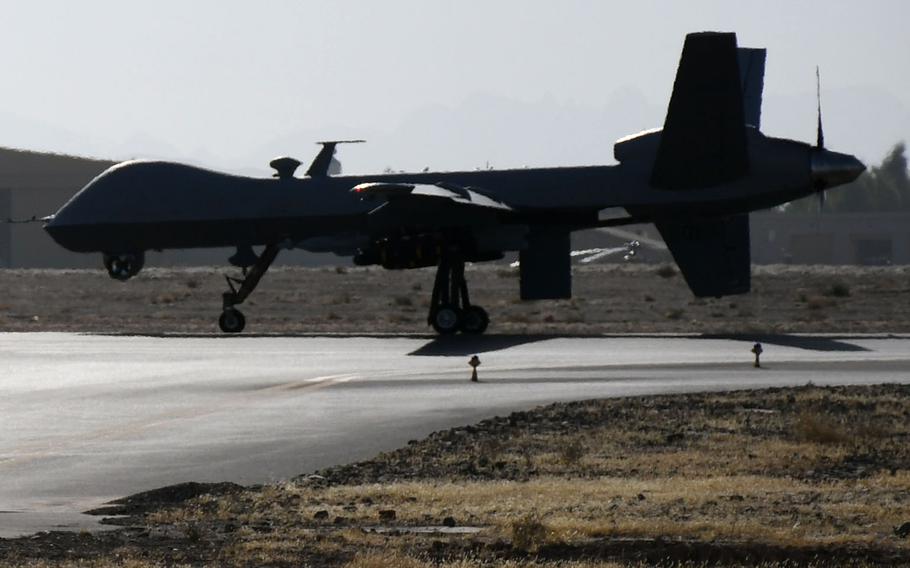 "Studies of our drone strikes have suggested that maybe eight out of 10 times we are hitting the wrong target, we have killed thousands of civilians." — Sen. Chris Murphy, D-Conn., in an interview on CNN's "The Lead with Jake Tapper," Sept. 14
— — —
Murphy appeared on CNN to discuss an Aug. 29 drone strike in Afghanistan in the waning days of the U.S. presence there. The U.S. military initially claimed that the drone targeted an Islamic State vehicle preparing for a car-bomb attack.
But now it appears that the vehicle was driven by an aid worker who had loaded his car with water canisters, not explosives. Investigations by The Washington Post and the New York Times raised doubts about the military's claim that the weapon used, a Hellfire missile, triggered a "secondary explosion" indicative of a car loaded with explosives.
As many as 10 people may have been killed, including the aid worker and seven children ranging in age from 3 to 16.
As part of his appearance on "The Lead with Jake Tapper," Murphy made a claim that jumped out — that studies have shown that "maybe eight out of 10 times we are hitting the wrong target."
That would be an astonishing record of failure. Is he right?
The short answer is no.
Peter Bergen, vice president for global studies at the New America Foundation, heads a project that has documented in great detail the drone war in Pakistan, air and ground operations in Yemen and Somalia, as well as the internationalized air war in Libya. He was puzzled by Murphy's statement.
"Eight out of 10 is not a stat I have ever heard of," Bergen said. "As I document in my new book, 'The Rise and Fall of Osama bin Laden,' based on the documents that came out bin Laden's Abbottabad compound, he was very worried about the precision of CIA drone strikes, which were killing a large number of al-Qaida's leaders."
In Pakistan, for instance, the New America data shows there have been a total of 414 strikes, resulting in 2,366 to 3,702 deaths, most of them militants (estimated at 1,910 to 3,071). The civilian death toll was calculated as between 245 and 303. In Yemen, there have been 374 strikes, resulting in 1,387 to 1,776 total deaths, including 124 to 150 civilians, New America says.
In the four countries in New America's data set, nearly 1,500 civilians are recorded as being killed in drone strikes.
Until the Trump administration ended the practice, the Office of the Director of National Intelligence released data on drone strikes in "areas of active hostilities" such as Afghanistan, Iraq and Syria. Between Jan. 20, 2009, and Dec. 31, 2015, the data showed 473 strikes resulted in 2,372 to 2,581 combatant deaths and 64 to 116 civilian deaths. In 2016, there were 53 strikes, resulting in 431 to 441 combatant deaths and one civilian death, the DNI said.
One can be reasonably suspicious about the civilian death toll in official government releases, given how news accounts place the numbers much higher. The human rights group Reprieve says that a 2010 drone strike killed a deputy commander of the Pakistani Taliban, but at a high cost - claiming 128 more people, 13 of them children.
Bergen noted that the civilian casualty rate from drone strikes "was high initially but became smaller and smaller over time for all sorts of reasons; longer flight times, smaller payloads, better intel, more congressional scrutiny, more media scrutiny, clearer rules of engagement."
Indeed, when we contacted Murphy's staff for an explanation, we were told he was referring to a statistic in a 2015 article in the Intercept about a 2012-2013 operation. The article was based on internal government documents.
"Documents detailing a special operations campaign in northeastern Afghanistan, Operation Haymaker, show that between January 2012 and February 2013, U.S. special operations airstrikes killed more than 200 people," the article said. "Of those, only 35 were the intended targets. During one five-month period of the operation, according to the documents, nearly 90% of the people killed in airstrikes were not the intended targets."
The documents obtained by the Intercept described the other people killed as EKIA - "enemy killed in action." It's unclear how many might actually be civilians. Some obviously might be militants. One cannot easily leap to the conclusion that everyone else killed in the drone attack did not have links to terrorism.
Murphy argues that the Intercept articles, dubbed the Drone Papers, are the only reliable glimpse of internal government records. His staff dismissed Bergen's work as relying on news reports.
"What I said was true," Murphy said in a statement to The Fact Checker. "The data we have does suggest over 80% of strikes hit the wrong target. Since the government classifies data on the efficacy of drone strikes, the only full public data set is from a leak of the Haymaker drone campaign in Afghanistan. And a study of that data by The Intercept showed that 90% of drones killed the wrong target. At the time of this disclosure, the military did not offer any exculpatory evidence to rebut this claim, and so without any other data and no contradictory information from the military it's completely reasonable to infer a broader trend from the limited data available. The bottom line is that the data released by the Intercept provides ample evidence that our drone program is wildly ineffective and badly in need of reform."
The recent drone attack in Afghanistan has highlighted the sometimes-terrible collateral damage in this form of aerial warfare. Increasingly it appears the drone hit an innocent target, not a terrorism suspect as the military claimed.
Numbers are hard to come by, but it's certainly possible that "thousands" of civilians have been killed by drone strikes. There is certainly evidence that the impact of civilian deaths from drone strikes has undercut the U.S. image in the region.
But we deal in reliable statistics. Murphy is wrong to claim that "studies" show that 8 out of 10 times U.S. drones have hit the wrong target. He's talking only about the supposed track record during a five-month period in a region of Afghanistan nearly a decade ago. Moreover, these documents do not indicate whether the other people killed were associated with the target of the attack or innocent civilians. So he cannot take this particular example and apply it to the entire drone program.
Notwithstanding the most recent example, the track record is said to have improved since 2013 - and many militants have been killed.