Capitol fencing to be reinstalled ahead of 'Justice for J6' rally defending those arrested in Jan. 6 riot
by
Mike DeBonis, Marianna Sotomayor and Ellie Silverman
The Washington Post
September 13, 2021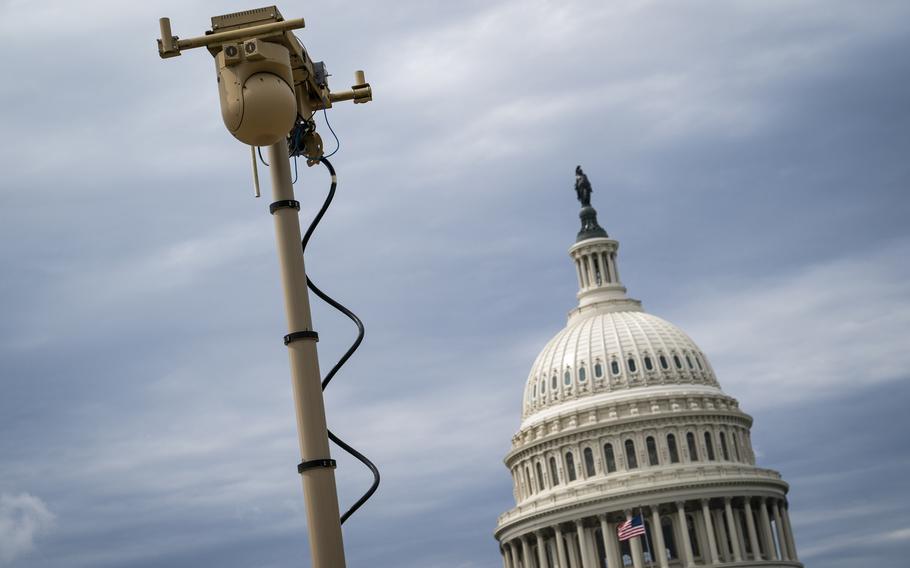 WASHINGTON — Fencing around the U.S. Capitol will be reinstalled "a day or two" before a rally on Saturday, when demonstrators plan to demand "justice" for those arrested during the Jan. 6 insurrection.
U.S. Capitol Police Chief J. Thomas Manger confirmed this security measure to a group of reporters on Monday after briefing the top four congressional leaders on this weekend's "Justice for J6" rally, for which local law enforcement has increased staffing on that day.
"If everything goes well," Manger said, he expects the fence to be removed "very soon after" the rally.
Organizers of Saturday's demonstration have embraced a counter narrative to the insurrection, when a violent mob stormed the seat of the U.S. government, disrupting Congress from confirming President Joe Biden's election victory and resulting in the deaths of five people. Instead, they say, many of those arrested in connection with the insurrection were nonviolent and simply swept away in a movement of political protest. They describe those arrested as "political prisoners" — an assertion that has exploded beyond the far-right and has been embraced in mainstream conservatism.
This rally is occurring as Washington is still recovering from that attack and others, including an incident in April when a man rammed his car into a barricade outside the building, killing a Capitol police officer, and last month's threat when a man claiming he had a bomb parked a truck near the Capitol and demanded to speak to President Biden. On Monday, Capitol Police arrested a man with a bayonet and a machete near the Democratic National Committee headquarters.
The reappearance of the perimeter fencing comes just two months after the barrier — which had been one of the last remaining symbols of the failed security response to the insurrection — was removed and amid reports of far-right, violent groups attending this weekend's rally. Since the rally is on a Saturday, Congress won't be in session and members aren't expected to be in the building.
House Speaker Nancy Pelosi, D-Calif., invited Senate Majority Leader Chuck. Schumer, D-N.Y., Senate Minority Leader Mitch McConnell, R-Ky., and House Minority Leader Kevin McCarthy, R-Calif., to a security meeting Monday morning, where Manger briefed the lawmakers on preparations ahead of Saturday's rally.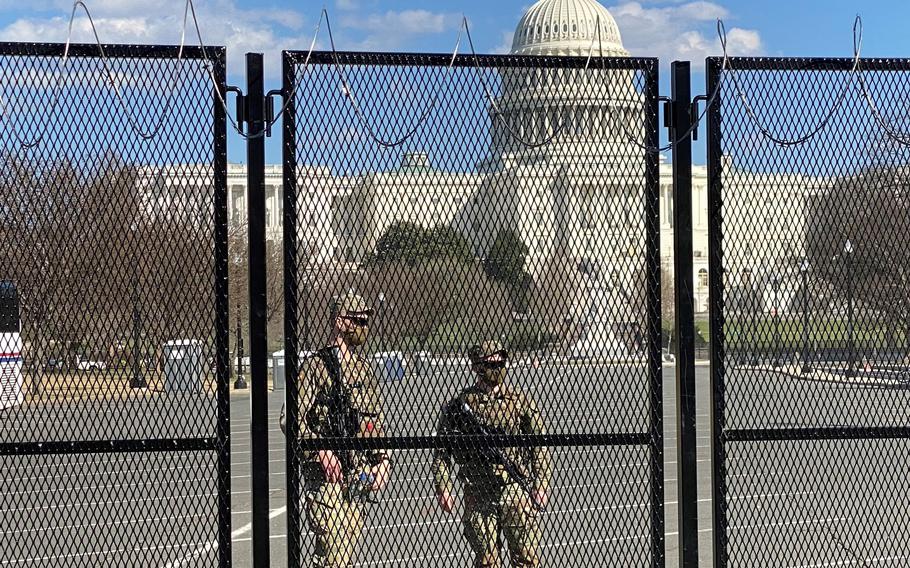 Law enforcement authorities faced sharp criticism after the Jan. 6 riots. After the briefing Monday, Schumer expressed confidence in the Capitol Police's preparations for this weekend's rally.
"I think they're ready for whatever might happen." Schumer said after the meeting. "They are better prepared than people were before Jan. 6."
Last week, Pelosi condemned those planning to take part in the rally, accusing them of "coming back to praise the people who were out to kill" during the Jan. 6 attack by a pro-Trump mob. Pelosi said on Monday that she "feels much better" after the briefing and expects to have ongoing communication with Capitol Police leading up to the rally.
McConnell and McCarthy had no comment upon exiting the meeting.
The Capitol Police made its formal recommendation to reinstall the fence on Tuesday during a meeting with the Capitol Police board, The Washington Post reported last week.
Matt Braynard, a former Trump campaign operative and founder of Look Ahead America, an organization that has planned protests in support of people arrested in the insurrection, is one of the rally organizers who has blamed a "few bad actors" for violence during the Jan. 6 riot. Law enforcement has said about 800 people entered the Capitol that day, ransacking the building and forcing the evacuation of lawmakers in the worst attack on the Capitol since the War of 1812.
This rally "is something that we do not want to see," Karine Jean-Pierre, the deputy White House press secretary, said to reporters aboard Air Force One on Monday. "The president has been very clear on the events of January 6, that they were unprecedented in our democracy. ... But if people come together, they should come together peacefully."
Braynard's group has requested to gather at Union Square, the public park by the Capitol Reflecting Pool, according to a permit application to the Capitol Police Board provided to The Washington Post. The group estimated on the application that there will be 700 demonstrators at the rally, which will include the saying of the Pledge of Allegiance, songs of patriotism, prayer and guest speakers.
"We will be using this time to make our voices heard in asking that all charges be dropped for nonviolent detainees and they be released from solitary confinement," the group said in the application.
Kimmie Gonzalez, Look Ahead America's director of government affairs, said earlier this month that the organization has been coordinating the rally with D.C. police, Capitol Police and U.S. Park Police, answering questions about its permit request and who they expect to attend.
D.C. police will be "fully activated" on Friday and Saturday, meaning all officers must work those days, and Capitol Police have requested support from neighboring police departments in Arlington and Montgomery counties on the day of the rally, according to those departments. All available Capitol Police staff will also be working the day of the rally.
In an interview last week, Braynard emphasized that this protest will be peaceful and said any discussions around reinstalling fencing were "mostly theatrical."
"There's been no threat or indication of any violence from anybody on our side, and we wouldn't permit it," Braynard said.
Randy Ireland, who introduced himself at a Portland, Ore., rally as president of a New York Proud Boys chapter called Hell's Gate Bridge and co-founder of Citizens Against Political Persecution encouraged other Proud Boys to go to Washington on Saturday, according to videos posted last month on social media.
"We need you to show up, September the 18th in D.C. Especially the Proud Boys that are here, this is a message going out to you," Ireland said in the video. Cara Castronuova, another co-founder of Citizens Against Political Persecution, is a co-host of the rally on Saturday.
However, the Proud Boys, a far-right group with a history of violence, has told its members on a prominent messaging platform not to attend the rally, citing concerns that they would be arrested. The group also threatened that any Proud Boys who do attend would be "banished from the fraternity." This does not necessarily mean members of some factions will not attend.
Look Ahead America organizers have denied any relationship with groups such as the Proud Boys. Plans for a counter-rally at Freedom Plaza on Saturday have also begun to circulate online.