Department Homeland Security bets on Nebraska for terrorism research
by
Hannah Allam
The Washington Post
August 14, 2021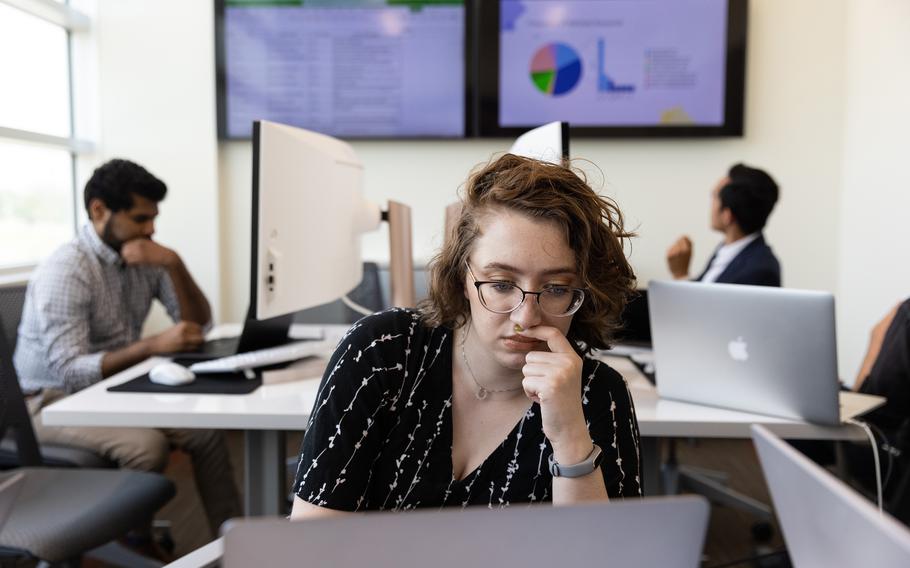 OMAHA, Neb. (Tribune News Service) — One humid afternoon this summer, the Kiwanis Club of Greater Omaha got an unusually high turnout for its weekly meeting at a sports bar in a local strip mall.
The topic was violent extremism, and the gathering took place on the eve of the first hearing of the House committee investigating the Jan. 6 attack on the U.S. Capitol. After a prayer and the Pledge of Allegiance, the club members settled in to learn about the scope of the threat - and, to their surprise, how Nebraska is now a hub in the government's fight against it.
Their guest was Gina Ligon, 42, a terrorism researcher at the University of Nebraska at Omaha, who caused a ripple in the field last year when her team won a long-shot bid for a multimillion-dollar federal project. The result is the newly opened NCITE, the National Counterterrorism Innovation, Technology and Education Center, one of 10 specialized centers funded by the Department of Homeland Security to study urgent security concerns.
NCITE is the second in the Midwest, a dot in the middle of the map Ligon showed the audience. She told them it offends her when people ask, as they often do, "Why Omaha?"
"You don't want another center on the coast," Ligon said. "You want it right here."
Housed in a gleaming new wing of the university's business school, NCITE is the steward of more than $36.5 million in Homeland Security research and prevention money over the next decade. It funds a slew of projects across 18 partner universities, including a gigantic database of Jan. 6 defendants, as well as a study on how to safely repatriate the American families of Islamic State fighters. Students are also experimenting with technology and artificial intelligence, testing robots and hologram models for counterterrorism use.
Put another way, NCITE is an ideas factory for the transformation that's happening in the U.S. counterterrorism realm. National security analysts say the post-9/11 fixation on militant Islamist networks made officials slow to recognize a resurgent extreme right, now the most lethal and active domestic threat. The Capitol attack added pressure for a course correction, and in June the Biden administration released the country's first national strategy to address domestic terrorism.
For researchers like Ligon, the challenge is formidable: how to remake U.S. counterterrorism without the never-ending conflicts and civil liberties violations that are a legacy of the War on Terror. Skeptics doubt it can be done. The American Civil Liberties Union already said, "Biden's strategy fails to address these wrongs, let alone reverse them." The right portrays the shift as an attack on ideology rather than crime; the left worries any expanded powers eventually will be used against marginalized communities.
The debate has become yet another front in the culture wars, which is why Ligon invokes her Oklahoma roots and Air Force pilot husband when she speaks to groups like the Kiwanis Club, mostly White men of retirement age in a red state. Typically, the first question Ligon gets is: "What about antifa?" This time, there was more concern about military and police involvement in the Capitol rioting, an issue NCITE researchers are examining.
"People will say, 'Well, proportionally, there weren't that many.' Even one is too many, right?" Ligon said, as heads nodded in the crowd. "If you are wearing the badge or you are in national security and you are trying to overthrow our government and break into our symbol of democracy, then that's too many."
Another man asked: "Neo-Nazism, is that a big thing?" Ligon explained that today's white-power militants don't have Klan hoods or shaved heads - they're more like the preppy torch-carrying crowd from the deadly rally in Charlottesville, in 2017.
"They look like guys I dated," Ligon said, to laughter. "They look like clean-cut guys from Western Oklahoma and you don't know that they're part of the underground movement because of how they have been coached to look and comport themselves."
After Ligon wrapped up, the talk continued around tables of burgers and fries.
Vince Pille, a 63-year-old who works in banking, praised Ligon for luring top tier researchers to Omaha but said he wanted to hear more explicitly about the drivers of radicalization: "She didn't get into the Trump versus Biden stuff."
Dale Kaisershot, a 75-year-old retiree sitting with Pille, said he appreciated how Ligon drew a line between "extremism" and "violent extremism," the move from beliefs to action.
"I have a problem with that word," Kaisershot said. "Everybody's called an extremist these days - 'you're an extremist, you're an extremist' - and nobody knows what it means."
"It's a fine line," Pille said. "Someone thinks something but they aren't acting on it, so they're cool. But at what point are they going to act on it? I don't remember who this quote is from, but 'if you can get people to believe absurdities, you can get them to commit atrocities.' "
- - -
Right before a Homeland Security delegation arrived in Omaha in December 2019 for a site visit, a crucial final audition in the grant process, Ligon ditched her planned speech and decided to speak from the heart about the Oklahoma City bombing.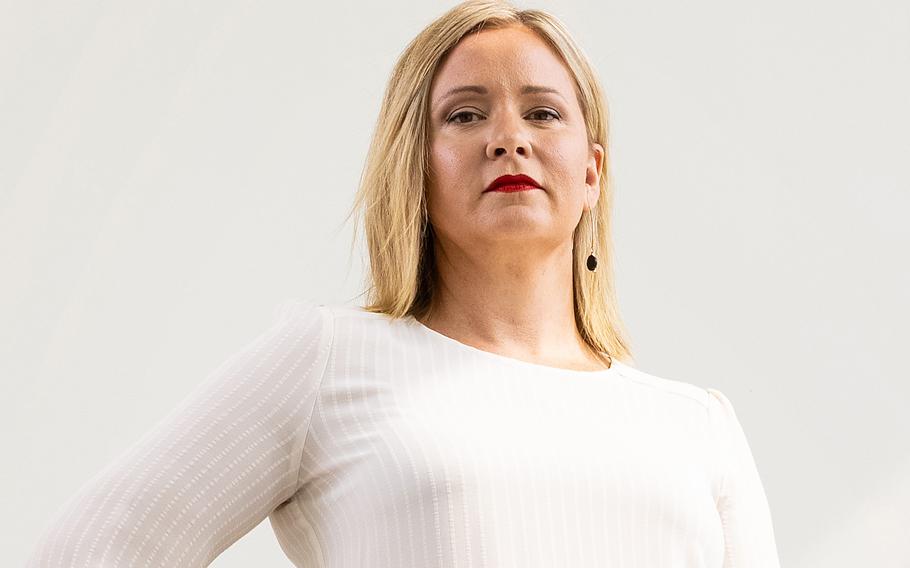 Facing the selection panel as well as the governor and other Nebraska luminaries, Ligon opened with the memory of visiting the bombing site with her high school history class a few weeks after the attack in 1995.
If DHS picked Omaha, Ligon pledged, her team would work relentlessly to stop "the next Timothy McVeigh." She urged officials to build their center "here, in the middle of the country," the region he had targeted in a landmark act of domestic terrorism.
"I'm not very spiritual, but it felt divine," Ligon recalled. "It just came out."
At the time, her approach was risky. The Trump administration was still in power, and it was taboo to dwell on far-right extremism, at least not without a quick "both sides" caveat. But the gamble paid off and the University of Nebraska at Omaha won the grant, beating out many bigger East Coast schools.
"I'm trying to bring outside views to the government so that they don't keep hearing from the same voices. And not that I'm denigrating those voices - there's important work to be done by experts in the Beltway who've been doing this work for a long time," Ligon said. "But I think to be creative and stay ahead of it, you have to get that outsider view."
The sunny new NCITE offices have the buzz of a start-up. One day last month, construction crews were installing screens and taking measurements as faculty members met to video-chat with far-flung research partners.
Austin Doctor, a new hire who previously taught at Eastern Kentucky University, said it's vital to enlist academics outside of big cities to understand the extremist forces gaining traction across the country.
In Kentucky, Doctor said, he worked out at the local YMCA with guys whose shirts and tattoos signaled membership in a Three Percenters armed group. Doctor, whose research has focused on Islamist extremists in Africa, said it was jarring to watch radicalization in real time, four days a week at the gym. He said it has shaped how he studies conflicts abroad.
"It makes me want to do more field work - to continue seeing the faces, hearing the voices of the people caught up in this," Doctor said.
NCITE represents what some analysts have described as a "sea change" in counterterrorism. The researchers take a dim view of old tactics such as profiling or the stigmatizing of certain groups - namely, Muslim communities - in government-funded efforts claiming to prevent radicalization. Instead, they look at threats across ideologies, tracking processes and data rather than, as Ligon puts it, "admiring the nature of the problem."
Sam Hunter, head of NCITE's Leadership and Innovation Lab, said the idea is to "shake loose the boogeyman perspective if we can." He said the blank slate is part of what drew him to Omaha this summer from a tenured position at Penn State.
"None of us are coming in with this playbook that we're putting on the table, crossing out 'jihadi' and writing in 'domestic extremist,' " Hunter said. "We're writing our new playbook, here, from very different perspectives."
Ligon herself is symbolic of the change. Terrorism research remains a rarefied field; just this month, female analysts collectively rolled their eyes at yet another "manel" - an all-male panel - at a high-profile conference. When Ligon was named NCITE director, she was the only woman to head one of the 10 DHS centers. (A second woman has since been added.)
"Sometimes I get weird FOMO [fear of missing out] on social media because you see the big 9/11 events or panels and they're all men, and you feel like, 'I've been doing this for 20 years. Can I get invited?' " Ligon said.
In separate interviews, women described how Ligon had recruited them from nontraditional fields to study terrorism at NCITE. Lauren O'Malley, 23, was pursuing a degree in finance when Ligon suggested she use her skills to examine the corporate-like structure of the Islamic State. O'Malley said she found herself looking at terrorists' receipts while her friends were studying to be stockbrokers.
"Where's their revenue coming from? How are they organized?" O'Malley said. "I was like, 'Whoa, this is actually up my alley,' but it was something I never would've thought of."
Students at NCITE joke about how their cloak-and-dagger research bumps up against normal campus life, where everything is documented on social media. Those with security clearance said they've learned to be "super vague" when talking to roommates or at parties. Three of them had just returned from a trip to Washington, where they were embedded in different DHS offices, getting to know "our special agents."
Some students, particularly people of color, said that at first they wrestled with the idea of working with federal law enforcement. On one hand, there's the thrill of conducting cutting-edge research to keep the nation safe. On the other, the work is for the same agencies that separated migrant children from their parents or whisked away civil rights protesters in unmarked vans.
"I basically said, 'I know these things are happening now. How can I do this and still hold true to my own values?' " said Khylie Kight, a 24-year-old Black graduate student who had a heart-to-heart with her parents during racial justice protests last year. "We talked about ways you can give back and things you can focus on, how to make things change."
Now, Kight said, she sees her work with the government as being part of that change, a chance "to help in some way."
"My dad gets a kick out of it," Kight said. "He's always like, 'Khylie's working with special agents. She can't talk much.' He always says I work with 'Men in Black.' "
Brandon Lai, 24, the Omaha-born son of immigrants from Vietnam, is another graduate student designing a DHS tool. Lai said he stumbled into counterterrorism work at NCITE and enjoyed it because he felt like he was "contributing to a good cause."
In recent months, Lai said, the mission has become more personal, as reports showed a surge in xenophobic attacks targeting Asian Americans and Pacific Islanders. Lai is nervous about his 70-year-old father's early-morning bike rides.
"I hate to have to worry about whether or not he'll come home safely," Lai said.
Ligon said she has counseled students through their ethical dilemmas, reminding them that the federal government is full of career personnel who have fought to protect their work from the whims of political appointees who come and go as administrations change.
NCITE must do the same, Ligon said, if there's any hope of building a research center with a sober, long-term view of threats to the nation.
"After Jan. 6, people said, 'How does this change your work?' And my whole thing was, well, we were already funding projects on those groups," Ligon said. "It's made it more important, but we're not going to take away money from our 'ISIS in America' project or our cyberattacks project, because those are also still important."
Ligon said her team isn't distracted by what's "popular or politically en vogue." She said NCITE will neither cater to a Trump agenda nor position itself as "Biden's center."
"We will outlast this administration," Ligon said. "We will still be here."