Lockdown lifted at Joint Base Anacostia-Bolling, one individual detained
by
Sarah Cammarata and Caitlin Doornbos
Stars and Stripes
August 13, 2021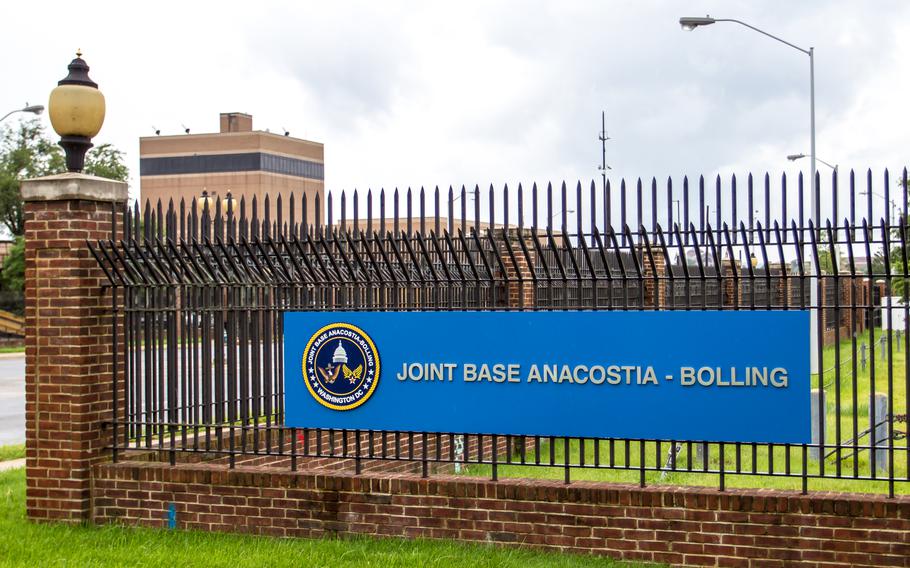 WASHINGTON — An individual has been detained at Joint Base Anacostia-Bolling following a lockdown Friday afternoon at the base, officials said.
The 1,018 acre military base located in the Southeast section of Washington had been placed on lockdown after a report of a "potential armed individual" near a barracks building.
An all-clear notice was posted on the base's Facebook page at about 3 p.m.
"Authorities have responded to the scene, and the threat of an armed individual on Joint Base Anacostia-Bolling has been cleared. The individual was detained and will be transferred to Metropolitan Police Department custody," the base wrote in a Facebook post. "First responders are still assessing the situation. More information will be released as it becomes available."
The base originally posted an alert on Facebook at about 12:30 p.m. that the possibly armed person was last seen on the south side of the base near Blanchard Barracks. He was described as a "Black male with a medium build carrying a Gucci bag."
"If you encounter the individual and have a safe route, RUN. If you do not have a safe route to run, HIDE. Barricade your door, turn off the lights and your cell phone ringer, and remain silent. If you are hiding, prepare to FIGHT," the base wrote in its Facebook post.
The base posted an update about 45 minutes later with more details on the individual. The male has "dreads that are mid-back in length. He is wearing blue or green pants and a white tank top (possibly with a bag)," the base wrote in the second Facebook post.
The Associated Press reported local police officers from the D.C. Metropolitan Police Department were responding to shots heard near the base when the suspects ran onto the grounds. No injuries or deaths have been reported, the AP said.
Base officials originally said they were looking for two people, but a later post identified only one person.