Infrastructure bill contains highway expansion to connect 12 military bases in five southern states
by
Rose L. Thayer
Stars and Stripes
August 13, 2021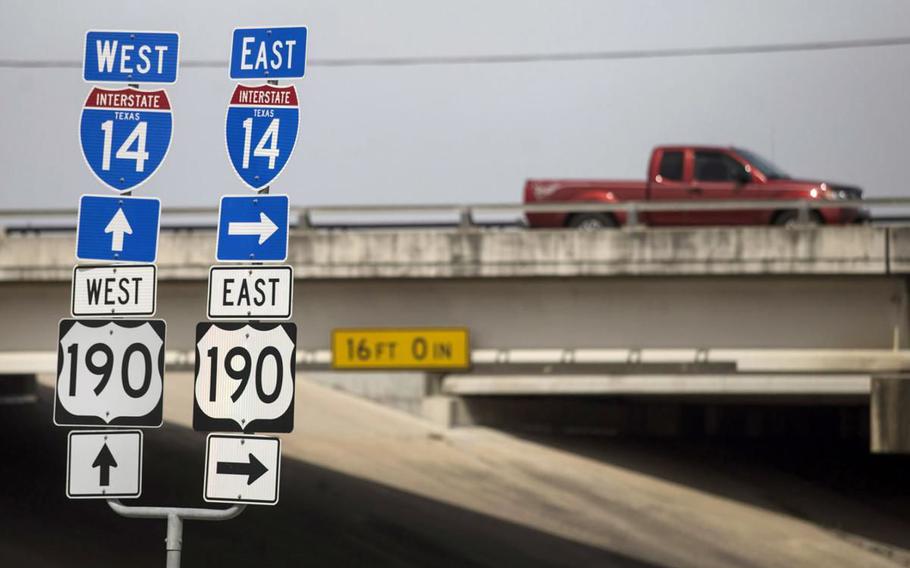 A proposed stretch of interstate highway that would connect a dozen military bases between Texas and Georgia made its way into the $1 trillion infrastructure bill passed by the Senate this week with the expectation it will improve access to bases located in some of the more isolated stretches of the South.
The highway is a "major step in advancing Interstate 14 as a future corridor for handling freight movement, military facility connectivity, coastal evacuation and sparking economic development," said John Thompson, chairman of the Gulf Coast Strategic Highway Coalition, a group of community leaders who advocate for the highway.
If the House passes the sweeping legislation and sends it to President Joe Biden to sign into law, it will expand Interstate Highway 14 from its 25 miles near Fort Hood, Texas, into Louisiana, Mississippi, Alabama and onto Augusta, Ga. The proposed 1,300-mile route runs between Interstate Highways 10 and 20 and would primarily upgrade already existing roads.
It would better connect tens of thousands of troops and families at bases including Goodfellow Air Force Base, Texas, Fort Polk, La., Camp Shelby and Keesler Air Force Base, Miss., Maxwell Air Force Base, Ala., and Fort Benning, Robins Air Force Base and Fort Gordon in Georgia, advocates contend.
By linking to other interstate highways, it could also ease travel as far west as Fort Bliss, Texas, and as far east as Fort Stewart, Ga., and the Port of Savannah, according to a map of the proposed route.
Thompson, a former county judge for Polk County, Texas, where the highway is planned to stretch across, used the phrase "forts to ports" to describe the proposed route.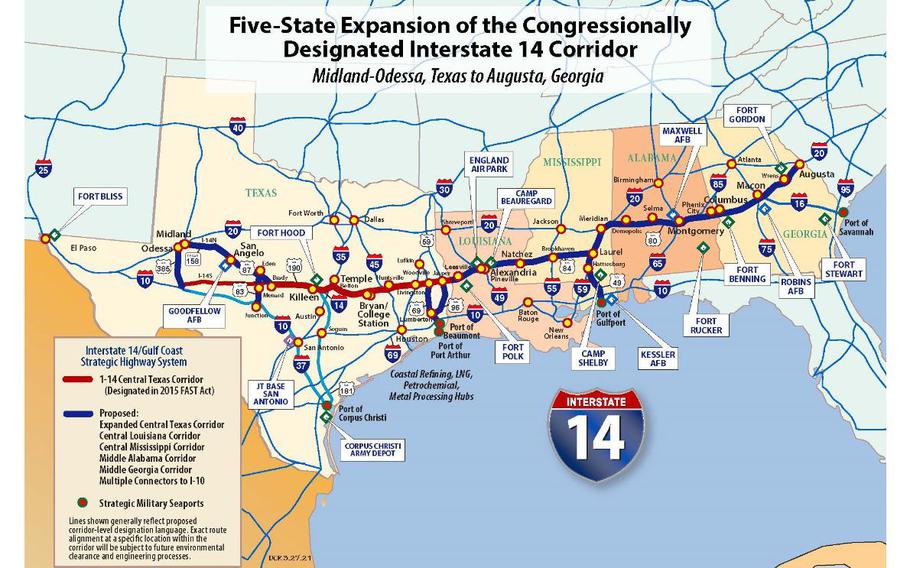 "It's about moving troops and material, and it creates an ease in the ability to keep our country safe," he said.
Of the Army's 11 armored brigade combat teams, six reside in Texas, said Keith Sledd, a coalition board member.
"Sure, you can go to the Texas ports, but what if something happens like [Hurricane Harvey] in Houston several years ago?" he said.
In 2017, the massive storm closed the Port of Houston for an entire week. The nearby Port of Beaumont, which Sledd said is also used by the military, remained closed to large ships for several weeks after Harvey and suffered eroded shorelines and infrastructure damage that took years to fully repair.
"To get them to another port, that's what this highway offers. It's the ability to move to ports over in Louisiana or Mississippi or Alabama, or vice versa," said Sledd, a retired Army colonel and executive director of the Heart of Texas Defense Alliance. Based outside of Fort Hood in Killeen, the nonprofit is funded by local governments to advocate on issues that benefit the military in central Texas and the surrounding communities.
Fort Stewart is home to three Army brigades but also experiences hurricanes. The new highway would allow those brigades to get to other ports to the west to deploy, if needed, he said.
"[Hurricanes] often interdict I-10 and it may lead to flooding or sometimes physical damage to the road structure itself or bridges. What this gives you is an ability if there is a contingency going on at the same time you've got one of those extreme weather events going on, you now can bypass it further inland," Sledd said.
Sens. Ted Cruz, R-Texas, and Raphael Warnock, D-Ga., proposed the amendment to the bill with support from the other eight senators in the five affected states. The House has not released a scheduled of when lawmakers might debate the infrastructure bill.
Cruz said passage of the amendment clears the way "begin the necessary work to upgrade this road system and connect strategic military installations across our states."
"This planned route would connect military installations across Georgia and drive economic opportunities to our rural communities," Warnock said.
Outside of the military, local communities could also see an economic bump, Sledd and Thompson said.
Where I-10 and I-20 run through some of the largest cities in these five states, proposed I-14 would bring life to some smaller towns, including many where military families live, shop and seek employment.
"All the large corporations, distribution centers or manufacturing companies, they want to locate where their logistics is simplified and it's usually adjacent to an interstate system," Sledd said.
In the existing stretch of I-14 running near Fort Hood, where about 89,000 trucks make deliveries each year, he said they've already seen positive improvements to traffic and new business development. Federalizing the highway also allowed for the road to expand from two lanes to three in each direction.