Months later, police officers bear trauma of Jan. 6
by
Peter Hermann
The Washington Post
July 24, 2021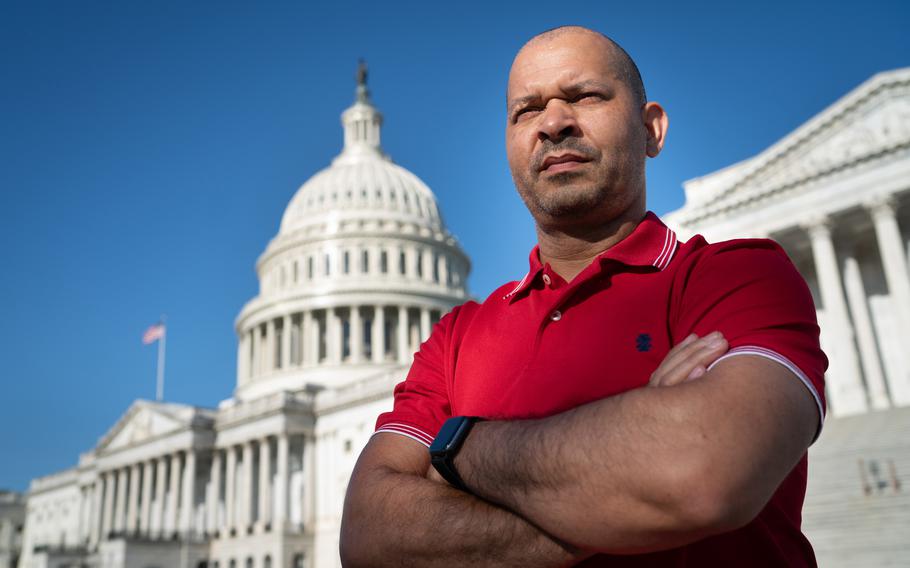 WASHINGTON — More than six months after Police Sgt. Aquilino Gonell battled the mob that stormed the Capitol, he remains hobbled, a hand scarred, a shoulder aching, recovering from surgery to an injured foot that swelled so large it no longer fit his shoe.
The 42-year-old Capitol Police officer and Army reservist is also seeing a therapist to help with post-traumatic stress disorder (PTSD), first diagnosed after he served in the war in Iraq.
He said bouts of anxiety returned after his battle on American soil in the Jan. 6 riot.
"I can be fine now and see or hear something, and next thing I get tears and get emotional," said Gonell, who was hurt when rioters tried to yank away his ballistic shield, threw a speaker at him, struck him in the face with a pole and sprayed him with chemical irritants.
"I tried to be strong," he said of the months following the riot. "I tried not to show my emotion." But once, he said, he retreated to a quiet space at his home in Virginia, away from his wife and 9-year-old son: "I completely broke down."
In the aftermath of the riot, authorities said about 140 Capitol and D.C. police officers were hurt when supporters of President Donald Trump stormed the Capitol in a failed effort to overturn Joe Biden's election victory. Police were bludgeoned with poles and bats, pushed and trampled, and sprayed with chemical irritants.
A Capitol officer, Brian D. Sicknick, collapsed after confronting rioters and died a day later of a stroke. Two other officers in the riot, one Capitol, one D.C., later died by suicide. One Capitol officer surrendered her weapon, fearing she might use it on herself, Rep. David Cicilline, D-R.I., said.
But the full toll on police is still coming into view as officers continue to grapple with the impact of hours of hand-to-hand fighting. They have emerged with a complex jumble of physical and emotional trauma that has made diagnoses and treatment challenging, a problem some officers said is made more difficult by efforts of Republican lawmakers to downplay the riot.
Some officers who were assaulted Jan. 6 experienced different or worsening symptoms in the weeks and months that followed, indicating they may have suffered injuries more severe than had initially been believed, in particular undiagnosed head trauma, according to a therapist who has seen hundreds of D.C. officers. She thinks others who emerged exhausted and sore may not have reported injuries, or even recognized they needed medical care.
The Washington Post interviewed six D.C. or Capitol police officers who suffered physical injuries or emotional problems, and in some cases both.
Three who agreed to be named — Gonell, Capitol Police officer Harry Dunn and D.C. officer Michael Fanone — have shared public accounts and are among those set to testify Tuesday before a congressional committee studying the riot. They have pushed for public accountability and openly criticized Republicans who blocked forming an independent commission in May.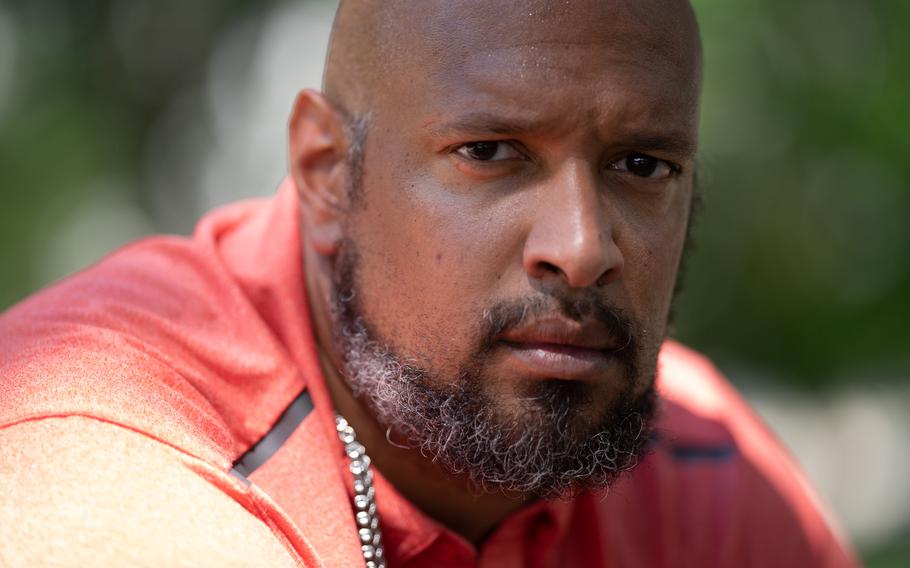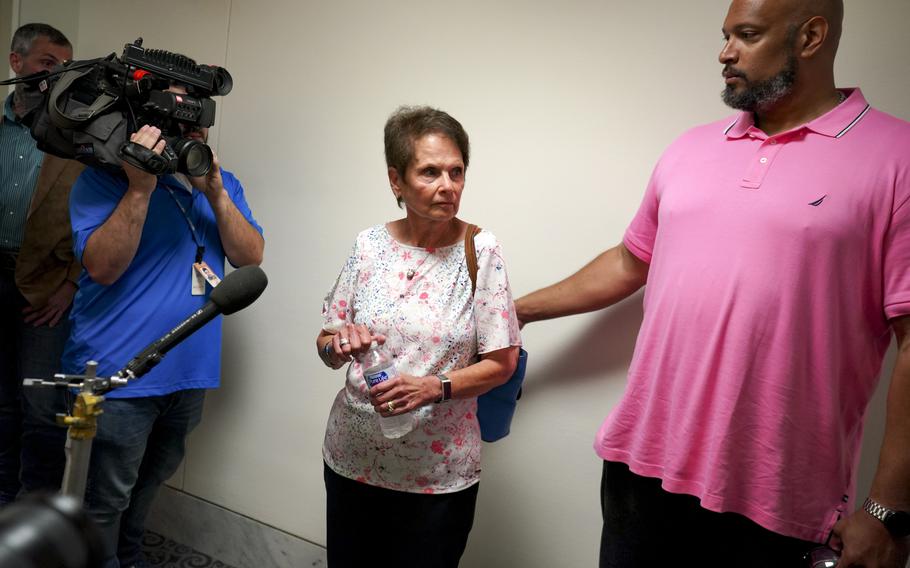 - - -
In interviews with The Post, the officers said they were speaking on their own behalf, not representing their agencies. Three others asked to remain anonymous, saying they did not have permission from their departments or were concerned about jeopardizing criminal cases of accused rioters.
One Capitol officer who was knocked unconscious and could "barely walk, barely talk" said she was initially told she would be out of work for a week. She was later diagnosed with a concussion and has not yet returned to the job.
A D.C. officer who was hit on the back of the head with a pole and had his head wrenched back when rioters tried to tear off his helmet also has been out with a concussion, and sees a neurologist and two therapists. He said his mind shifts between "anger, confusion, despair," and between wanting to return to the job and wanting to quit.
D.C. police said six officers who responded to the Capitol were still on leave as of mid-July. Capitol Police declined to provide a number, though the labor union said some "were hurt so badly they may never return to duty."
Capitol Police officer Harry Dunn, who is Black, wasn't physically hurt by the mob, but he was scarred by racist invectives hurled at him as he defended the building where he has worked for 13 years.
"I was directly called the n-word," Dunn said. "At the time, my mind didn't process it, that I was being attacked because of my race."
Speaking out against the mob has made him a continued target for some, including Fox host Tucker Carlson, who recently called Dunn an "angry left-wing political activist." Dunn's lawyer fought back on Twitter, saying Dunn would give his life to protect lawmakers of either party.
After Jan. 6, Dunn — who once relished his interactions with tourists and boasted he once "lit up a room" when he walked into one — became more reserved, "like a whole different person." He said he's talked two struggling colleagues into seeking therapy.
He used to enjoy lunch in the Capitol cafeteria, where he could strike up conversations. But now, he mostly retreats to his vehicle to eat alone.
- - -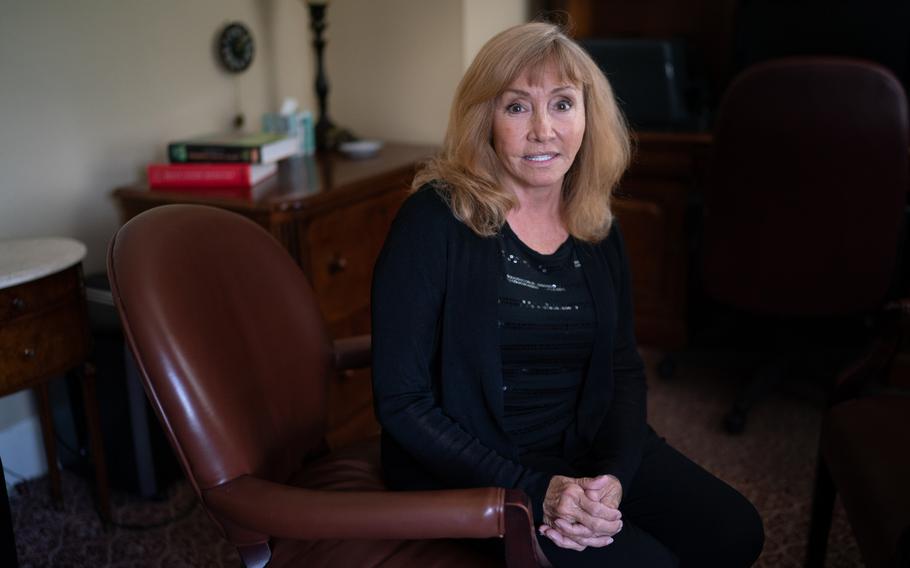 Neck surgery and physical therapy largely eased the pain of one D.C. officer who was injured during the riot, but he still wasn't himself. As the spring wore on, he complained he felt as though he were in a fog.
"Something wasn't adding up to me," said Beverly Anderson, a therapist who treated him and has spent decades helping D.C. police officers involved in shootings or other violent incidents.
During an April session, Anderson said, she instructed the officer to "take your hand and show me where the first impact was."
The officer pointed to the top of his head.
It was only then that Anderson suspected his neck had twisted from the force of a blow to the head. She believed he had suffered a concussion, a diagnosis she said doctors later confirmed. By that time, it had gone untreated for more than three months.
Cases such as that officer's have turned Anderson, clinical director of the Washington D.C. police employee assistance program, into a detective of sorts. The symptoms of PTSD and head trauma can be similar, she said, and she has been working to make sure officers who fought the Capitol mob get the treatment they need.
In the days after the riot, Anderson led group therapy sessions for the 850 D.C. officers who responded to the Capitol, meeting every day for a week. Since then, she has met with officers individually at a rowhouse on Capitol Hill.
She said many D.C. officers were already under strain from working the streets during weeks of summer demonstrations, which included rallies against police brutality and then later protests by far-right Trump supporters who came to the District, sometimes clashing with counterprotesters.
Then came the intense fighting of Jan. 6.
In sessions since then, officers told her they were anxious, forgetful or had moments of confusion, she said. Some had trouble sleeping, were sensitive to light or had debilitating headaches. Some complained of trouble formulating thoughts.
As she helps officers cope with psychological impacts, she quizzes her patients and their spouses or police partners, looking for clues that indicate they may also have undiagnosed physical injuries. She even watches their body-camera videos.
She said police officers are often reluctant to disclose discomfort, preferring to tough it out. Others don't remember what happened to them.
"I know there are officers who did not report their injuries," Anderson said.
Anderson, who does not report to police leaders and whose position is negotiated by the labor union, is working with the department to develop a concussion protocol, similar to that used by the NFL, that would require officers with symptoms to be pulled from the front lines. She is already training supervisors to recognize the signs.
D.C. Police Chief Robert J. Contee III, who said he wants to be a leader in helping officers deal with physical and psychological issues, has created a new office and director of employee well-being support to help officers recovering from the riot as well as any future incidents.
"Some are still suffering or have not fully recovered from visible injuries that they have," Contee said of officers who responded to the riot. "Those are the injuries that we see. But what about the internal injuries that we don't see?"
The chief added, "Are they extra agitated because they are still dealing with the trauma associated with Jan. 6? Whether it's in one person or one hundred, it definitely exists."
The Capitol Police said the department offers peer counseling and brought in therapy dogs, efforts that officials say are intended to make officers more comfortable seeking help.
"We want them to come to us in a safe way," said Richard Braddock, the chief administrative officer for the Capitol Police. "You can tell us you're having a bad day."
- - -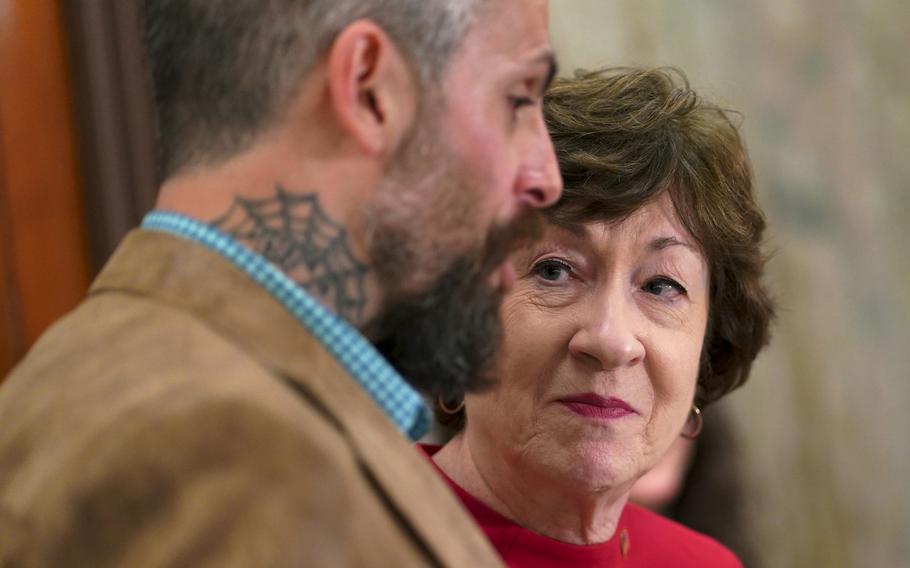 Michael Fanone startles easily these days, jumping once when his mom said hi. He has trouble engaging in small talk. He gets anxious when he tries to process a lot of information.
"Every now and then I struggle searching for a certain word," he said.
Fanone's story is familiar to many who have seen the 40-year-old officer on television or in newspapers, recounting what it was like for officers who fought to hold back rioters. On Jan. 6, he was dragged into a hostile crowd, beaten and repeatedly shocked on the back of the neck until he was unconscious. Doctors told him his heart stopped beating for a moment.
Fanone, who joined the D.C. force after 9/11, has become a de facto spokesman for officers who fought on Jan. 6 and says many have confided in him their own struggles. Speaking about the insurrection helps him cope and has thrust him into the national spotlight.
He has walked the halls of the Capitol, cajoling lawmakers for their support, whether it be for medals of honor or a commission to explore the origins of the riot.
Fanone said he went from being overwhelmed by the attention to feeling "completely isolated." His activism has given him a new purpose, but it comes at a price for a man who still finds it hard to hold a conversation with people with whom he is not familiar.
"This is much more exhausting than any criminal investigation I ever participated in," he said.
Fanone had been working as a crime-suppression detail when the urgent call went out for officers to help at the Capitol. He was hospitalized for treatment of his injuries and went home the next day, his neck and back hurting, unable to maintain his balance or think clearly. He was sensitive to sound and light. He had headaches so severe that they induced nausea. He was nervous in crowds and became overwhelmed by the stream of well-wishing text messages, able to respond only with a single emoji.
He said he was treated by a cardiologist and passed an agility test. But his cognitive issues continued, so his doctors held off clearing him to return to policing.
"I had a very difficult time concentrating," Fanone said. "I would drift off in mid-conversation with somebody, even over the most simple things."
Anderson, who has been counseling Fanone since January and discussed the case with his permission, said she expected to see more improvement in the weeks after the riot and was trying to figure out how to help him. Then his partner told her about the moment fellow officers pulled Fanone from the crowd.
"We thought he was dead," that officer had said.
Fanone had described falling in and out of consciousness, but his partner's recollection suggested Fanone didn't understand how serious his condition had been. Anderson asked a police commander to study Fanone's body camera; he'd been unconscious for four minutes.
Neurologists later diagnosed Fanone with a concussion and traumatic brain injury.
Fanone said his health is improving, though he remains on leave, spending time at home and with his four daughters.
He said he started speaking out because he felt officers deserved more acknowledgment. Now, he has thrust himself full-bore into argument with Republican lawmakers who refuse to admit what he experienced is real.
Fanone accompanied Sicknick's mother and partner to the Capitol in May to try to convince Republican senators to support an independent commission on the riot. He returned there in June, seeking out House Republicans who voted against giving officers the Congressional Gold Medal. A lawmaker who referred to insurrectionists as tourists refused to shake his hand after the officer buttonholed him in an elevator.
He went back again later that month, this time with other officers, to watch the House approve a committee to investigate the riot.
For Fanone and others, public acknowledgment that Jan. 6 was a violent insurrection is crucial to their recovery.
"My life clock stopped on Jan. 7," Fanone said. "Everybody else has moved on. ... This was the most significant moment of my entire life and all of a sudden, nobody gives a s--- anymore. And now, on top of all that, we have people saying what we went through didn't happen."
- - -
Aquilino Gonell was 12 years old when he emigrated to the United States from the Dominican Republic with his mother in 1992, following his father, a taxi driver who had come years earlier. He joined the Army in 1999, hoping to further his education but decided to stay on. He spent a year in Iraq in the mid-2000s, based north of Baghdad.
"We were getting mortar rockets fired on us," Gonell recalled. "People were dying."
He was in a commissary hit by a mortar that killed people days away from going home. He recalled soldiers carried into a field hospital with missing limbs and an Iraqi child whose face was badly injured.
Back home, he battled PTSD. Recovery came over time, and two years ago he was doing so well that he stopped therapy.
Gonell wasn't involved in policing last summer's demonstrations. But from his vantage point at the Capitol, he saw the swarm of federal officers, National Guard members with military vehicles and low-flying Army helicopters brought to the city.
"I remember looking down for my rifle," Gonell said. "For a minute, I thought I was back in Iraq. ... I felt this was not America."
Then came Jan. 6.
Gonell fought on the Capitol's West Terrace. He said he and his colleagues were called unpatriotic, scum, traitors and un-American. He didn't know he had been struck with a speaker until he saw himself on a video.
After the riot, Gonell powered through his injuries and insisted on working through the Jan. 20 inauguration, hiding his limp and shoulder pain and ignoring a doctor's advice to take it easy. He stopped only after Biden was sworn in, when his foot had become dangerously swollen and he could no longer stand.
He had surgery, and his recovery forced him to miss the memorial for Sicknick, whom he had sometimes supervised. He has since returned to work, though he is confined to limited desk duty until at least late summer.
Gonell, who went on CNN to denounce lawmakers who opposed a commission to study Jan. 6, is now back seeing the same therapist he did after the war. He's in physical therapy for his shoulder and foot, helped in recovery by his dog, Milo.
He said he raised his hands three times to "defend and protect the Constitution" — when be became a citizen, when he joined the army and when he became a police officer.
Now, Gonell said, he feels "insulted and betrayed."
He added, "The sacrifices we made, it feels it was for nothing."