Charlottesville to take down Robert E. Lee, Stonewall Jackson statues Saturday
by
Teo Armus and Joe Heim
The Washington Post
July 9, 2021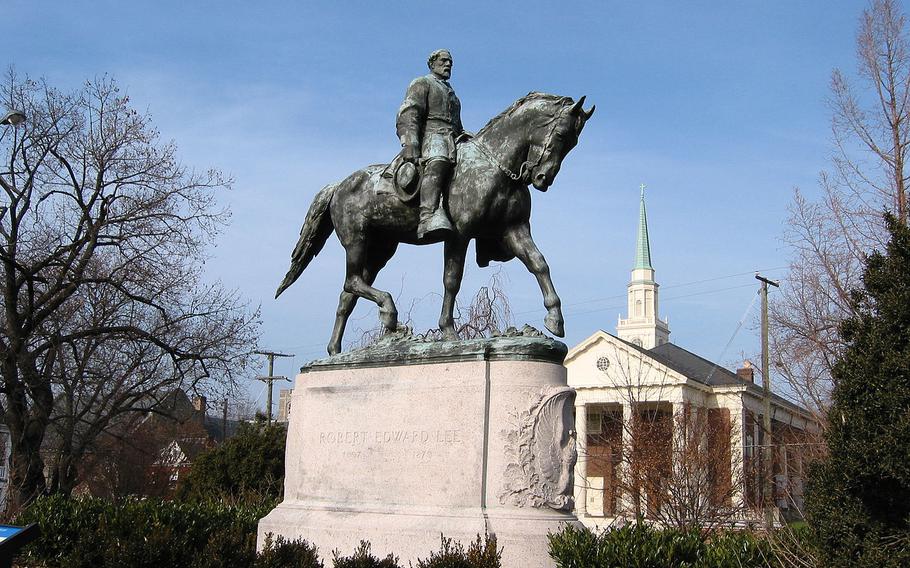 The city of Charlottesville, Va., will take down two prominent Confederate monuments Saturday, officials said, capping an intense push in courtrooms and on city streets to remove the state of Gen. Robert E. Lee that became a focal point of the deadly "Unite the Right" rally in 2017.
The removal is the result of more than five years of campaigning by residents to take down monuments to Lee and fellow Confederate Gen. Stonewall Jackson — all of which began with a petition in 2016 from Zyahna Bryant, then a local high school student.
Bryant, now a student at the University of Virginia, said the move was a first step for the city to begin to uplift stories that had been concealed or omitted from Charlottesville's history.
"This is an opportunity to tell a more complete and historically accurate narrative of what Charlottesville is," she said. "It shows that, this isn't just Dixieland, this isn't a place where Confederate generals did this and that. This is a place where Black people have worked to liberate themselves."
The Charlottesville City Council voted in February 2017 to take down the Lee statue, prompting white supremacists to descend on the city months later to defend Confederate iconography. One of them drove his car through a crowd of counterprotesters, killing a 32-year-old woman, Heather Heyer.
As the city also pushed to remove the nearby Jackson statue, several local residents sued to prevent the statues from coming down. They argued that a state law passed in 1997 prohibited localities from removing Confederate war memorials.
But the city successfully appealed to the Supreme Court of Virginia, which earlier this spring said that the law applies only to monuments erected after the law was adopted. The ruling cleared the way for the city to remove the figures. On June 7, the council voted unanimously to do just that.
Wes Bellamy, a former city council member who helped lead the push for the Lee statue's removal, said that Friday's news demonstrates the "power of perseverance."
"There's a level of fear that a lot of Black folk just lived in because of the terror of the past," said Bellamy, now chair of the political science department at Virginia State University. "This is a beautiful thing to show our folks that we don't have to be afraid."
Charlottesville officials said in a news release Friday that only the statues will be removed on Saturday, to be stored securely until the city council decides what can happen to them next. The stone bases will be removed later.
Public viewing areas will be set up to allow spectators to watch the statues come down in Market Street and Court Square parks, where the statues stand, the city said. Protective fencing was being erected around the statues Friday in preparation for the removals.
City spokesman Brian Wheeler declined to comment on whether local officials were expecting protests or pushback against the removal of the statues.
"As with any large event like this, we have a security plan and a team that's been hard at work ensuring that our contractor has access to the statues and can remove them safely," he said.
But Don Gathers, an activist and a deacon at First Baptist Church of Charlottesville, said he expects some presence of white supremacist groups — even if he prefers to be wrong in the end.
"I can just imagine they'll be there to voice their displeasure," he said. "They've been fighting this battle that they lost 155 years now, and I don't expect that they'll give it up at this point."
Gathers said that observers from the National Lawyers Guild and volunteers offering medical aid, security and deescalation measures will be on hand.
It is unclear where the statues will end up permanently following their removal. City officials in recent months have been seeking museums, historical societies or battlefields that may be interested in housing the statues. Ten potential sites, including four in Virginia, have expressed interest.
But before that question was considered, some said, it was important to recognize the activism that led to Friday's announcement. Susan Bro, Heyer's mother, said that Black women — beginning with Bryant — should be acknowledged for their key role.
"Heather did not protest for the sake of the statues," Bro said in a text message Friday. "She protested in support of Black Lives after seeing the tiki torch marchers threaten them." She was referring to a nighttime march of torch-bearing white supremacists on the eve of the deadly clash in August 2017.
Jalane Schmidt, an activist and religious studies professor at the University of Virginia, said that while removal of the statues had been a long undertaking, much work remained to be done in the fight for racial justice in Charlottesville.
"It wasn't about the monuments," she said. "It was about what they symbolize, and the story of racial injustice in this country."
The Washington Post's Gregory S. Schneider contributed to this report.