US service members suffer chronic pain at rate much higher than civilian population, report says
by
John Vandiver
Stars and Stripes
July 6, 2021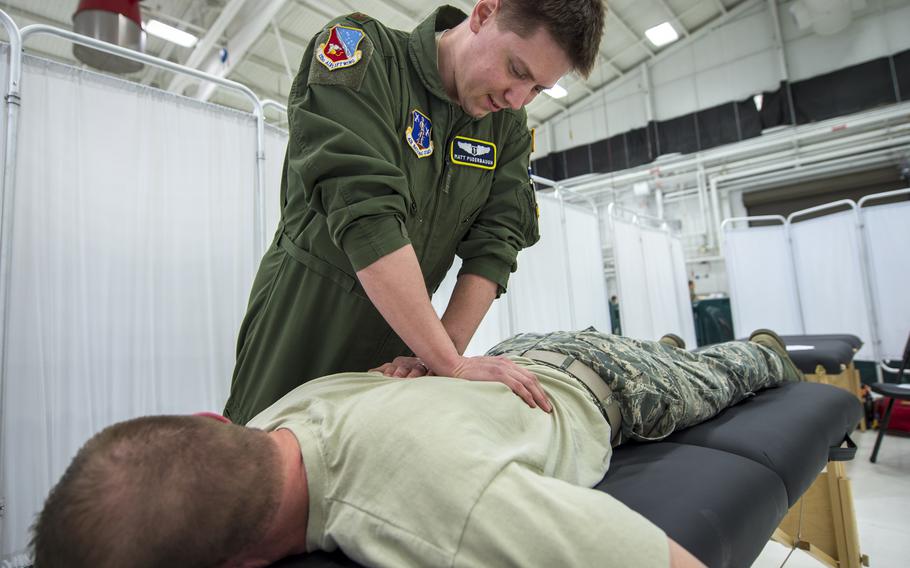 Many service members are in constant pain and the military medical system needs to better identify effective treatments to help them cope, says a new study that found chronic pain as the main factor leading to disability for those on active duty.
Between 31% and 44% of active-duty service members suffer from chronic pain, the nonpartisan Rand Corp. said in a study that examined how the military health system deals with the issue.
While the Defense Department has invested heavily and made strides in treating chronic pain, expanding efforts to track how service members are doing after they receive care would be a step forward, Rand said.
"Accurately measuring the quality of pain treatment is an essential step toward improving care," it said.
By better understanding treatment outcomes, the Pentagon could spend money more wisely. This would ultimately "enhance the military readiness of service members with chronic pain," the report said.
Chronic pain has long been an uncomfortable fact of life for many troops. It is far more prevalent within the military than the civilian world, where roughly 20% of the population experiences some form of the condition, according to prior research cited by the Rand report.
"The substantially higher prevalence of pain among service members has been attributed to a high rate of injuries from deployments, the mental and physical demands of military service, and a possible tendency to delay care-seeking for painful conditions," said the report by the research group, which works closely with the Pentagon.
Back pain and joint disorders are the most common types of chronic pain experienced by troops.
The Rand study cited U.S. Army data suggesting that musculoskeletal pain — generally back and joint injuries — accounted for nearly 60% of limited duty days and was the reason why 65% of soldiers were medically unable to deploy. Service members also experience more complex pain syndromes given unique occupational hazards associated with deployments, such as blast injuries that can cause a range of wounds, including traumatic brain injury.
"Chronic pain is understudied relative to its high prevalence and impact on health and well-being. Thus, evidence identifying effective therapies is limited, although it is emerging," the report said.