Analysis
A bipartisan deal, an angry GOP reaction and the (still) long road ahead for Biden's agenda
by
Dan Balz
The Washington Post
June 26, 2021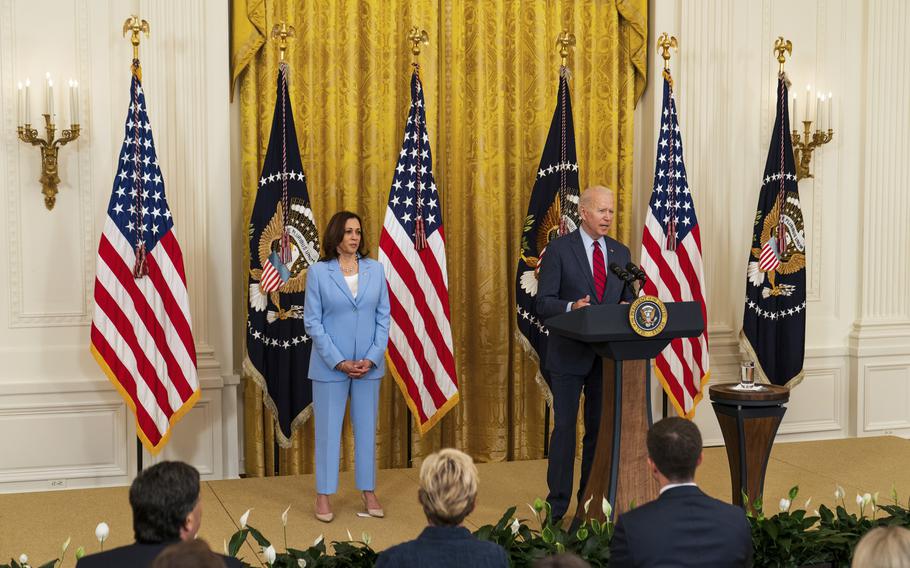 WASHINGTON - "Usually you get one day of celebration before the first bump appears," Sen. Mark R. Warner, D-Va., said Friday morning in a tone of resignation. "We got two hours."
The "bump" Warner was talking about was the unexpected statement from President Joe Biden, two hours after he appeared outside the White House on Thursday to declare he and a bipartisan group of senators had reached agreement on an infrastructure package valued at around $1.2 trillion over eight years. Whether it is a bump or something more serious, it points to an intensive and unpredictable period of legislative politicking over the next few months.
Thursday's announcement of a bipartisan deal came only after weeks of difficult and tedious negotiations before the senators and White House officials settled on a framework for the bipartisan package. It then took only a few words by the president to alarm the Republican negotiators about his commitment to the deal just struck.
The scene on the White House driveway was a rarity in this divided and divisive age, a symbol that Republicans and Democrats could occasionally find common ground on something substantial, albeit it on an issue that long has enjoyed support from lawmakers in both parties, even if compromise had eluded them for years.
Biden's willingness to seek a cross-party agreement, in the face of doubts from many in his party that it was even worth trying, or fears that he would give away too much just to get a deal, said much about him and his presidency. He had pledged as a candidate to try to restore some unity and bipartisanship and now he had delivered. Or had it?
His first effort to strike a deal on infrastructure had failed, collapsing because, among other things, he and Sen. Shelley Moore Capito, R-W.Va., remained far apart on the amount of new money in the proposal. As he left for his European trip, the senators who had produced a $900 billion pandemic-relief package in the waning days of the Trump administration picked up the challenge.
Last Wednesday, the senators announced that they had reached agreement on a framework, after negotiations that included three senior White House officials. On Thursday, at a meeting in the White House, Biden formally blessed it. There were smiles all around when the president showed up on the driveway to say, "We have a deal."
Everyone in that group - Republicans and Democrats alike - understood the dual tracks forward.
The bipartisan package was to be on one track. The agreement included money for traditional infrastructure - roads, bridges, rail, transit - plus some other spending for clean energy. To get it to Biden's desk, supporters would need 60 votes in the Senate, meaning at least 10 Republicans if all 50 Democrats were on board.
The rest of Biden's proposals, which amount to trillions of dollars in spending on what he called human infrastructure, on more programs to address climate issues as well as money for social programs, would be on the other track, included in a budgetary package that would come to the Senate floor under terms of reconciliation, meaning it would need just 50 votes to pass.
To get that bill to his desk, Biden and his congressional allies would have to corral every Democrat in the chamber, from Sen. Bernie Sanders, I-Vt., the democratic socialist who has been talking about a $6 trillion package, to Sens. Joe Manchin, D-W.Va., and Kyrsten Sinema, D-Ariz., the most prominent moderates, who aren't likely to support anything that large.
That the bipartisan agreement and reconciliation would proceed on two tracks was always clear - to the White House and to both the Democrats and Republicans in the negotiations. What wasn't clear, or what Republicans said later was not clear, was the linkage Biden described when he spoke from the East Room hours after standing with the bipartisan negotiators, that the two tracks would eventually become one.
Biden put it this way: "I'm going to work closely with [House] Speaker [Nancy] Pelosi and [Senate Majority] Leader [Charles E.] Schumer to make sure that both move through the legislative process promptly and in tandem. Let me emphasize that: and in tandem." Asked to clarify, he said, "If this [the bipartisan agreement] is the only thing that comes to me, I'm not signing it."
Before Biden had announced the agreement, Pelosi, D-Calif., had been ungrammatically blunt when she told reporters that the bipartisan agreement was contingent on passage of the reconciliation package. "There ain't gonna be no bipartisan bill, unless we are going to have the reconciliation bill," she said. Pelosi knew that this was the price that liberals in the House were likely to demand.
Biden's comments prompted angry responses from Republicans, including Senate Minority Leader Mitch McConnell, R-Ky. Republicans who negotiated the bipartisan plan were described by a Senate Republican aide as feeling "blindsided" by the conditions Biden appeared to put down.
"This was negotiated with no strings attached," said the Senate aide, who spoke on the condition of anonymity to describe internal discussions. "There were no side deals, no preconditions among members in the room or the three White House officials. The notion of linking and conditioning on reconciliation did not come up at all in the president's meeting."
The negotiations had been difficult enough. Earlier in the week, talks appeared stalled. Warner said that during a particularly tense time on Wednesday, he "started to close my book" in expectation of no deal. Taking some inspiration from the example of the late John Warner, the Republican senator from Virginia whose career had been marked by efforts to work across party lines and whose funeral had been held that day, he decided to keep going.
Among the most difficult issues was how to pay for the package. Both sides had red lines on revenue issues. "People had to be creative," said Steve Ricchetti, counselor to the president and a key member of the White House negotiating team. "Both sides tried to observe each other's red lines. It was a good faith negotiation to do this - in both directions."
For Democrats, the red lines included no new taxes on anyone earning less than $400,000, a promise Biden had made during his campaign. White House negotiators also ruled out any increase in the gasoline tax and no fees or taxes on electric vehicles. For Republicans, there was one big red line, which was protecting their massive 2017 tax cut, which Biden's original proposals would have gone after. The proposal's revenue assumptions already are drawing considerable scrutiny.
As Republicans erupted on Friday, White House officials sought to tamp down suggestions that Biden had created a problem with his public comments and also reached out to the bipartisan negotiators in an effort to assure them of Biden's commitment to the deal and his intention to fight for it.
They also assessed that some of the blowback was from lawmakers who don't want the deal to go through. In a public sign of concern, the White House also released a statement describing Biden's conversation with Sinema, one of the key Senate negotiators, written in the carefully vague style of a readout with a foreign leader.
Sen. Jeanne Shaheen, D-N.H., one of the Democratic negotiators, said on Friday afternoon that she does not see a big problem for the deal. "It's a negotiation and a compromise," she said. "We're going to continue to work on it. . .and hopefully get it to the finish line." Some Republicans believe things are worse than Shaheen suggests.
All of which is to say that the agreement hailed on Thursday marked a moment, but only that, in this long battle. Biden still has much work to do, with his fellow Democrats, on the reconciliation package, and likely with Republicans on his commitment to the bipartisan deal, before he can think about a signing ceremony for both bills later this year.
As Warner put it, "Have you ever seen one of these agreements that doesn't have two or three of these twists or turns before it becomes law?"