How false 'Italygate' claims made their way to the top
by
Jon Swaine and Emma Brown
The Washington Post
June 19, 2021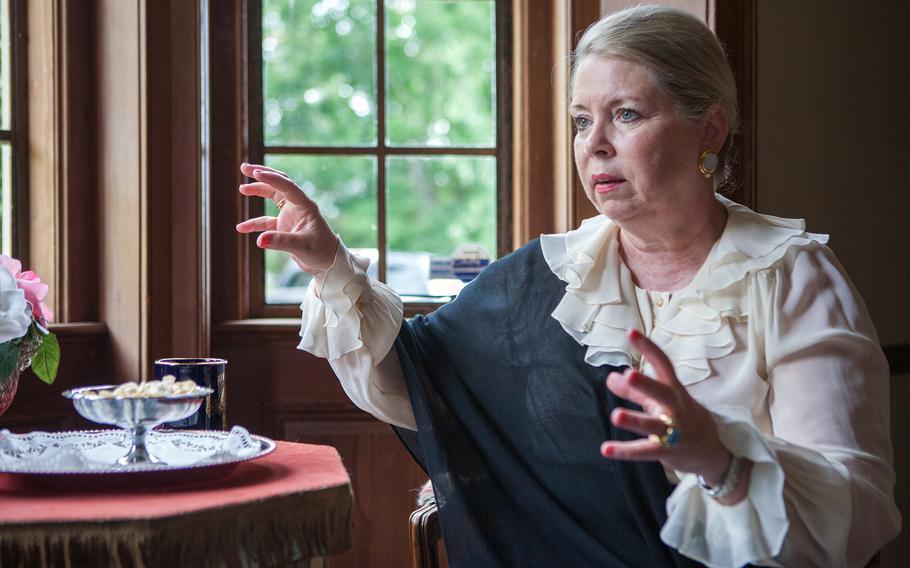 Late last December, as President Donald Trump pressed senior officials to find proof of election fraud, White House Chief of Staff Mark Meadows emailed acting attorney general Jeffrey Rosen a letter detailing a theory of how an Italian defense contractor had conspired with U.S. intelligence to rig the 2020 presidential contest.
The letter, which was among records released by Congress this past week, was printed under the letterhead of USAerospace Partners, a little-known Virginia aviation company. In early January, a second Virginia firm, the Institute for Good Governance, and a partner organization released a statement from an Italian attorney who claimed that a hacker had admitted involvement in the supposed conspiracy theory.
According to the conspiracy theory known as "Italygate," people working for the Italian defense contractor, in coordination with senior CIA officials, used military satellites to switch votes from Trump to Joe Biden and swing the result of the election.
Though her name was not mentioned in either document, both Virginia organizations are led by Michele Roosevelt Edwards, according to state corporate filings reviewed by The Washington Post. Edwards is a former Republican congressional candidate who built a reputation as an advocate for the Somali people and as someone who could negotiate with warlords and pirates in the war-torn region.
Edwards was formerly known as Michele Ballarin but changed her name last year, court records show. In 2013, The Post's magazine explored how Edwards, once a struggling single mom, had reinvented herself as a business executive and then as a well-connected horse-country socialite who cultivated ties with senior Somali officials.
The Institute for Good Governance's registered headquarters since late last year has been the historical North Wales Farm, a 22-bedroom mansion in Warrenton, Va., state records show. The property is listed for sale at just under $30 million.
On the day after the 2020 election, Edwards sat for an interview at North Wales with a television crew from Iceland, where she has business interests. Edwards told the crew that the estate was her property, according to their footage. "This is my bedroom," she said, showing the crew around. "This is very private space."
She was pressed on the lack of personal items in the house.
"So this is where you live?" she was asked.
"Yes."
"This is your property?"
"Yes."
When the interviewer noted that website listings showed the property for sale, Edwards said it was a "recent acquisition for us." She said it was not for sale.
But North Wales was then - and is now - owned by a company formed by David Ford, a retired financier who died in September. Ford's widow said in an interview that she did not know Edwards. The Post showed her the footage of Edwards inside the property.
"She's in my house," the widow said. "How is she in my house?"
The North Wales mansion was for sale at the time, and Edwards was a licensed Realtor in the area, according to the firm's website. Hers was not the firm Ford's widow had hired to sell the property.
Edwards declined to comment. "I am not giving media interviews at this time," she said in a text message.
The discovery of the role Edwards's two firms had in spreading the Italygate conspiracy theory, as well as the roles others played, sheds new light on its origins and on how the claims made their way from feverish online speculation to some of the most powerful figures in the government. As Trump refused to concede defeat, his die-hard supporters pushed the conspiracy theory on social media and other channels as part of an effort to discredit Biden's presidency that continues today.
Prosecutors in Rome told The Post that they are now investigating whether false claims were made against the Italian defense contractor. The prosecutor's office said it was examining "various subjects, both Italian and non-Italian." A conservative Italian news site owned by a politician who has written about Italygate reported this month that the politician and Edwards are among those under investigation.
Italygate appears to be partly rooted in a news article published on Dec. 1 by the Italian newspaper La Verità. In the article, Daniele Capezzone, a reporter and TV commentator described as "the Sean Hannity of the Italian press" by some Italygate proponents, wrote that Trump's team was investigating whether an official in the U.S. Embassy in Rome conspired with an unnamed Italian defense contractor to manipulate the U.S. election.
Bradley Johnson, a Virginia-based commentator on intelligence matters who says he is a retired senior CIA officer, then advanced a version of the theory in a video interview recorded on Dec. 5 and later posted online. Johnson identified the defense contractor involved as Leonardo, an Italian firm that was coincidentally in the news that day because two men had been arrested in an unrelated hacking case involving the company.
Leonardo did not respond to questions from The Post.
Johnson cited Capezzone as his source. But Capezzone told The Post in an email that he did not identify Leonardo as the contractor in his reporting, and said that Johnson had not contacted him.
Johnson did not respond to phone calls, messages sent via LinkedIn and the website of his nonprofit, Americans for Intelligence Reform, or to a letter left at the nonprofit's office in Manassas, Va.
In the wake of Johnson's video, Italygate began to gather momentum. Maria Strollo Zack, a Republican operative from Georgia who has embraced the conspiracy theory, told The Post that she has been in contact with Johnson about it.
Zack, 57, has said in interviews with right-wing media outlets that she told Trump about the conspiracy theory on Christmas Eve at Mar-a-Lago, the president's private club in Palm Beach, Fla.
Zack, who formed a super PAC that backed Sen. Ted Cruz, R-Texas, in the 2016 presidential campaign, said on a conference call with supporters that Trump's second wife, Marla Maples, and their daughter, Tiffany, helped Zack and her husband obtain invitations to the club. A woman who identified herself as Maples was on the call.
Representatives for Maples and Tiffany Trump did not respond to questions. Zack told The Post that she had a "personal friendship" with them.
In Zack's telling, Trump wished her a Merry Christmas, and she used that opening to pass him a written note about Italy and the promise of a whistleblower who knew of the scheme to flip votes. "We know the guy who did it and how he did it," she said she told Trump, according to an interview on a talk show broadcast by the Reno, Nev.-based outlet America Matters Media.
On Christmas Eve, Zack's husband posted a photograph of Trump to Facebook that he indicated was taken at Mar-a-Lago, but The Post was unable to confirm Zack's version of events there. Zack claimed in a second media interview that Rudy Giuliani, then Trump's personal attorney, called her the following morning to set up a meeting to discuss her claims.
A spokeswoman for Trump did not respond to a request for comment. Messages left for Giuliani's attorneys seeking comment were not returned.
On Dec. 29, Meadows sent Rosen the letter from Edwards's company, USAerospace Partners. The letter was written in Italian and signed by Carlo Goria, who was identified in past news releases as a company contact. USAerospace said last year that it was interested in buying the troubled Italian airline Alitalia, and suggested it would "make Alitalia great again."
Goria did not respond to messages. In a story published Saturday, Talking Points Memo reported that, in a brief interview, Edwards denied any knowledge of the letter.
Several current and former Trump advisers said they were shocked that Meadows would pass along such a fantastical conspiracy theory, but one former senior administration official said Meadows "bought into some of the more bizarre claims and would push them to the president as well." The official spoke on the condition of anonymity to discuss private conversations.
It was not clear from the emails released by Congress how Meadows obtained the USAerospace letter. A spokesman for Meadows declined to comment.
On New Year's Day, Meadows sent Rosen a link to a video of Johnson, who has said he served as a CIA station chief, discussing Italygate. On Jan. 4, Zack held the conference call with supporters, the audio of which was posted online. Zack told The Post that the call was with volunteers for her Florida-based nonprofit, Nations in Action.
On the call, Zack claimed that she had also supplied documents to senior White House adviser Peter Navarro. In an email to The Post, Navarro said this was "not accurate."
On Jan. 6, Zack's nonprofit released a statement claiming that it had conducted an election-fraud investigation with the Institute for Good Governance - Edwards's Virginia-based group - and that their efforts had "yielded the long awaited proof that a flawless plot to take down America was executed with extraordinary resources and global involvement."
Edwards, 65, has charted a colorful path in and around Washington. She has founded several businesses in fields including security, investment management and aviation.
After she married Edward Golden, a real estate executive, and had a son, Edwards ran for Congress as a Republican in West Virginia in 1986 but lost in the general election.
After that marriage ended, she married Iginio Ballarin, a New York restaurant maitre d', with whom she owns a farmhouse in Markham, Va. Edwards is registered to vote as a Republican at a condominium in Palm Beach, Fla., state records show.
Because of her efforts to bring stability to Somalia, beginning nearly two decades ago, Somalis came to refer to her as Amira, which means "princess" in Arabic, The Post's magazine story reported. In 2009, the Somali president named her "presidential advisor for Reconstruction and Humanitarian Assistance." She claimed to have played pivotal roles in securing the release of hostages.
Yet a diplomatic cable released as part of a trove posted online by WikiLeaks revealed that, in 2009, Ukraine's foreign minister had complained to U.S. officials that Edwards was hindering efforts to negotiate with Somali pirates who had captured a ship and its crew. One retired naval intelligence officer who partnered with Edwards during the 2008 to 2010 period was quoted in The Post story as saying: "The problem with Michele is separating fact from fiction. What is real, and what is made up?"
In September 2019, Edwards announced that her USAerospace group had bought the assets of Iceland's bankrupt airline Wow Air and said it would soon resume flights. It has not.
Asked by The Post how she came to work with Edwards, Zack said in an email: "This is an ongoing investigation and we do not disclose information on our methods and sources."
Their joint news release linked to a copy of a sworn statement signed by a Sicily-based lawyer, Alfio D'Urso. In that document, D'Urso said he knew from a "high level army security services official" that one of the alleged hackers in the unrelated case had told a judge that he had undertaken an operation to flip votes from Trump to Biden - and that he had done so at the direction of Americans at the U.S. Embassy in Rome.
Nicola Naponiello, an attorney for the alleged hacker, told The Post that this was false and that neither he nor his client had ever heard of D'Urso. "He's not accused of anything connected to that," Naponiello said of his client. Naponiello, who previously spoke to Reuters, said the whole story was a "classic fake" into which his client had inexplicably been dragged.
D'Urso did not respond to emails and messages left with his office.
The news release from the Zack and Edwards groups also linked to a PDF copy of a story about Italygate from an Italian news site. Edwards's name appears in the PDF's metadata as the creator.
Chatter about the conspiracy theory exploded among Trump's base. Among other influential figures, the former Trump advisers Michael Flynn and George Papadopoulos - both of whom Trump pardoned for lying to the FBI during the inquiry into Russia's 2016 election interference - posted about the conspiracy theory on Twitter. "Italy did it," Flynn wrote.
In appearances on right-wing online media, Zack has said she tried to raise the alarm by reaching out to members of Congress and others in Washington, including Christopher C. Miller, then the acting defense secretary. Miller was "very involved," Zack claimed in an interview with America Matters Media in April. "There were a lot of people working hard to help us," she said.
Miller was aware of the claims but did not believe them and considered them "fabricated," according to a former Defense Department official familiar with the situation. The official spoke on the condition of anonymity because of the matter's sensitivity.
Zack said she is still pushing for law enforcement to investigate the allegations. "It is the duty of the Department of Justice to ensure the US election was free of foreign interference and election fraud," she said in an email.
Others, however, are unconvinced.
"Pure insanity," Justice Department official Richard Donoghue wrote to his boss, Rosen, after Meadows sent his emails containing the claims, the records released by Congress show.
Even Capezzone, the Italian journalist whose Dec. 1 article set off speculation about the supposed conspiracy theory, said he has since concluded that it was false. In an email to The Post, Capezzone said Italygate was "fake news, a conspiracy theory, [a] poisoned chalice."
- - -
The Washington Post's Chico Harlan and Stefano Pitrelli in Rome and Alice Crites, Julie Tate, Josh Dawsey and Ellen Nakashima in Washington contributed to this report.