Family of soldier allegedly killed by a man who walked onto Georgia Army base wants answers
by
Alex Horton
The Washington Post
June 18, 2021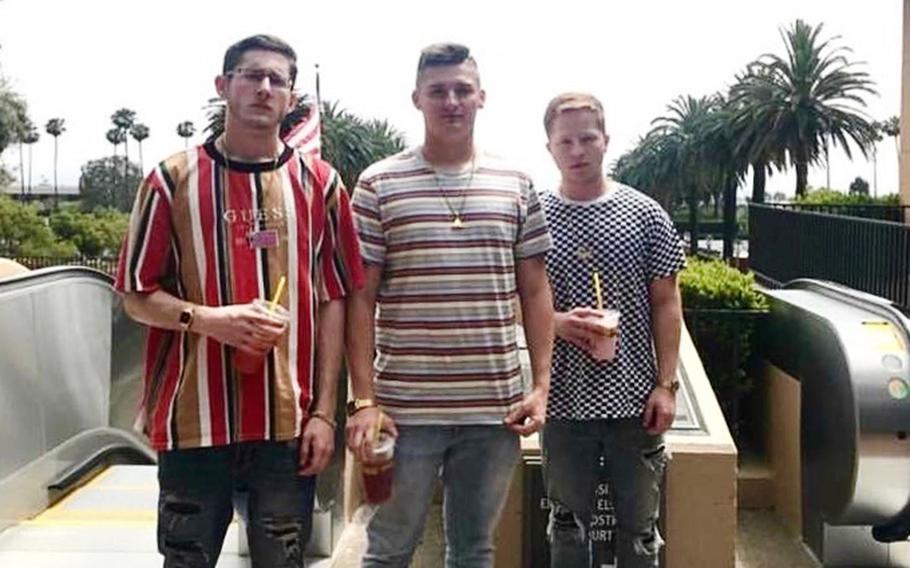 Spc. Austin Hawk's family knew he was counting the days until his military contract was up. So when an Army chaplain in a crisp dress uniform arrived at his grandmother's door in Southern California last June, she thought he was bringing some kind of farewell commendation.
The chaplain carried a different message. Hawk, 21, a soldier stationed in Georgia, had been killed, she was told — not in combat or in an accident but stabbed to death in his own barracks room on Fort Stewart.
The alleged assailant, the family would later learn, was a former soldier from Hawk's platoon who had walked uncontested through an unmanned installation gate to carry out what prosecutors have said was a conspiracy to "silence" Hawk for reporting misconduct.
"I was devastated," Sandra Hodge, Hawk's grandmother, said in an interview. "It left a huge, huge hole in our lives. And I'll never get that filled."
That episode, a year ago this week, has heaped confusion on top of the family's grief: How could a soldier who was a witness to alleged crimes be killed on a military base by a man who walked in off the street?
The killing at Fort Stewart prompted a review of base security and the installation of an 8-foot fence and razor wire at the gate that the suspect allegedly entered, the Army said. The review uncovered two other perimeter security concerns that have been addressed, an official said. But the Army has not yet initiated an investigation of command decisions that may have disclosed Hawk's role as a witness to drug use in his unit or the security issues at the facility.
"I believe the Army is culpable in his murder," said his mother, Julie Hawk.
In a statement, the Army said it relies on numerous measures to protect its sprawling installations, including security personnel, electronic surveillance and natural terrain. Maj. Gen. Antonio Aguto, the commander of the Third Infantry Division, based at Fort Stewart, oversees "continuous" security evaluations.
"At the time the suspect allegedly trespassed onto Fort Stewart, the installation was in compliance with regulations and policies concerning the installation's physical security measures," Lt. Col. Lindsey Elder, a division spokeswoman, said in the statement.
Hawk, who grew up in California and Arizona, joined the Army in July 2017, and a welcome change came over him, his family said.
"The Army made him a man. It made him more focused, more determined," Julie Hawk said.
Austin Hawk was a model soldier and well-liked in the 92nd Chemical Company, where his unit was trained to handle hazardous-material threats on the battlefield, Army officials have said.
In a Facebook post two days after Hawk's death, a soldier who served with him recounted a field exercise punctuated by the early morning news of his own son's birth. Hawk calmed his comrade, carried his heavy rucksack and searched for a way to get him home quickly.
"That's the type of guy Hawk was," the soldier wrote. "He would put the needs of others before his own."
Hawk was taking online college courses in his off-duty time and planned to move back to Arizona after his Army contract finished at the end of 2020. He and two friends, who bonded in high school over complicated family issues, planned to finish electrical engineering degrees and dreamed of co-founding a tech company, said Bryce Armstrong, part of the trio they called "the bois." He eagerly awaited Hawk's arrival out West.
"We decided to make our own family," Armstrong said. "Three brothers against the world."
The alleged conspiracy to "silence" Hawk, prosecutors wrote, began after he reported alleged misconduct by two other soldiers in his platoon. Byron Booker, 28, a noncommissioned officer, was accused of unprofessional behavior and mistreating subordinates. Hawk also accused Jordan Brown, a 21-year-old private, of drug use.
Hawk saw things in black and white, said his father, Andrew Hawk. "Unfortunately, that is what got him killed."
This description of events leading to Hawk's death on June 17, 2020, is drawn from court and autopsy documents; interviews with Hawk's friends; and details from two people with knowledge of an April phone call among Army officials, a federal prosecutor and Julie Hawk. Attorneys for Booker and Brown and a federal prosecutor declined to comment, citing ongoing legal proceedings.
Booker was kicked out of the Army weeks before the killing. Brown remained in the Army, and prosecutors allege that he had discussed plans to get a key card to Hawk's barracks room.
On the evening before his death, Hawk played the online video game "Call of Duty" with Brent Grijalva, the third member of "the bois," Grijalva said. Nothing was out of the ordinary. They exchanged goodbyes after some digital matches.
A few hours later, around midnight, Booker parked his car on the western edge of Fort Stewart near Gate 7, one of numerous access points at the installation that was unmanned during the night, according to the indictment and Army officials.
The gate, which allows authorized soldiers and civilians to drive onto the base, was designed to restrict the flow of vehicles with a movable barrier that a pedestrian could easily sidestep — a possibility apparently overlooked by those responsible for security at the base but allegedly exploited by Booker.
"We did not assess that folks would walk through there," Col. Alric Francis, who previously commanded Hawk's brigade, said on the April call. "I think if you walk around it, you're in."
Booker continued on for about a mile to the barracks, climbed a stairwell and entered Room 208, according to the indictment.
It is unclear if Hawk answered the door or if his assailant used a key card to enter, according to court records. Hawk was stabbed 40 times, including strikes through his lungs and brain, an autopsy later concluded.
Booker left Fort Stewart on foot, presumably through the same gate, and discarded the clothes he had worn, according to the indictment. He was arrested the next day. Brown, who was kicked out of the Army in October, was arrested after a grand jury indictment in April.
Both men face numerous capital felony charges in federal court, including premeditated murder, murder of a service member and retaliation against a witness, prosecutors said.
The Army has not launched formal investigations to assess whether commanders should be held accountable for Hawk's death. Civilian law enforcement officials asked the Army to hold off investigating how Hawk's identity as a witness was disclosed until prosecutors get further along in their case, an Army official at Fort Stewart said, speaking on the condition of anonymity to discuss an ongoing case.
The Army is "committed to . . . taking action against what we learn from law enforcement," the official said.
The military may also look at potential command failures that made Gate 7 exploitable, but there were no issues at the gate identified in a 2018 installation vulnerability assessment, according to the official.
"It's puzzling they would point to a review done prior to the incident that shows it was fine," said Rachel VanLandingham, president of the National Institute of Military Justice. "Obviously, it's not fine."
Hawk's family has commended the Army for providing assistance through a military liaison and praised some leaders for their outreach. But answers to basic questions have been elusive. "As far as information, it's been zero," Andrew Hawk said.
Julie Hawk has taken a more critical approach. Her other son requires extensive medical care, and she envisioned Austin helping with family duties when he returned. Now she has turned to online donations to help defray costs.
Her home has been beset by form letters from lawmakers and Army officials describing Hawk as a hero, she said, a word that angers her.
"My son wasn't a hero," she said. "My son went to bed with every intention of waking up."