Chicago Air and Water Show replaced with Blue Angels-only event this year, city announces
by
Clare Proctor
Chicago Tribune
June 18, 2021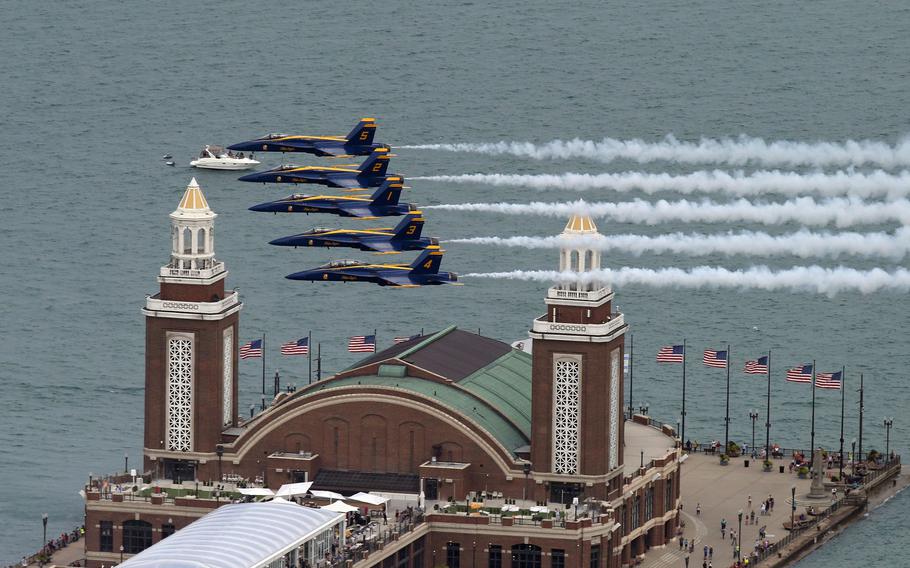 The U.S. Navy Blue Angels will return to Chicago for this summer's scaled-back replacement for the Air and Water Show, appearing without their usual sky diving and jumping associates.
On Aug. 21 and 22 from noon to 1 p.m. each day, the Blue Angels will perform their renowned flight demonstrations over the lakefront. But as the city and nation continue recovering from the pandemic, jump teams, parachuters and stunt planes that frequented the show in the past — like the Army Golden Knights and Navy Leap Frogs — are not slated to make an appearance.
So instead of the Air and Water Show, it will be the City of Chicago presents the U.S. Navy Blue Angels.
In years past, including the most recent show in 2019, active-duty Navy SEALS and Special Warfare crew members would free fall from 2 miles above ground, trailing smoke and making formations on the way down, and the Army Golden Nights would jump, often with celebrities in tow. A variety of civilian stunt pilots and demonstration teams such as Sean Tucker's Team Oracle and the Matt Chapman Air Show would perform short segments over a full day of air- and water-born spectacles, announced by "Voice of the Show" Herb Hunter. But the 2021 show will just feature a "special solo demonstration" from the Blue Angels.
Mayor Lori Lightfoot announced the "new and re-imagined" air show as part of the city's "Open Chicago" initiative to fully reopen the city after pandemic restrictions shut down most every event last summer, the Air and Water Show included.
The free event can be best viewed along the lakefront between Fullerton Avenue and Oak Street, according to the release, namely at North Avenue and Oak Street beaches. Historically, the show attracted millions to the shore of Lake Michigan to admire the aerobatic feats and simulated water rescue options.
Transportation to the show remains about the same as in years past, with CTA lines and the No. 72/ North Avenue bus route that goes to North Avenue Beach. People driving in for the show can park at one of the Millennium Park garages.
People can catch a glimpse of the Blue Angels Aug. 20 as they make their practice runs from 10 a.m. to 2 p.m.
©2021 Chicago Tribune.
Visit chicagotribune.com.
Distributed by Tribune Content Agency, LLC.