In the war for VMI's future, some powerful alumni resist change as others demand it
by
Ian Shapira
The Washington Post
June 5, 2021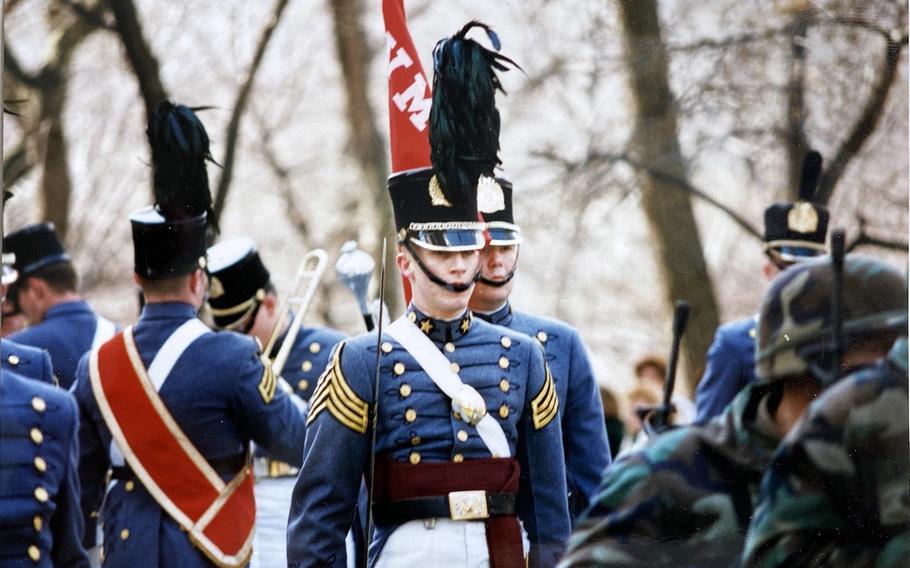 Just minutes before a state-ordered investigation into racism at the Virginia Military Institute was released Tuesday, the nation's oldest state-supported military college fired a preemptive shot.
VMI's board president and board president-elect sent a report commissioned by the VMI Alumni Agencies to Gov. Ralph Northam, D, and other elected leaders.
Written with the aid of the law firm McGuireWoods and dated May 26, the report described the 182-year-old Lexington school as "a superb place for Virginians to educate their sons and daughters of all races and backgrounds."
Racist incidents happen, the alumni report conceded, but the share of cadets of color nearly doubled from 1992 to 2020, from 12.7% to 23.4%. VMI's student-run honor system, which The Washington Post revealed in December disproportionately expels Black students, "treats all Cadets equally — regardless of race, gender, class year or rank," the report said, and, "data relating to honor trial guilty verdicts do not on their face point to obvious bias."
VMI, VMI declared, is good.
"[W]hatever work lies before us — the 'clear and appalling culture' of ongoing institutional racism attributed to us at the outset of this investigation is simply inaccurate," the alumni agencies report concluded.
The state-ordered investigation, which was released June 1, came to a far different conclusion, excoriating VMI for tolerating racism and sexism on its campus and demanding sweeping change to its culture.
Now the school, led by the first Black superintendent in its history, must find a way forward, satisfying the state lawmakers who provide about a fifth of VMI's $96 million budget while placating influential alumni who deny there are systemic problems and oppose significant reform.
"The VMI alumni report was propaganda meant to say, 'Look here, don't look there,' " said a senior VMI official, who spoke on the condition of anonymity for fear of retribution. "It made my skin crawl. Our alumni are not used to being on their backs of their feet ... and this was a response to show we're aggressive."
The war over VMI's future has divided its powerful graduates — military officers, lawyers, business leaders and other heavy hitters — leaving one faction that feels like the changes are unfair and based on faulty premises, and another that's pushing the college to acknowledge and deal with its issues with race and gender.
According to the investigation, a small group of donors appears to play an "outsized influence" on VMI, which the National Association of College and University Business Officers says has a $539 million endowment.
Based on VMI's 2015-2019 financial information provided by the Alumni Agencies, five donors made up between one-third and nearly half of the Alumni Agencies' donor receipts. But when the investigators asked for the donors' identities, the Alumni Agencies declined to disclose them. In fiscal 2019, more than 5,400 members of the "VMI family" — including 3,852 alumni — gave nearly $40 million in gifts and pledges, according to the Alumni Agencies.
Retired Maj. Gen. Cedric T. Wins, VMI's newly appointed superintendent who graduated from the school in 1985, declined a request for an interview through VMI's spokesman. But he issued a call for unity on Tuesday, describing the investigation - and the college's new "One Corps-One VMI" action plan — as "an opportunity for the VMI community to come together as brother rats, fellow cadets, alumni, and friends to make an already special place even more special. We cannot do this as a community of factions."
The same day, the college's board of visitors described the findings of a "racist and sexist culture" at VMI as "serious allegations and are being treated as such," and announced Wednesday it was planning to adopt most of the investigation's recommendations.
That prompted a clash on private Facebook groups for VMI parents, cadets and alumni, where opposing sides within the college's community debated the investigation's merits and to what degree, if any, the school should make changes.
One resistance group, a newly formed political action committee called the Spirit of VMI, posted a large red poster on its Facebook page Thursday that blared, "APPEASEMENT," with a short screed: "Not 48 hours has passed since this shell of a report has been released. Yet before hearing from alumni, the VMI community, and current cadets, the VMI Board of Visitors has endorsed the report and thanked its authors. That is not defending VMI. That is capitulation. And it is wrong."
"VMI Leadership has failed at every turn because they are all appointed by a political position," one person wrote in the comments about the Board of Visitors. "Too many of us against them for us to lose in the long run. We the dedicated Alumni will find a way to defeat them."
Some directed their ire at Northam, who graduated from VMI in 1981 and ordered the investigation into racism at his alma mater.
Northam faced his own racial issues in early 2019 when it was revealed his VMI yearbook listed his nickname as "Coonman," a racial slur; and that his medical school yearbook page contained a photo showing a person wearing blackface and another dressed in a Ku Klux Klan outfit. Northam initially said he was in the photo, but then denied it.
On Friday morning, the Spirit of VMI posted on its Facebook feed a mocking cartoon showing someone pointing a gun at the back of a rat — the term for new VMI cadets — with the words, "Coonman Henchman." "In this issue FEATURED!...In Defense of the Stockholm Syndrome — VMI BOV...How to SELL OUT & SMILE Lecture series by Ralph Northam."
Donnie Hasseltine, a 1997 graduate who pushed VMI last year to remove its statue of Confederate Gen. Stonewall Jackson from its central location on campus and reconsider other tributes to the Confederacy, was livid when he saw it.
"Take VMI out of your name ... you aren't supporting the school in anyway, you're embarrassing it," he wrote in response. "What's even more disgusting is your own Brother Rat is the Superintendent, yet you can't even give him the most basic courtesy and support."
"You seem alone in your opinion, Donnie," someone wrote back.
"Alone in your circles perhaps," Hasseltine replied. "[E]ither you want VMI to stay around and produce leaders or you want it to shut its doors. Which side are you on?"
The PAC, which launched in March and is led by one of Wins's classmates, has raised tens of thousands of dollars, including a $25,000 donation from Thomas Gottwald, a former VMI board member who quit shortly before the board's vote in October to remove the Stonewall Jackson statue. Gottwald, a member of VMI's Class of 1983, did not return messages seeking comment.
The PAC's chairman and co-founder, Matt Daniel, who graduated with Wins in 1985, said in an interview this week that he believed the investigation, which was conducted by the law firm of Barnes & Thornburg, drew sensational conclusions based on small survey data.
He cited the report's very first data point that says "half of African American cadets strongly or somewhat agree that there is a culture of racial intolerance at VMI." The appendix to the report shows that 12 Black students responded to this question in the survey; five "strongly" agreed with the sentiment; one agreed "somewhat"; and the other six Black cadets disagreed or were neutral on the question.
The Barnes & Thornburg report, he said, "would lead you to believe that 50% of the African American population at VMI believes what the report forcefully states," said Daniel, a consultant for the Defense Department who is White and said he belonged to the college's multicultural club Promaji during his senior year. "If you look into the data, that's not anywhere near the case."
Barnes & Thornburg, which surveyed nearly 2,500 people in the VMI community and interviewed 385 people — a mix of cadets, alumni and staff — said many people were scared to participate. But its research still produced damning statistics. Chief among them: 102 students - 19% of cadets — who responded to the question said Black people at VMI face a lot or little discrimination; 59 faculty members — 50% of respondents — said the same. Another 50 cadets — 9% of respondents — agreed "somewhat" or "strongly" that VMI fosters a "culture of racial intolerance."
According to the college's fall 2020-2021 demographic profile, there were 99 Black cadets out of 1,698 — about 6% of the total.
Hasseltine, who campaigned for reforms last year, said many fears among the most hardcore alumni did not come to pass. The law firm did not recommend any major changes to the college's honor system or its "rat line," which subjects new cadets to months of verbal abuse and grueling workouts. He understands why some in VMI's resistance movement have been thin-skinned about the report's findings, but thinks they need to move on.
"VMI is almost like a religion to them and now they're being faced with the fact their religion has a false god, and it causes everything in their life to fall apart," said Hasseltine, now the chief security officer for a software firm in Northern California.
Shah Rahman, another VMI graduate who lobbied last year alongside Hasseltine for the college to reconsider its Confederate tributes, said Wins is in a difficult position as he tries to navigate between the resisters and the reformers.
"The fact of the matter is that VMI risks losing donations from its conservative base and that's a hurdle for Wins," Rahman said. "So, at the end of the day, if Wins goes against their goals, he's not going to be successful."
The day before the release of the investigation, Wins called Rahman. Wins said he'd read a recent Time magazine piece that chronicled Rahman's time as a VMI cadet when he encountered ugly racism. Rahman, a Muslim who is of South Asian descent, appreciated their conversation. He said he could sense Wins was genuinely invested in change.
And the superintendent also doesn't have a choice. State lawmakers said this week that VMI must end what the investigation called "resistance to change, denialism, secrecy, refusal of oversight, and suspicion of outsiders that creates a barrier to forward progress."
Virginia state Sen. Janet D. Howell, D, chairwoman of the Senate Finance and Appropriations Committee, said she and her colleagues "will have little patience for delay."
Del. Lamont Bagby, D, chairman of the Virginia Legislative Black Caucus, was even more dismissive of VMI's defenders.
"I couldn't be less concerned with trying to change the hearts and minds of individuals who discount discrimination in any form or fashion," he said. "I am more concerned about holding accountable institutions responsible for shaping young people's minds."