'Giant treasure trove' of fossils may give us better picture of the world 10 million years ago
by
Erin Blakemore
The Washington Post
May 30, 2021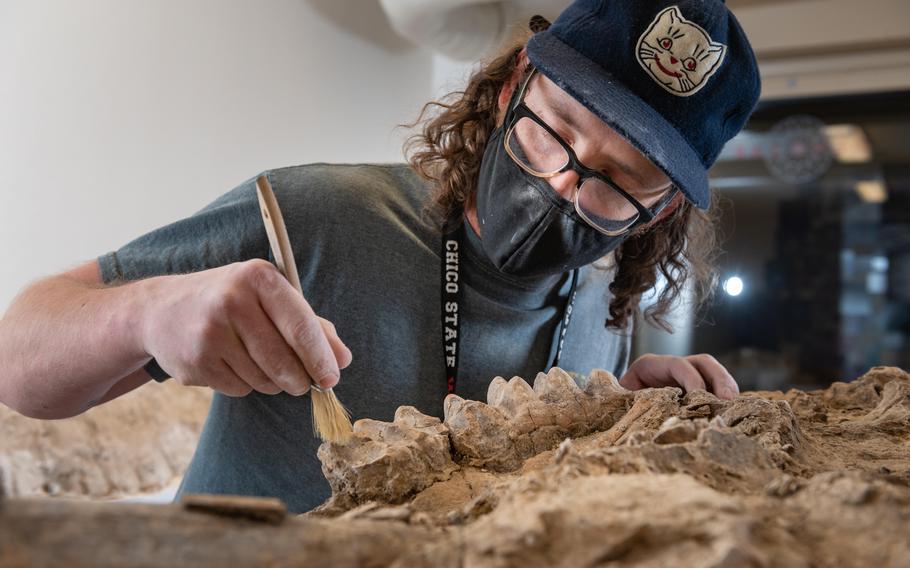 Greg Francek thought he was looking at a piece of petrified wood.
But the fossil wasn't a singular find — it was a key to a 10.8-mile fossil discovery that is being called one of California's greatest ever.
Since Francek, a ranger for the East Bay Municipal Utility District (EBMUD), came across the specimen last year, he and researchers from California State University at Chico have uncovered hundreds more. They say the site, which covers hundreds of acres, is home to hundreds and possibly thousands of fossils, including specimens from long-extinct species such as mastodons and giant camels.
"This is fantastic," Dick Hilton, an expert on California dinosaurs who has been helping excavate the giant site, tells Chico State's Ashley Gebb in a feature article about the find. "I've never seen anything like this in California. It's simply prolific."
The site, whose location remains undisclosed, is on a watershed near the Sierra Nevada foothills. The area is riven by drought — the environment's loss, but researchers' gain, since it helps expose the fossils.
Because the fossils are so diverse, encompassing both fossilized animals and plants, researchers expect them to reveal a better picture of the Miocene epoch 10 million years ago, when the climate warmed, giving rise to grasslands in places such as prehistoric California and an explosion of plant and animal diversity.
Studying the site will probably take years, EBMUD says on its website. (The utility district will maintain ownership of all fossils, but they are being researched at Chico State and will ultimately be stored at the University of California Museum of Paleontology in Berkeley.)
So far, researchers think the fossils made their way to the site because of volcanoes and floods that overtook the area during a time of geologic transition.
But regardless of how they got there, the find is being hailed as significant. "We stumbled upon this giant treasure trove," Sean Nies, a university instructional support technician who is leading the fossil preservation, tells Gebb.