64 US troops suffered traumatic brain injuries from Iranian missile attack, as casualty total continues to balloon
By
Stars and Stripes
January 30, 2020
---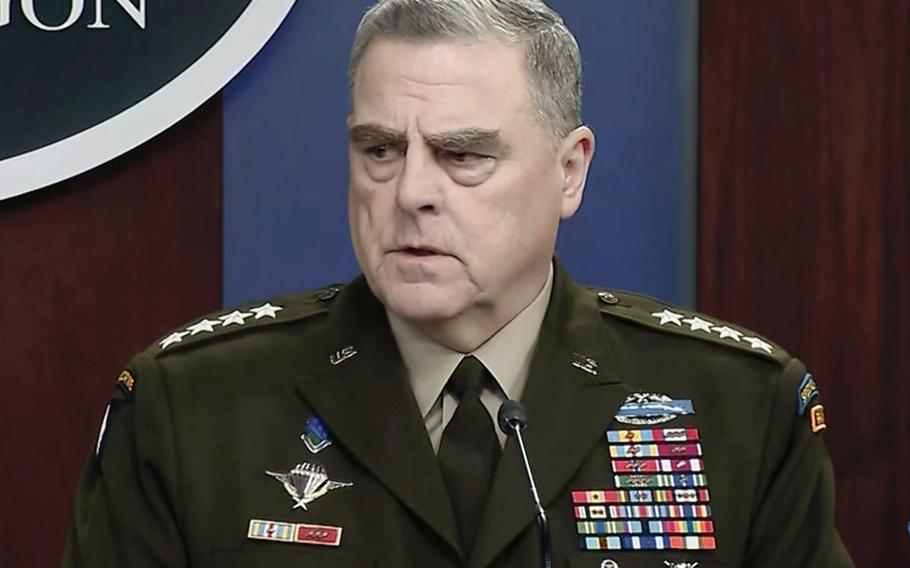 WASHINGTON — The Pentagon announced Thursday that 64 American troops sustained mild traumatic brain injuries as a result of the Iranian missile strikes on two military bases in Iraq, once again revising how many service members were hurt in the Jan. 8 attack.
"The diagnosis we have so far to date is mild traumatic brain injury," Army Gen. Mark Milley, chairman of the Joint Chiefs of Staff, told reporters at the Pentagon, noting the conditions of the injuries could change over time. "Your brain is a very fragile part of your body. The unseen wounds of war can be serious and not serious. It depends on the individual and their proximity to the blast."
Of the 64 troops diagnosed with TBI, 39 troops were treated and returned to duty.
The number of troops injured has fluctuated since the attack, which came in retaliation for the U.S. drone strike Jan. 3 in Iraq that killed Qassem Soleimani, Iran's top military general. Earlier this week, the Pentagon said 50 service members have been diagnosed with TBI, a significant increase from the 34 reported last week and the 11 reported on Jan. 17. The total could still rise, according to Milley, because TBIs sometimes take time to manifest.
The injuries undercut President Donald Trump's initial statement hours after Iran's missile barrage that no Americans were harmed in the attack. But Defense Secretary Mark Esper on Thursday defended Trump's original assertion.
"The reporting [of no injuries] was accurate, at that time," Esper said at the Pentagon news briefing. "I think we did our best to report the casualties."
Milley said initial assessments of casualties focus on easily identifiable flesh wounds and loss of life, meaning a brain trauma injury could slip through the cracks at first.
"The very first thing to focus on is life and limb," the general said.
Last week, Trump said he doesn't consider head injuries suffered in combat as serious as flesh wounds, downplaying the injuries sustained by U.S. troops.
"I heard they had headaches and a couple of other things. I can report it is not very serious...I do not consider them bad injuries," he said, contending at a news conference that potential traumatic brain injuries are less severe than amputations.
When Esper was pressed Thursday about Trump's comments, he said the president "understands the nature of the injuries."
"I've had the chance to speak with the president. He is very concerned about the health and welfare of all of our service members, particularly those who were involved in the operations in Iraq," Esper said.
Last week, the Veterans of Foreign Wars, the oldest major U.S. veterans group, demanded Trump apologize for shrugging off the wounds that the troops suffered in combat.
"The VFW expects an apology from the president to our service men and women for his misguided remarks," William "Doc" Schmitz, the VFW's national commander, said Jan. 24 in a statement. "TBI is a serious injury and one that cannot be taken lightly. TBI is known to cause depression, memory loss, severe headaches, dizziness and fatigue — all injuries that come with both short- and long-term effects."
Head injuries are the most common injury among post-9/11 veterans with more than 408,000 traumatic brain injuries reported worldwide between 2000 and early 2019, according to the Department of Veterans Affairs. They can be caused by roadside bombs, rocket-propelled grenades, training incidents and falls. TBI can cause a number of conditions from headaches, irritability and sleep disorders to memory problems, slower thinking and depression. Symptoms could lead to long-term mental and physical health problems that impair a veteran's employment and family relationships, and their reintegration into civilian life.
beynon.steve@stripes.com Twitter: @StevenBeynon
---
---
---
---