10 female soldiers graduate infantry officer course, will attend Ranger School
by
Corey Dickstein
October 27, 2016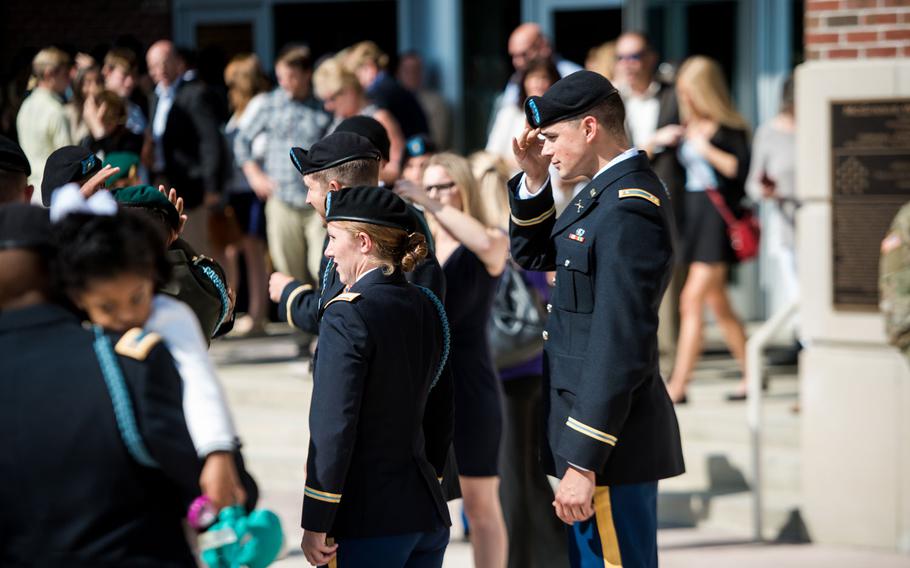 WASHINGTON — Ten women who were commissioned Army officers in the spring graduated from the initial infantry training course Wednesday, becoming the Army's first female infantry lieutenants.
The women were among 166 soldiers to complete the Infantry Officer Basic Leadership Course at Fort Benning in Georgia, a 17-week class that provides new officers the basic skills to lead a rifle platoon into combat, said Army Lt. Col. Matthew W. Weber, the commander of the unit that oversees the course. Officers are commissioned through ROTC, Officer Candidate School or the U.S. Military Academy at West Point, N.Y.
The infantry officer course is a "critical step" toward leading a rifle platoon, but the soldiers who graduated the Army's first gender-integrated infantry class Wednesday will not join a combat unit for nearly a year, Weber said. They will attend additional courses to prepare them to serve in the traditionally all-male infantry. Those classes include the famously grueling Ranger School, Airborne School, Stryker Leaders Course and Mechanized Leaders Course, Weber said.
Eventually they'll become platoon leaders at Fort Hood in Texas or Fort Bragg in North Carolina.
"This, the training of an infantry lieutenant, is a process until they step into a rifle platoon," Weber said. "This is but the very first step in the process."
The Army did not identify the graduates by name, and the graduation ceremony was not open to reporters.
The class began with 12 female officers. It was not clear Thursday whether the two who did not graduate would be given the opportunity to try again.An Army official said he could not comment on individual students.
In December, Defense Secretary Ash Carter ordered all military jobs, including those in special operations, open to women, clearing the way for female servicemembers to serve in front-line combat roles.
Interest among women to serve in those positions – primarily in the infantry and armor fields – has been limited, Army officials have said, but Lt. Gen. James C. McConville, the Army's deputy chief of staff for personnel, said he expects interest to rise as more women enter those jobs.
The female officers who graduated Wednesday join one other woman as Army infantry officers.
In April, the Army approved Capt. Kristen Griest to transfer from military police into the infantry branch. Griest and Army Capt. Shaye Haver became the first female soldiers to graduate Ranger School in August 2015. One other female soldier, Army Maj. Lisa Jaster, has completed Ranger School. To date, 29 women have attempted the course.
Griest remains in infantry training, and she will join the 82nd Airborne Division at Fort Bragg in November. Haver also has been approved to transfer from aviation into the infantry, but she is awaiting official orders to attend training, said Brig. Gen. Peter Jones, the commandant of the Army's infantry school at Fort Benning.
Jones said the new female lieutenants – just like the women who graduated Ranger School – faced the exact challenges as their male classmates. The standards were the same as those faced by the men who served before them.
"They are going to be standing in front of their formation, and they are going to be judged based on their leadership skills, not on whether they are male or female," he said.
The Army will likely soon have more female lieutenants serving in combat arms jobs. There are 10 recently commissioned officers attending Armor Officer Basic Leadership Course, which is also at Fort Benning. Their class will graduate later this fall.
Including women in front-line combat positions will strengthen the Army because it provides a much larger talent pool to draw from, said Maj. Gen. Eric J. Wesley, the commander of the Maneuver Center of Excellence at Fort Benning.
"This whole issue has driven us to ensure that we have the right standards aligned to each occupational specialty in the Army," Wesley said. "We have created a gender-neutral, standards-based training environment, where it no longer becomes a question of male or female. … It makes us better."
dickstein.corey@stripes.com Twitter: @CDicksteinDC