VIDEO
US looking at possibility of Russian role in chemical attacks that led to Syria missile strikes
by
Corey Dickstein Tara Copp
April 7, 2017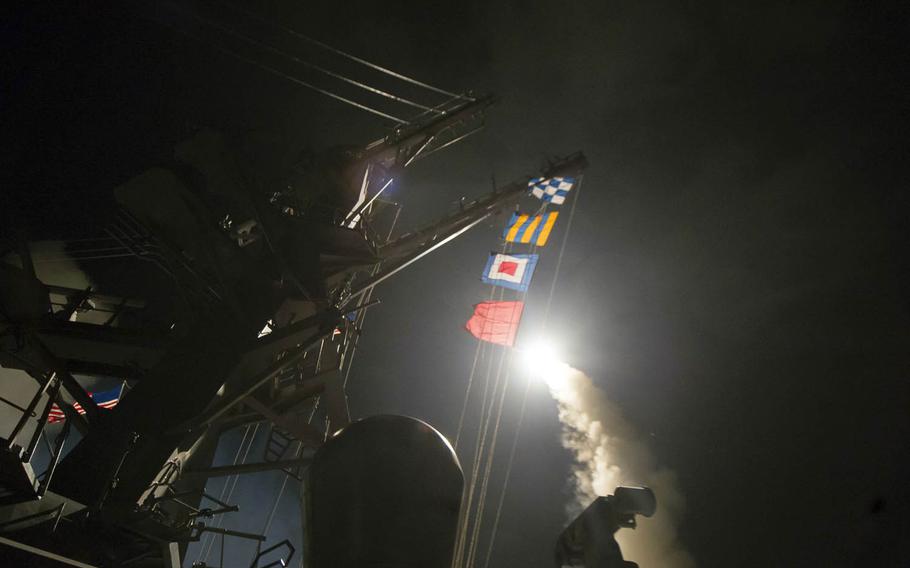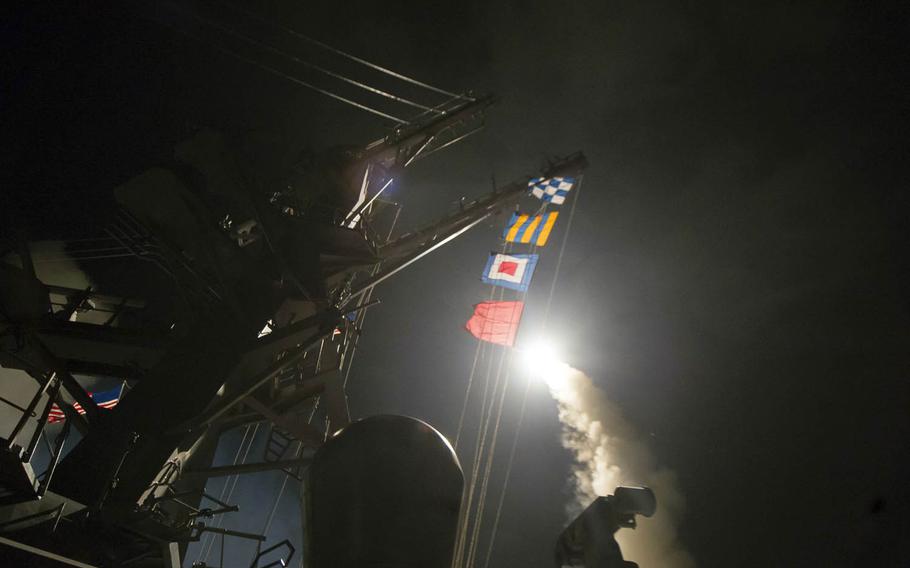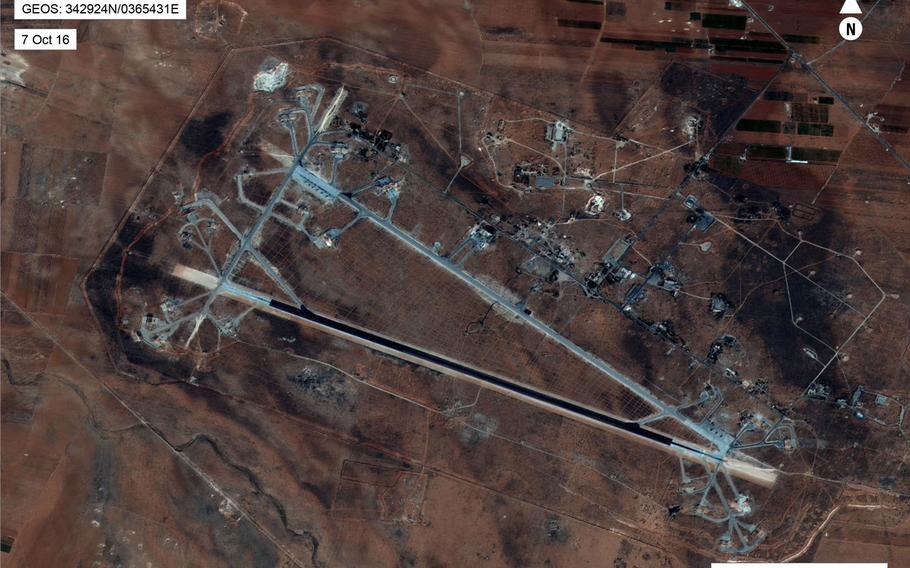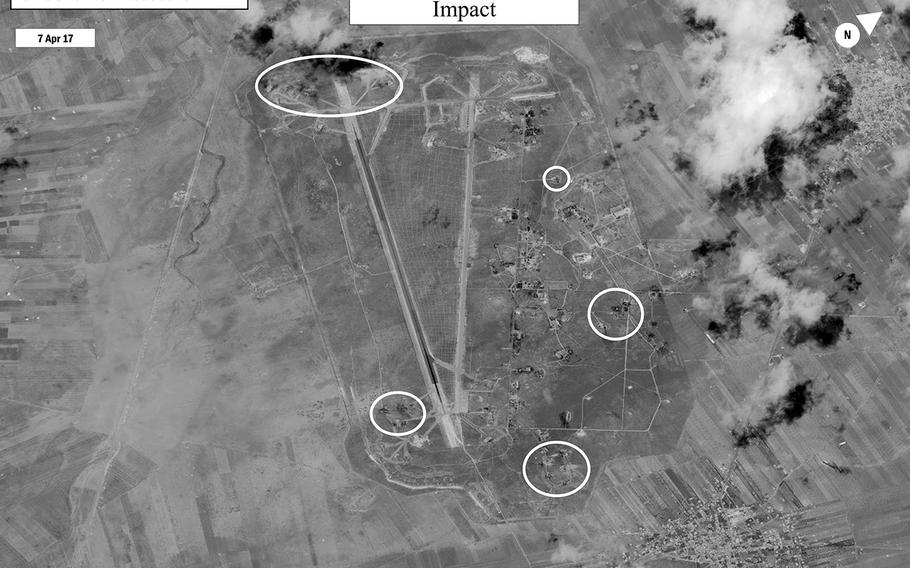 WASHINGTON — Senior U.S. military officials raised the possibility Friday that Russia might have had a role in the chemical attacks in Syria that killed scores of civilians and prompted the massive U.S. cruise missile strike against Shayrat Air Base.
Officials said they would investigate whether Russia was involved -- by not stopping Syria's chemical weapons program or by trying to help Syria cover it up after the chemical attack.
Fifty-nine Tomahawk land attack cruise missiles were launched at 8:40 p.m. East Coast time Thursday by U.S. guided missile destroyers USS Ross and USS Porter, which are based in Rota, Spain. The ships had been pre-positioned in the Mediterranean Sea to respond to Tuesday's chemical strikes. The strike was among the military options presented to President Donald Trump, according to officials who briefed reporters at the Pentagon on the condition they not be named.
On Friday, U.S. officials provided images of damage at Shayrat, including the destruction of 20 Syrian aircraft, ammunition storage sites, a surface-to-air missile defense system and fuel and ammo depots.
Talal Barazi, the governor of surrounding Homs province, told an Arab TV station that a fire raged for two hours on the base.
The strikes resulted in deaths, Barazi told The Associated Press. The Syrian military said at least seven people were killed and several wounded.
Russian officials Friday condemned the strike as "illegitimate" and suggested it would only increase the violence in Syria, according to the BBC. News agencies also reported that the strike had ended Russia's cooperation with the U.S. to ensure that the many coalition and Russian fighter jets over Syria's skies do not collide or miscalculate each other's intentions.
U.S. officials discounted that Friday, saying the communication channel was still open and had been used that day.
However, the Russian state-owned news service Interfax reported Friday that Russia had summoned the U.S. military attache in Moscow and announced that the line would stop operating at midnight Saturday.
The escalation over Syria was caused by a horrific chemical attack Tuesday in the Syrian village of Khan Sheikhoun, which is in rebel-held western Syrian.
The senior military officials released footage of impact on an empty village road that they said bore the hallmarks of a dropped chemical munition. They said the imagery countered Syrian President Bashar Assad's argument that a bomb had hit a rebel chemical facility.
With certainty and citing U.S. intelligence, military officials said that was not the case.
The officials said they had evidence of a small drone watching a village hospital shortly after the attack, where many of the civilians suffering chemical burns had gone. Five hours later, the drone returned and the hospital was struck. The hospital attack raised questions about whether Syria acted alone.
"We think we have a good picture of who supported" Syrian forces in the chemical strike, one military official said. "Obviously at a minimum the Russians failed to rein in the Syrian regime activity … we know the Russians have chemical expertise in country. We cannot talk about openly any complicity between the Russians and the Syrian regime in the case, but we're carefully assessing any information that would implicate the Russians knew or assisted with this Syrian capability."
The launch was the second major military operation ordered by Trump since he took office in January. He gave the order to carry out the strikes at 4:30 p.m. Thursday, after two days of consulting with his top military chiefs and the National Security Council.
"Tonight I ordered a targeted military strike on the airfield in Syria from where the chemical attack was launched," Trump told the nation late Thursday. "It is in this vital national security interest of the United States to prevent and deter the spread and use of deadly chemical weapons."
The USS Porter launched the first salvo of missiles at 8:40 p.m., which was around 3 a.m. local time, military officials said, in order to reduce potential civilian casualties.
"U.S. planners took extraordinary precaution ... to minimize risk to Russian and Syrian personnel," said Pentagon spokesman Capt. Jeff Davis. "We took extraordinary precautions to not target the area where the Russians are."
Davis said it was not clear whether there were chemical weapons at Shayrat but the base had been used to store them in previous years.
Trump said "there can be no dispute" that Assad's forces were behind the attack.
"Syrian dictator Bashar Assad launched a horrible chemical weapons attack on innocent civilians using a deadly nerve agent," Trump said. "Assad choked out the lives of helpless men, women and children. It was a slow and brutal death for so many -- even beautiful babies were cruelly murdered in this very barbaric attack."
The Syrian government has denied involvement. Syrian state TV called the U.S. attack Thursday "an aggression," according to The Associated Press.
Defense Secretary Jim Mattis traveled to Florida to brief Trump on options.
Trump ordered the strikes Thursday from his Mar-a-Lago estate in Palm Beach, Fla., where he was meeting with China's President Xi Jinping. Defense Secretary Jim Mattis traveled to Florida to brief Trump on options.
Trump had largely ignored Assad's actions in Syria, where Trump said his focus was on destroying Islamic State. On Wednesday, he called the chemical attack a "heinous action" that "cannot be tolerated."
On Thursday he told reporters traveling with him on Air Force One that the United States would take action.
"I think what Assad did is terrible," Trump said. "I think what happened in Syria is one of the truly egregious crimes. ... He's there, and I guess he's running things, so something should happen."
Syria has been in a violent civil war since 2011. Syrian rebel forces have tried to oust Assad and the Syrian leader has repeatedly attacked his own populace. In 2012 the Assad regime acknowledged it had chemical weapons, which prompted former President Barack Obama to warn that the U.S. would take action if Assad used them. In December 2012, civilians in Homs, Syria, were reportedly killed by chemical weapons but the U.S. did not respond.
In the ensuing years the war has become more violent and more complex as ISIS took advantage of the power vacuum created by the civil war and took over vast swaths of territory in Syria in 2014. The U.S. began operations against ISIS in Syria in 2014 by conducting airstrikes and then expanding the operation to include arms and training for Syrian rebel forces to fight the terrorist group in early 2015. Support for those rebel forces, which had fought to oust Assad, lured Russia into the conflict in September 2015, when it opened an air base and began shifting fighter jets into the country and positioning complex air defenses off the coast and on land.
Since then, the U.S. involvement has continued to build, with ground forces and increased airstrikes against ISIS targets. The Pentagon will not say how many troops it has on the ground in Syria; it is authorized to maintain a long-term presence of 503 forces but last month added 400 Marines and Army Rangers on a temporary basis. The Rangers have been in Manbij to maintain the peace between rival factions of Syrian Kurdish and Turkish forces; the Marines have set up artillery to provide offensive fire support for thousands of Syrian Arab partner forces advancing on Raqqa, the de facto ISIS capital in Syria.
The Air Force has also set up an airstrip at Kobani, in Kurdish-controlled northern Syria along the Turkish border, to support airlift operations. Army Command Sgt. Maj. John Wayne Troxell, the top enlisted military adviser to Chairman of the Joint Chiefs Gen. Joseph Dunford, flew into Kobani on Wednesday to visit the base and see some of the artillery support and training that U.S. forces are providing.
In a DOD news release about the visit, Troxell said those new forces have been busy.
"The Marines have been there a little over a month and had 1,182 fire missions," he said.
Pentagon correspondent Corey Dickstein contributed to this report.
copp.tara@stripes.com dickstein.corey@stripes.com
---
---
---