Green Beret, two language specialists, SEAL-turned-DIA civilian among dead in ISIS-claimed Syria bombing
by
Claudia Grisales Corey Dickstein Chad Garland
January 18, 2019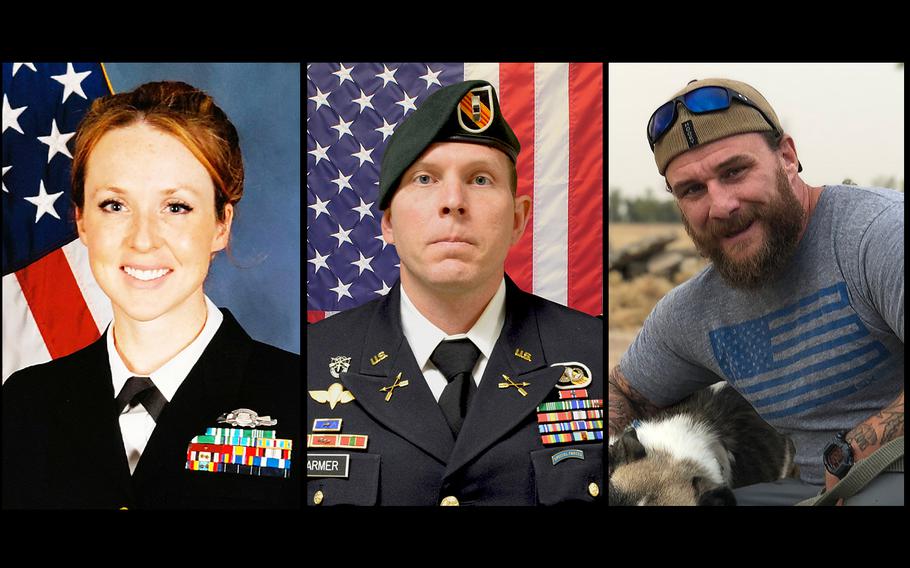 WASHINGTON — The ISIS-claimed bombing of a restaurant in Syria on Wednesday killed an Army Green Beret with four children, a former Navy SEAL working for the Pentagon's intelligence agency and a Navy linguist, the Pentagon announced Friday.
Army Chief Warrant Officer 2 Jonathan R. Farmer, 37, of Boynton Beach, Fla.; Navy Chief Petty Officer Shannon M. Kent, 35, of Pine Plains, N.Y., and Defense Intelligence Agency civilian Scott A. Wirtz, 42, of St. Louis, Mo., were killed in the blast, the deadliest incident for the U.S. military since it began operating on Syrian grounds in 2015.
The attack in the small northern Syrian town of Manbij also killed an American contractor working with the Defense Department. The DOD declined to name the contractor, but her younger brother identified her as Ghadir Taher, 27, who immigrated with her family to America from Syria and was working as an Arabic interpreter, according to The Atlanta Journal-Constitution.
The Defense Department declined to name three wounded servicemembers, as is Pentagon policy, officials said. The attack on Wednesday brings the number of American servicemembers killed in action in the anti-ISIS fight in Iraq and Syria to 16. Wirtz is the first known Defense Department civilian killed in action in what has been called Operation Inherent Resolve since 2014.
The servicemembers were at a restaurant near a crowded market for a meeting with local leaders, U.S. Central Command said after the attack. Members of the Manbij Military Council, which has controlled the city since it was liberated from ISIS in mid-2016, were also reportedly among the roughly 16 people killed in the blast.
The attack appears to be the work of ISIS, a defense official said Friday. That official stressed that the investigation into the attack was ongoing and the Pentagon had yet to reach a final conclusion on the party responsible. President Donald Trump last month declared ISIS defeated in Syria and announced he would withdraw all American forces from the country in the near future. The Pentagon has begun withdrawing equipment from Syria, but roughly 2,000 troops remain on the ground there, officials have said.
Vice President Mike Pence said Thursday at the Pentagon that the attack would not change the administration's determination to leave Syria.
"We will honor the memory of the fallen," he said. "And their families and our armed forces should know their sacrifice will only steel our resolve that as we begin to bring our troops home, we will do so in a way that ensures that the remnants of ISIS will never be able to reestablish their evil and murderous caliphate."
Shannon Kent: 'Rambo on the outside'There was pretty much nothing Navy Chief Petty Officer Shannon M. Kent couldn't handle, her friends and family said.
Kent outsmarted many of those around her, knew more than a half-dozen languages, was a wife and mother to two young boys, a cancer survivor, a world traveler deployed multiple times for the military, lobbied on Capitol Hill for new protections for servicemembers and was slated to start a graduate program this year.
That drive for Kent ended Wednesday at the age of 35.
"She was so loving and such a worldly person, the smartest person I knew, Rambo on the outside but a girly girl at heart. She was such a badass woman," her sister-in-law Kay Kent said Friday. "It's so tragic she is gone. It is the nightmare phone call you worry about receiving but I never thought I would get."
Kent signed up for the military shortly after high school and her husband was also in the military, Kay Kent said.
"They've been through so much in the last 10, 15 years in the military, you think you paid your dues and buried your friends and you make it," she said. "But that's so false. Slowly but surely people got word where they ate lunch and then horrible people make decisions."
In a statement, the Navy said Kent enlisted in December 2003 and graduated from language training at the Defense Language Institute in Monterey, Calif., in October 2005. Her awards include the two Joint Service Commendation Medals, a Navy/Marine Corps Commendation Medal, Army Commendation Medal, Joint Service Achievement Medal, Joint Meritorious Unit Award and the Iraq Campaign Medal, among others.
Kent is believed to be the first female U.S. servicemember killed in action since December 2015, and the first killed in action in the anti-ISIS campaign.
"When you are highly ranked as a Navy linguist officer, you put a stereotype on somebody, but she was such a warm mother and funny and caring and charismatic," Kay Kent said. "I got to know her more …I didn't understand how she could be in the Navy and be so sweet and kind and beautiful. That has changed that stereotype for me. You can be a multidimensional woman and be whatever you want to be."
Kent, who grew up in a service-oriented family, loved horses and learned Spanish so she could communicate with workers at the stables, Kay Kent recalled. In high school, Kent was suddenly interested in French and started learning it within a few short months. At a wedding they attended together once, Kay saw Shannon speaking to a woman in a language that she had never heard before.
After so many years of serving in the military, Kent said her family fell into a false sense of security that Shannon Kent and her husband had already been through so much, that they were safe. After all, Shannon Kent was due to start a stringent graduate program this year, she said.
Shannon Kent had just deployed to Syria in late 2018. Following Trump's announcement that troops would be withdrawn, the Kent family assumed Shannon would get moved to a new post in the Middle East.
"To make it this far, we are so shocked that this could happen," Kay Kent said.
On Facebook, as news of Kent's death spread Thursday, Navy chiefs within the small but secretive cryptologic intelligence community changed their profile photos to a Navy insignia with a black band. Many of them expressed their disbelief at Kent's death, saying she had more combat experience than most in the Navy.
Cassandra Nolan, who described Kent as one of her best friends, said she was "an indescribably amazing person" and leaves behind two sons under the age of 5.
"I love you Shannon," Nolan wrote. "You made the world a better place and you deserved the world in return. I'm heartbroken."
Jonathan Farmer: A true warriorArmy Chief Warrant Officer 2 Jonathan Farmer, an athletic Green Beret, was described by friends and family members as a good person.
"A good man. Good son. Good father. Good husband," the soldier's father Duncan Farmer told the Palm Beach Post, their hometown newspaper. "A good friend."
Farmer joined the Army in March 2005 and completed training to become a Special Forces engineer sergeant in 2007, after which he was assigned to 5th Group, where he remained throughout his career. He earned his commission as a warrant officer in 2016 and was then selected to serve as an assistant detachment commander.
He had previously served five combat tours in Iraq and Afghanistan, arriving earlier this month in Syria for his sixth deployment.
Duncan Farmer said his family was aware his son was serving in Syria, but they were not certain where.
An athlete, Farmer excelled in basketball, playing for his high school, the Palm Beach, Fla. private school The Benjamin School, and later in college at Bowdoin College in Maine, where he was a team captain, according to the Palm Beach Post.
"It is with tremendously heavy hearts that we share the news that [The Benjamin School] alum Jon Farmer was killed in Syria this week," the school said in a statement of the 1999 graduate. "A true warrior, Jon is fondly remembered as a Buccaneer with a big heart and commitment to service."
Farmer was not the only member of his family in the military. His older brother is also serving in the Army, the local newspaper reported.
Farmer is survived by his wife and their four children, according to the Army.
During his Army career, he earned awards including the Bronze Star Medal with two Oak Leaf Clusters, the Purple Heart, the Army Commendation Medal with the combat "C" device, the Army Commendation medal with two Oak Leaf Clusters, an Army Achievement Medal and a Combat Infantry Badge.
"He was the kind of person you want to be around, you want your kids to be around," Cathy White, a longtime neighbor and close friend of the Farmers told the Palm Beach Post. She added he "was good at everything."
Scott Wirtz: 'He absolutely loved his work'Energetic and adventure-seeking, Wirtz knew from a young age he wanted to be a Navy SEAL, family members said Friday morning on their way to Dover Air Force Base in Delaware to receive his remains.
"He never really was into swimming, but he wanted to join the Navy and he especially wanted to be a SEAL," his mother Sandy Wirtz said.
Like most of his other goals in life, Wirtz accomplished that objective. He spent most of his Navy career from 1998 to 2005 assigned to the Coronado, Calif.-based SEAL Team 5, where he specialized as a sniper. He served combat tours in Iraq and Afghanistan and also deployed to locations in Africa, the Philippines and South Korea, according to his mother.
After leaving the service in 2005, he spent years working for military contracting groups before joining the Defense Intelligence Agency in 2017 as an operations support specialist, charged with overseeing operations to collect human intelligence. He served three deployments to the Middle East in the role, according to his DIA biography.
During his tenure in the Navy, he earned awards including the Navy/Marine Corps Achievement Medal, two Good Conduct Medals, and qualified as an expert marksman. He was awarded the Secretary of Defense Medal for the Global War on Terrorism as a DIA civilian, according to the agency.
Family members constantly worried Wirtz, who they called Scotty, during his time in the SEALs and as a civilian. They knew he was in Syria but took comfort in knowing how well prepared he was for his job in the war-torn country.
"He was always happy, and he absolutely loved his work," his mother said, admitting she often worried about his safety. "He'd always say to me, 'Don't worry, Mom, I'm well trained.' I always carried that with me."
When he was not deployed, Wirtz spent most of his time traveling and had visited each of the continents except Antarctica, said David Wirtz, his father. He was especially fond of Thailand, where he had a home and spent much of his down time, and Brazil, where he trained as a mixed martial arts fighter.
He showed athleticism and ingenuity from a young age. He played football in high school and was a talented skateboarder, his mother said.
"We came home one day and he had built a [skateboarding] ramp in our backyard," Sandy Wirtz recalled. "It wasn't something we had expected."
Later, in high school, Wirtz completely rebuilt his Jeep, a skill his parents were surprised to learn he discovered.
Wirtz appears to be the first DOD civilian killed in combat since the anti-ISIS fight began, according to a review of Pentagon data.
"This is a stark reminder of the dangerous missions we conduct for the nation and of the threats we work hard to mitigate," DIA Director Lt. Gen. Robert P. Ashley said in a statement. "As President Lincoln described on the fields at Gettysburg, this officer gave the last full measure of devotion."
Jack Wilson, a close family friend who served in the Air Force and regularly discussed military service with Wirtz, said the former SEAL was especially proud of his service and working with his SEAL teammates.
"As an ex-warrior, I'll just say I know Scotty was a warrior," Wilson said. "He was out to do his job, and he did it well. Scotty died doing what he loved doing. And that's the only good thing that's come of this – he loved what he did."
dickstein.corey@stripes.com Twitter: @CDicksteinDC
grisales.claudia@stripes.com Twitter: @cgrisales
garland.chad@stripes.com Twitter: @chadgarland