Army brigade uses mini drones for first time in Afghanistan
by
Phillip Walter Wellman
August 12, 2019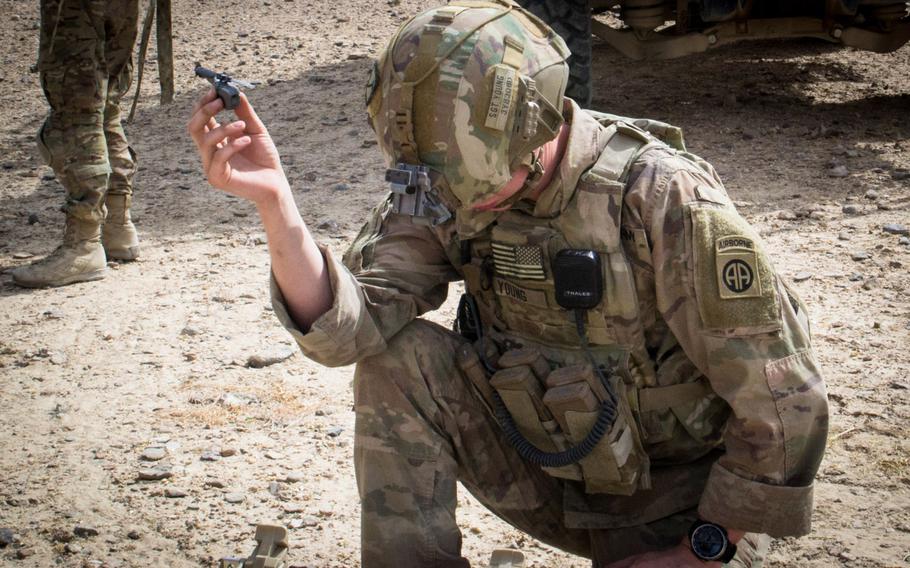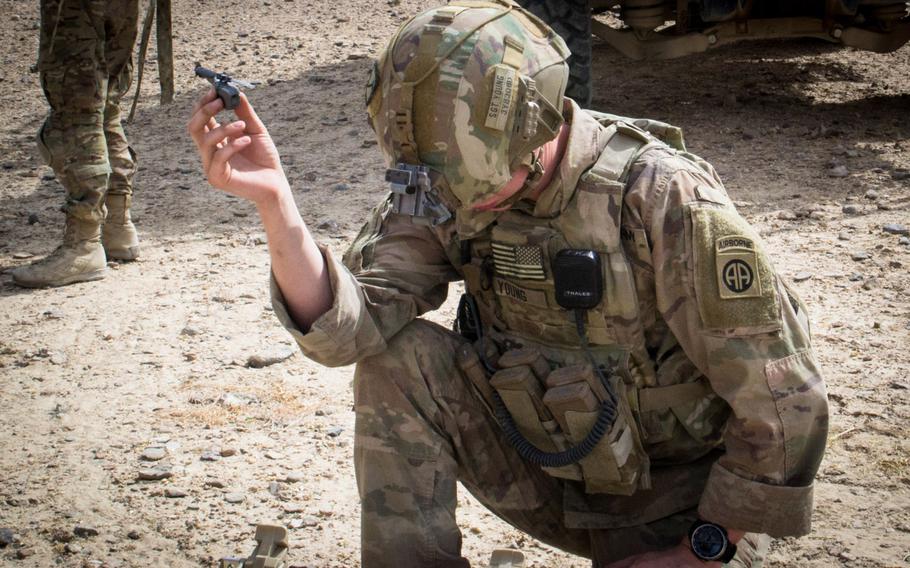 KABUL, Afghanistan — Members of the first Army infantry brigade to be issued pocket-sized drones are putting the devices to work in southern Afghanistan.
Paratroopers from the 3rd Brigade Combat Team, 82nd Airborne Division, used the Black Hornet Personal Reconnaissance System last week to support a foot patrol in Kandahar province, a statement by the division said.
Army photos of the patrol Friday show troops deploying at least one drone, which resembles a miniature helicopter, during a counterterrorism mission.
"The Black Hornet provided overhead surveillance for the patrol as it gauged security in the region and spoke to local Afghans about their concerns," the statement said, adding that paratroopers "routinely employ the system" to reduce combat risks.
The 3rd Brigade Combat soldiers were issued the Black Hornets in the spring and deployed to Afghanistan last month.
The hand-held devices, which provide near real-time video, are eventually expected to be issued to every squad in the Army, the service said in a 2018 statement.
The drones weigh less than two ounces, are nearly silent and have a flight time of up to 25 minutes, according to FLIR, the Oregon-based manufacturer.
The 3rd Brigade Combat Team, out of Fort Bragg, N.C., deployed to Kandahar province in Afghanistan's south to replace the 2nd Brigade Combat Team, 10th Mountain Division, based at Fort Drum, N.Y.
Like its predecessor, the 3rd Brigade Combat Team supports the dual U.S. mission — a bilateral counterterrorism effort with the Afghans and a NATO-led effort to build up and support Afghan security forces.
Two paratroopers of the 3rd Brigade died from combat-related injuries just weeks after arriving in the country.
Spc. Michael Nance, 24, and Pfc. Brandon Kreischer, 20, were killed in an apparent insider attack on July 29. Both were assigned to 1st Battalion, 505th Parachute Infantry Regiment.
wellman.phillip@stripes.com Twitter: @pwwellman