Israel and Egypt sign gas export deal as Europe seeks Russia alternative
By
The Washington Post
June 15, 2022
---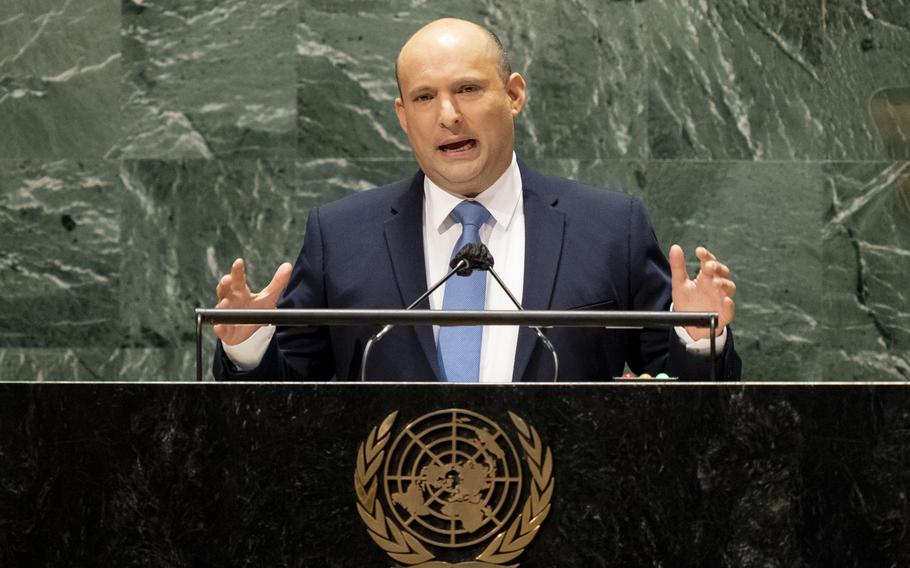 TEL AVIV — Israel, Egypt and the European Union signed on Wednesday a trilateral natural gas agreement in Cairo as Europe scrambles to cobble together an energy strategy to replace the Russian supplies it has relied on for decades.
The deal will enable Israel to streamline and increase the export of its natural gas through already existing pipelines to Egyptian ports, where it can be pressurized and liquefied, then transported to Europe.
"This will contribute to our energy security. And we are building infrastructure fit for renewables — the energy of the future," Ursula von der Leyen, the European Commission president, tweeted on Wednesday from Cairo with a photo of the signing.
Israel in recent weeks promised to accelerate its gas output as demand grows and prices soar. It is looking, in collaboration with other Middle Eastern countries, to sell to Europe, previously the largest client of Russian energy.
"With the beginning of this war and the attempt of Russia to blackmail us through energy, by deliberately cutting off the energy supplies, we decided to cut off and to get rid of the dependency on Russian fossil fuels, and to move away from Russia and diversify to trustworthy suppliers," said von der Leyen in a joint news conference with Israeli Prime Minister Naftali Bennett in Jerusalem Tuesday night, at the end of a two-day visit to Israel and the West Bank. "It is an outstanding step bringing our energy cooperation to the next level."
Italian Prime Minister Mario Draghi also met with Bennett on Tuesday to discuss energy cooperation. Claudio Descalzi, the head of the Italian oil giant Eni, said last month that Italy aims to be fully independent from Russian gas by the winter of 2024-2025. Since Russia invaded Ukraine in February, Italy has signed deals with several energy-exporting African countries, including Egypt.
For Israel, the sudden energy shortfall in Europe is an opportunity to get involved in a global market that has become exponentially lucrative in recent months.
"This is a tremendous moment in which little Israel becomes a significant player," said Israeli Energy Minister Karin Elharrar in a statement on Wednesday.
Experts say that Israel's supply, extracted from three offshore Mediterranean gas fields, will be nowhere near to Russian capacity. Israel produces roughly 12 billion cubic meters of natural gas per year, though industry analysts say at least double that amount exists in unexploited reserves. In 2021, the European Union imported 155 billion cubic meters of natural gas from Russia, accounting for around 45% of E.U. gas imports.
But Alex Coman, an energy expert from Tel Aviv University, said that Israel's contribution is becoming increasingly important as the Ukraine war thrusts Europe toward a more "fragmented strategy," in which it will buy smaller amounts of energy from a number of different countries.
"Beyond just the war in Ukraine, Europe is so traumatized from Russian brutality" that it has moved toward a general restructuring of its energy system, "to avoid having dependence on one energy source," he said.
In May, the London-based Energean company announced that it had made a new commercial gas discovery of approximately 8 billion cubic meters off the coast of Israel. The development project is slated to come online in September.
Mathios Rigas, the CEO of Energean, said that more pipelines were still needed to fully exploit the Eastern Mediterranean's offshore supplies and that though "Europe needs gas today, there are no magic solutions."
Beyond infrastructure, he said that the industry is challenged by both "below surface - the rocks, the geology - and above surface issues, disputes," in a region that has for decades been marred by conflict.
Those issues surfaced earlier this month, when Lebanon protested the arrival of one of Energean's floating rigs and claimed that the gas fields in question lay within its own territorial waters. Israel has said that the area is well within its exclusive economic zone. Lebanon is expected to drop the claim following a meeting in Beirut earlier this week with U.S. senior adviser for energy security Amos Hochstein, according to officials who spoke with Reuters.
Wednesday's export deal comes as the Nord Stream pipeline, the largest gas supply link to the E.U., cuts its output by 40% following repair delays, boosting already elevated natural gas prices by 15%.
The E.U. has worked with the United States and other allies to impose sanctions on Moscow, but several member countries remain heavily reliant on Russian oil and gas.
---
---
---
---