Iran setting up naval militias to carry out attacks, smuggling in Middle East
By
Stars and Stripes
February 2, 2022
---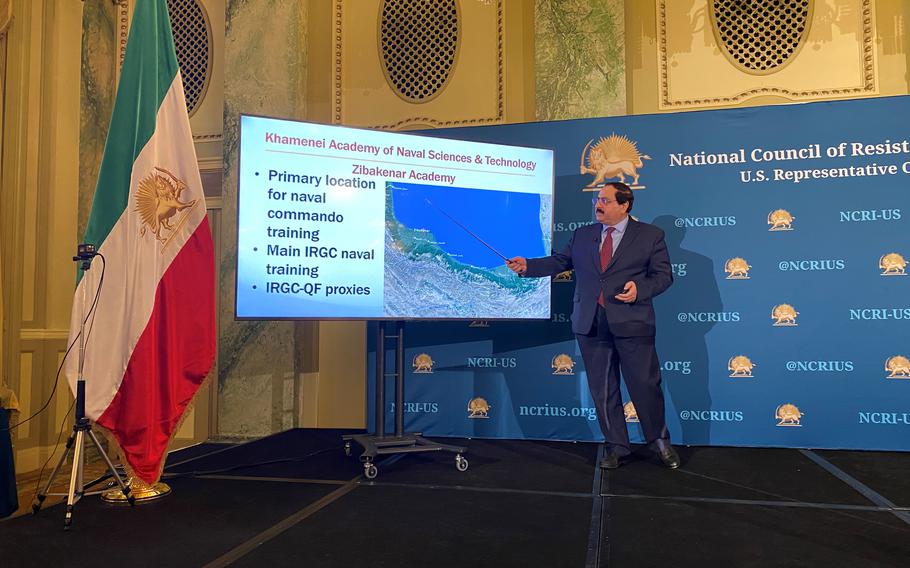 WASHINGTON – Iran is accelerating the recruiting and training of seaborne militias to carry out attacks against naval targets and facilitate smuggling of weapons and ammunition to the Houthis fighting U.S. allies in Yemen, Iranian opposition figures said Wednesday.
The National Council of Resistance of Iran said the Iranians have been recruiting hundreds of Yemenis, Iraqis and others from the Horn of Africa for training at naval facilities in Ziba Kenar on the Caspian Sea and the small islands of Farur and Qeshm in the Persian Gulf near the Strait of Hormuz.
Those who complete the average six-month training courses are organized into naval militia units in their home countries capable of carrying out terrorist attacks on ships and port facilities as well as smuggling operations, said Alireza Jafarzadeh, the deputy director of the national council's Washington office.
"This allows the Iranian regime to cover its tracks," he told reporters during a news conference.
The naval training is conducted by the powerful Quds Force, the armed wing of Iran's Revolutionary Guard Corps responsible for overseas and clandestine operations.
Jafarzadeh said the shift toward naval operations gained momentum following the death of Brig. Gen. Qassim Soleimani, the Quds Force commander killed Jan. 3, 2020, in a U.S. drone strike near Baghdad International Airport.
Soleimani's death weakened the Quds Force's ground capabilities in Iraq, Syria and Lebanon, promoting the Iranians to shift their attention to Yemen, Jafarzadeh said. The Iranian-backed Houthi movement controls a wide swath of territory after seven years of fighting against a Saudi-led coalition.
Support for the Houthis, a Shiite Muslim religious group, has increased since hardliner Ebrahim Raisi assumed the Iranian presidency in August, Jafarzadeh said.
Yemen, an impoverished country at the southern end of the Arabian Peninsula, is strategic because it borders the eastern shores of the Bab al-Mandab Strait, which controls shipping from the Indian Ocean north to the Suez Canal and the Mediterranean Sea.
The U.S. and its allies maintain about 4,000 troops in Djibouti on the western shore of the strait.
Security incidents against shipping, pipelines and offshore oil facilities in the region saw a sharp upturn in 2021, according to the authoritative S&P Global Platts Oil Security Sentinel.
Since 2017, most maritime attacks there occurred in the Gulf of Oman, the Red Sea and the Bab al-Mandab chokepoint, Platts reported.
Iran has repeatedly denied direct involvement in the attacks.
---
---
---
---