RAF Typhoon fighter downs drone near Syria base that houses US troops
by
Chad Garland
Stars and Stripes
December 17, 2021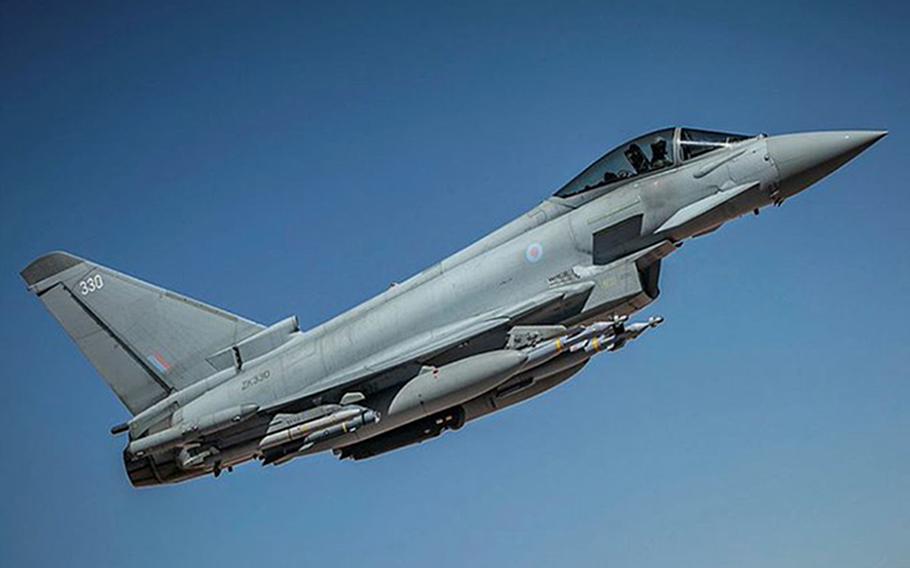 A British fighter jet shot down a drone in Syria this week near a base used by the U.S.-led coalition forces and its partners, the first midair destruction of a hostile aircraft by a U.K. counterpart in decades.
A Royal Air Force Typhoon fired an advanced short-range air-to-air missile, or ASRAAM, on Tuesday to take out the small unmanned aircraft near the al-Tanf garrison, the British military said Thursday in a statement.
About 200 U.S. troops are typically based at the garrison, which is situated along a main route between Baghdad and Damascus.
The British military statement called the remotely piloted craft a "terrorist drone" but did not say who was believed to be flying it. The U.S.-led coalition declined to provide further details Friday.
It's the first downing of an enemy aircraft by the British military since the Falklands War about 40 years ago, the BBC reported.
"This strike is an impressive demonstration of the RAF's ability to take out hostile targets in the air which pose a threat to our forces," British Defense Secretary Ben Wallace said in the statement.
The base, near the borders of Iraq and Jordan, is used by coalition forces training and supporting Syrian forces fighting Islamic State. It was previously targeted two months ago in an attack involving drones and rockets.
This week's incident is the first time an RAF Typhoon has conducted an operational air-to-air engagement, the British military said.
It's also the first time the RAF has fired an air-to-air missile during its involvement in the anti-ISIS fight, which Britain calls Operation Shader.
Two FGR4 Eurofighter Typhoons flying from a base in Cyprus were on a routine patrol when they were tasked with investigating drone activity detected above al-Tanf, the British military said in a separate statement Thursday.
The RAF pilots eliminated the drone despite its "diminutive size," the statement said.
Unmanned aircraft have become a serious threat to U.S. and coalition forces in the region in recent months. A spate of attacks using bomb-laden drones have targeted bases in Iraq and Syria where coalition troops are housed.
The U.S. has repeatedly blamed Iran-backed militia groups for such attacks.
American forces have been beefing up defenses against drones in Central Command. The enhancements include new systems and training meant to help detect and disable the aircraft, as well as drills scrambling U.S. fighter jets in the region.
---
---
---
---