As Biden touts an end to America's 'forever' wars, conflicts drag on out of sight
by
Missy Ryan
The Washington Post
September 23, 2021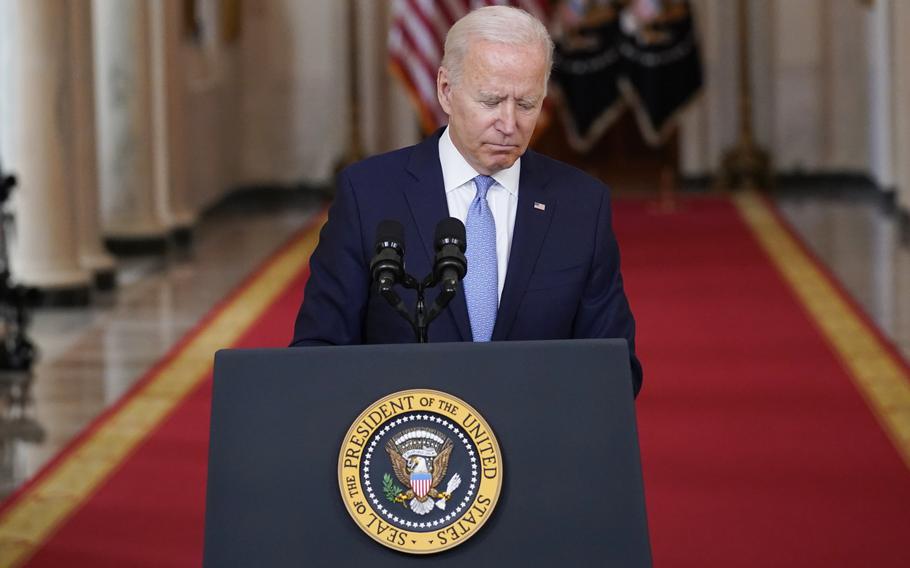 NEW YORK — When President Joe Biden told global leaders this week that he had ended America's era of insurgent war, his assertion appeared to contrast sharply with the prolonged military missions that have locked the United States in low-level conflicts in Africa and the Middle East.
Speaking before the U.N. General Assembly on Tuesday, Biden vowed to launch a new period of "relentless diplomacy" after the war in Afghanistan and turn toward Asia after two decades of counterterrorism campaigns set in motion by the 9/11 attacks.
"I stand here today for the first time in 20 years with the United States not at war," Biden said. "We've turned the page."
As he spoke, a force of more than 3,000 American military service members are arrayed on bases across Iraq and Syria, dug in on an extended mission against the Islamic State that exposes them to dangers including drone and rocket attacks.
In Somalia and Yemen, smaller cadres of Special Operations troops operate alongside local forces as part of more-shadowy missions against al-Qaeda-linked fighters, while periodic drone strikes in those countries demonstrate American firepower from the air.
In Afghanistan, officials are refining plans to conduct what they call "over the horizon" counterterrorism strikes if a terrorist threat emerges in the country that sheltered al-Qaeda and now has a branch of the Islamic State.
The immediacy of those conflicts was evident as recently as this week, when U.S. aircraft launched an attack on a suspected al-Qaeda target in northwestern Syria.
Stephen Pomper, who served as a White House official during the Obama administration and is now chief of policy for the International Crisis Group, said Biden's desire to pivot away from war is understandable as Americans have grown weary of the financial and human cost.
"The reality is that the United States is not anywhere near ending these wars," he said. Biden's apparent statement to the contrary "is good politics," he said, "but I worry that it's not going to be good governance."
A senior administration official, speaking on the condition of anonymity under ground rules set by the administration, said Biden's mention of "turning the page" referred to the departure of U.S. and NATO forces from Afghanistan.
"While ending the war in Afghanistan represents a historic break with 20 years of U.S. policy, the president made clear that it fits squarely" with the need, as Biden said in his address, to face today's terrorism threats, the official said in an email.
But while Biden cited security alliances, financial tools and economic development as means for addressing far-flung extremist threats, he made no specific references to the ongoing missions in places such as Iraq and Syria, where the combined number of U.S. troops exceeds the number stationed in Afghanistan when Biden made his decision to withdraw.
"We'll meet terrorist threats that arise today and in the future with a full range of tools available to us, including working in cooperation with local partners so that we need not be so reliant on large-scale military deployments," Biden said in the speech.
The president's first remarks to the General Assembly come as he attempts to refocus government resources on priorities at home, including deep political divisions and the coronavirus pandemic. On foreign policy, Biden has also shown himself willing to risk opprobrium in taking steps to anchor U.S. strategy around competition with China, as he did in a new deal to share sensitive technology with Australia that infuriated France.
Biden's political challenges are mounting as he faces congressional pushback over his handling of Afghanistan, where the Kabul government fell to the Taliban amid the U.S. withdrawal and a hastily arranged American evacuation effort was marred by violence and disorder.
The president has repeatedly defended his Afghanistan policy, arguing the exit was a necessary if unpleasant decision after 20 years of war. Officials have said far less about the ongoing counterterrorism missions in at least five countries that grind on largely out of sight of the public.
The low-boil campaigns have also attracted far less congressional scrutiny than the campaigns in Iraq and Afghanistan did at their height, except in instances when U.S. troops have been injured or killed.
Critics have challenged the notion that the United States can truly end insurgent wars while continuing airstrikes from afar, highlighting disagreements about how to define when the United States is at war or engaged in hostilities.
While Pentagon officials have highlighted the focus of ongoing operations on supporting local partners, U.S. forces have sometimes been caught in deadly firefights, as they were in Yemen and Niger in 2017.
Andrea Prasow, deputy Washington director at Human Rights Watch, said the congressional response to a deadly Aug. 29 bombing by the United States that killed 10 civilians in Kabul, including numerous children, may indicate a change in that dynamic as the risks of the "over the horizon" strategy for containing extremist threats in Afghanistan and other places come into focus.
The United States has long grappled with the civilian toll of remote airstrikes. While the Pentagon took steps under the Trump administration to review rules around targeting operations, the recent Kabul strike, in which officials misidentified an employee of a U.S. aid organization as an Islamic State militant, shows the potential for deadly mistakes.
"The August 29 strike is prompting a lot of members to ask questions about the long-term strategy," Prasow said.
While White House aides have been conducting a review of counterterrorism policies, including guidelines for drone strikes, military officials say there is no indication Biden will soon unveil significant changes to ongoing operations.
That includes operations at the facility at Guantánamo Bay, Cuba, where 39 inmates remain imprisoned. While the administration has stated its goal of shuttering the prison, a host of obstacles remains, and it is unclear how much political capital Biden will spend in an attempt to do so.
In the meantime, the prison remains a global symbol of American excesses in the wake of 9/11.
"It's impossible to close the era of endless war without closing #Guantánamo," Wells Dixon, a defense attorney for one of the prisoners, said on Twitter.
In addition, the Biden administration, like others before it, has cited a 2001 legal justification, or Authorization for Use of Military Force, as a basis for ongoing insurgent operations.
Administration officials have yet to decisively push for repeal of the 2001 authority, suggesting they may also prefer to maintain a status quo that gives them a relatively free hand overseas.
Pomper said that Biden's assertions about wrapping up America's wars may be most problematic in that they reduce the chances for a substantive public conversation that might put end to the missions that he and many Americans would like to conclude.
"The question of whether the U.S. is at war deserves to be openly debated," he said. By glossing over what is occurring, "it could actually be perpetuating forever wars," he said.
The Washington Post's Karoun Demirjian in Washington contributed to this report.