UN officials criticize Taliban for attacks on protests, alleged reprisal killings
by
Haq Nawaz Khan and Kareem Fahim
The Washington Post
September 11, 2021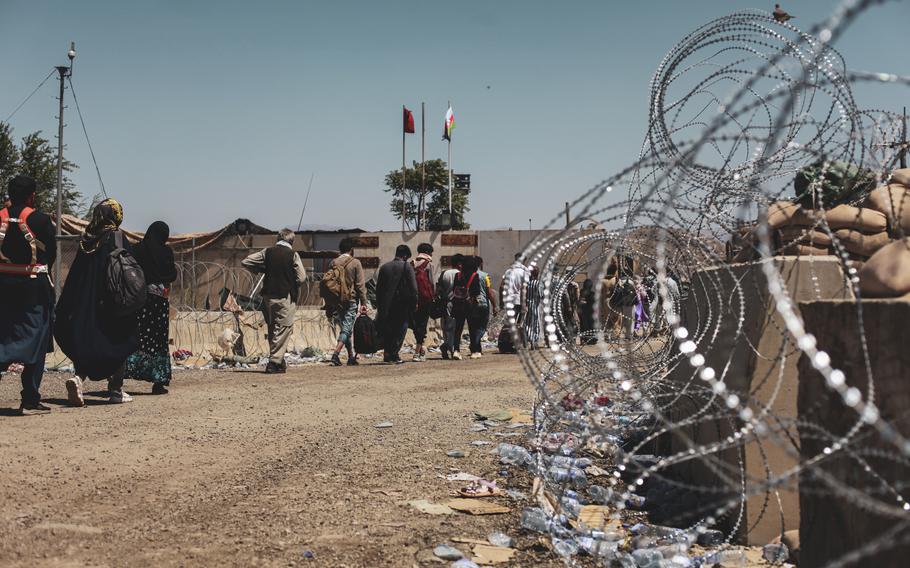 Taliban fighters have imposed a withering siege in Afghanistan's rebellious Panjshir province, denying food to residents and carrying out some extrajudicial executions of civilians, a tribal elder who recently fled the province said Friday, adding to a growing list of alleged abuses carried out by the militant group.
A Taliban spokesman denied that the movement's fighters had killed any civilians in Panjshir, a northern region that has been a last redoubt for anti-Taliban fighters. The latest accusations came as U.N. officials decried other alleged Taliban abuses, including reprisal killings and beatings and fatal shootings of protesters across the country.
Taken together, the accusations have painted a bleak picture of Taliban rule in the weeks since the Islamist militants took power and pledged to govern inclusively, respect women's rights and press freedoms, and avoid retaliatory actions against former adversaries.
An interim government named by the Taliban this week consists entirely of Taliban members, excludes women and eliminates the ministry in charge of ensuring opportunity and rights for women and girls. A Taliban spokesman, defending the appointments, said they were the result of discussions held "all over the country."
Last week, the militants seized control of Panjshir. As sporadic clashes have continued, civilians have seized chances to flee the province amid reports that at least eight residents, including children, had been killed by the Taliban, said the elder, who spoke on the condition of anonymity because he feared for his safety.
He said he fled with his clothes, leaving behind his cows, goats and chickens. "My people pressed me to leave the area," he said, adding that his family warned him Taliban fighters would kill him. The eight civilians killed in Panjshir three days earlier were "neither supporters of the resistance or the Taliban," he said, without providing more detail about the deaths.
In a Skype interview from London, Ahmad Wali Masoud, the uncle of Ahmad Massoud, the leader of anti-Taliban resistance fighters in Panjshir, echoed the accusations that the Taliban were imposing clampdowns in the province and had killed civilians, though he was not able to say how many or under what circumstances they were killed. The uncle, a former Afghan ambassador, said that resistance fighters still controlled "major" areas in Panjshir and were engaged in intermittent clashes with Taliban fighters.
"Everyone is weighing their next move," the elder Masoud said, adding that there was little prospect that negotiations would end the standoff in Panjshir.
"The Taliban is the Taliban," he said. "They are worse and more violent than ever before."
Bilal Karimi, a Taliban spokesman, denied that the group's fighters were harming civilians in Panjshir, calling reports to the contrary "baseless and unfounded."
The Taliban's harsh handling of protests was on full display earlier this week in Kabul, the capital, where activists and journalists said they faced lashings by Taliban fighters. Among those beaten were two journalists who work for Etilaatroz, an Afghan newspaper, the outlet said on Twitter. Photos shared on social media showed their backs covered with red-and-purple bruises.
A United Nations human rights official warned the Taliban on Friday to "immediately cease" using force against peaceful protesters. Demonstrators "across various provinces in Afghanistan over the past four weeks have faced an increasingly violent response by the Taliban, including the use of live ammunition, batons and whips," the official, Ravina Shamdasani, a spokeswoman for the U.N. High Commissioner for Human Rights, said in a media briefing in Geneva, according to a transcript of her remarks.
Her comments came a day after Deborah Lyons, the U.N. secretary general's envoy to Afghanistan, said in a briefing to the Security Council that there were "credible allegations" that reprisal killings have been carried out against members of the former government's security forces, despite Taliban pledges of amnesty for soldiers and government officials. "We have received reports of members of the Taliban carrying out house-to-house searches and seizing property, particularly in Kabul," she said.
Lyons added that she was "increasingly worried" by a growing number of incidents of "harassment and intimidation" targeting Afghan members of the U.N. staff. "The U.N. cannot conduct its work - work that is so essential to the Afghan people - if its personnel are subjected to intimidation, fear for their lives, and cannot move freely," she said.
Thousands of people, including some U.S. citizens, have attempted to leave Afghanistan since the end of the U.S. military airlift on Aug. 31, but the flow has been limited, in part by the slow recovery of operations at Kabul's Hamid Karzai International Airport following the withdrawal of foreign military forces from the country.
A second civilian airliner left Kabul late Friday bound for Qatar and carrying American and other foreign passport holders, according to Emily Horne, a spokeswoman for the National Security Council, and a Qatari official briefed on the details. The first civilian flight, on Thursday, carried 10 U.S. citizens and 11 green-card holders, according to the State Department.
Nineteen U.S. citizens were among the 158 passengers on Friday's Qatar Airways flight bound for Doha, along with French, Dutch, British, Belgian and Mauritanian nationals, the officials said. Horne, in a statement, said that an additional group of two U.S. citizens and 11 lawful permanent residents left Afghanistan on Friday "via overland passage to a neighboring country."
Also on Friday, White House press secretary Jen Psaki said that flights of refugees from Afghanistan to the United States had been "temporarily paused" because four Afghans who had recently arrived in the United States had been diagnosed with measles. The suspension of flights was made at the request of the Centers for Disease Control and Prevention "out of an abundance of caution," she said.
- - -
Khan reported from Peshawar, Pakistan, and Fahim from Istanbul. The Washington Post's John Hudson in Washington contributed to this report.