Analysis
Suicide bombing lays bare challenges of gate security mission at Kabul airport
by
Dan Lamothe
The Washington Post
August 28, 2021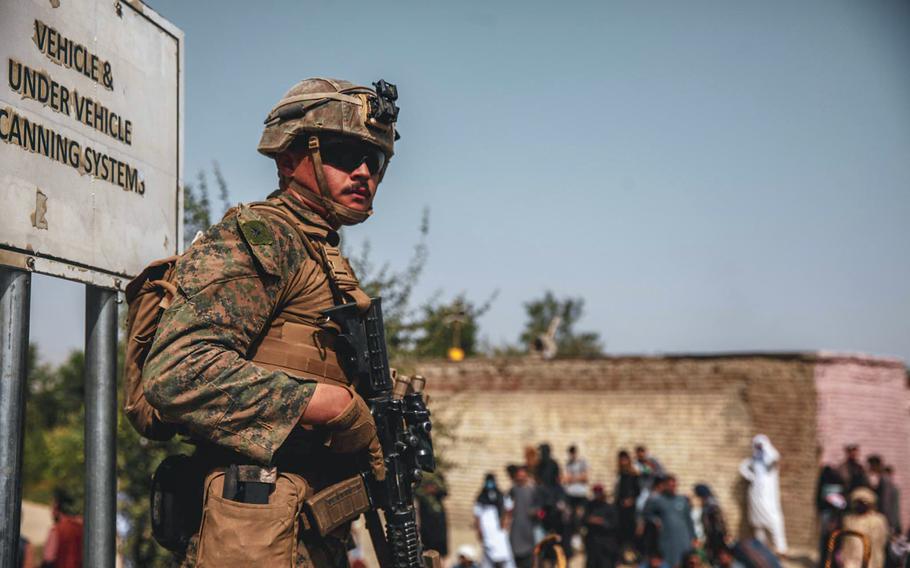 The catastrophic loss of life in a suicide bombing at Kabul's international airport laid bare the challenges the U.S. military faced in an evacuation mission that relied on the Taliban to create an outside perimeter of checkpoints and forced Americans to search Afghan civilians without the security measures typically used while deployed, defense officials and combat veterans said.
The bomb detonated on Thursday afternoon in a crowded area just outside the airport's Abbey Gate, killed at least 170 people, including 13 U.S. troops, according to U.S. officials and the Taliban. The attack — which came after days of increasingly dire warnings that the Islamic State affiliate in Afghanistan was plotting to strike the airport — left dozens of bodies piled in a sewage ditch that desperate Afghans had been traversing while trying to evacuate, following the Taliban's takeover of Kabul.
The deaths and chaos have overshadowed an airlift mission that found its footing last week and has evacuated more than 111,000 people from Kabul as of Friday, in one of the largest noncombatant rescue efforts in U.S. military history. The threat of additional attacks remain, Pentagon officials said, and it could be heightened as the United States reduces its forces at the airport in advance of an Aug. 31 deadline for a full withdrawal.
At a typical well-defended military installation, security centers on what officials call "defense in depth," something that appeared to be impossible to establish at the airport, said Sam Lerman, an Air Force security forces veteran whose unit protected Bagram air base in Afghanistan in 2011 and 2012.
Afghans who entered Bagram went through screening that began with a search by Afghan security guards paid by U.S. defense contractors, and included an evolving mixture of cameras, millimeter scanners and a long lane in which sensors and trained observers scrutinized each visitor's behavior and gait to see if they might be hiding a suicide bomb.
"The main thing is you need standoff distance and redundant layers of security, and you need trusted people at every layer," Lerman said. "That last part is a must-have."
At Kabul airport — a commercial and civilian airfield in the center of a metropolis of more than 4 million people — the U.S. military did not appear to have many of those options in place, after abruptly launching into a chaotic mission precipitated by the rapid disintegration of the Afghan government and its security forces.
Nearly 6,000 U.S. troops flooded back into Kabul to secure the airfield, putting American troops at airport gates up close with surging crowds who had initially been screened by the Taliban. At times, Taliban fighters and U.S. troops were often just a few feet apart.
That mission appeared to collide with an Islamic State branch in Afghanistan that appears to have found new life following the fall of Kabul. Pentagon spokesman John Kirby said on Friday that "thousands" of Islamic State fighters were released this month after Taliban fighters broke open prisons during their rapid ascent.
The bombing rattled the Pentagon and White House, as it became clear it was the deadliest day for the U.S. military in Afghanistan in years and the first combat fatalities in Afghanistan for the U.S. military since February 2020. Defense officials have said little about the suicide bomb itself, and corrected themselves on Friday to say that there had been only one explosion in the attack, rather than two.
U.S. officials broadcast increasingly tense warnings about Islamic State threats on the airport in recent days, telling possible evacuees to stay away and recovering some of them with U.S. Special Operations missions instead.
Rebecca Zimmerman, a senior Pentagon official, told congressional staff members in a call on Wednesday that gates at the airport had been opened and closed by U.S. troops quickly in part to create "tactical unpredictability" to protect people inside.
Karin King, a senior State Department official, said in the same call - a recording of which was obtained by The Washington Post - that U.S. citizens and green-card holders were receiving instructions to go somewhere else for pickup, rather than waiting outside the airport.
"My best advice to all those folks is to get themselves registered and get away from the gates because the gates are simply not a way to gain access at this point," King said.
The attack has prompted lawmakers in both major political parties to renew statements that they will investigate how the U.S. withdrawal from Afghanistan careened out of control.
Rep. Susan Wild, D-Pa., a member of the House Committee on Foreign Affairs, tweeted on Thursday that while the United States could not continue to put U.S. troops in danger for an "unwinnable war," she believes the evacuation process was mishandled.
"In order to move forward, we need answers and accountability regarding the cascading failures that led us to this moment," she wrote. "Our troops deserve nothing less than a complete and unvarnished truth."
Brian Castner, a former explosive ordnance disposal officer and Iraq War veteran, said that the "wicked nature of the problem" for the U.S. troops included potential Afghan evacuees arriving at the gates with bags.
"You can't just say, 'No bags.' There are going to be bags," said Castner, who was a civilian employee in Kabul when the government fell and subsequently evacuated. "You're going to have this constant threat possibility that any one of those bags could be not somebody's worldly possessions, but a bomb instead."
It is unclear whether a Taliban fighter deliberately allowed the suicide bomber through, either to protect himself or to harm Americans, or whether the attacker eluded Taliban checkpoints. Biden administration officials have defended their reliance on the Taliban to control crowds and screen potential evacuees, saying the Taliban and United States have shared interests at the moment.
"No one trusts them," Biden said of the Taliban. "We're just counting on their self-interest to continue to generate their activities."
Biden added that the Taliban is "not what you'd call a tightly commanded, regimented operation," leaving open the possibility that they failed at their job.
At the Pentagon, senior defense officials took a similar stance.
Marine Gen. Kenneth McKenzie, the chief of U.S. Central Command, said on Thursday that he did not know whether the Taliban let the attack happen, but he didn't see "anything to convince me" that it did. The Islamic State in Afghanistan is a sworn enemy of the Taliban.
"Anytime you build a noncombatant evacuation plan like this, you bring in forces, you expect to be attacked," McKenzie said. "We thought this would happen sooner or later."
McKenzie described the harrowing nature of the work for troops acutely aware of the threat.
"This is close-up work," he said. "The breath of the person you are searching is upon you. While we have overwatch in place, we still have to touch the clothes of the person that's coming in."