Daughter of Tennessee woman who joined ISIS rescued, awaits fate outside a Syrian detention camp
by
Patrick Filbin
Chattanooga Times Free Press
August 5, 2021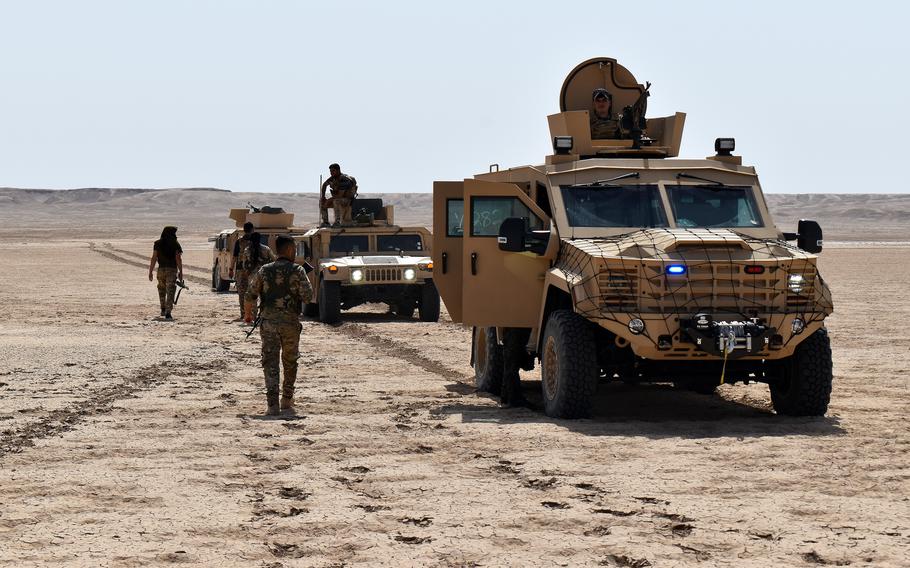 (Tribune News Service) — Aminah Mohamad, an 8-year-old girl born in Chattanooga but raised under ISIS control, has been rescued and is in a secure location in northeast Syria more than two years after her mother, a Chattanooga native, was killed in an airstrike.
Peter Galbraith, a 70-year-old former U.S. diplomat, told BuzzFeed News this week that the girl was interviewed Saturday by a member of the International Center for the Study of Violent Extremism about her life under the control of ISIS, the Islamic State terrorist group.
According to BuzzFeed, Galbraith has worked to "repatriate foreign women and children" from detention camps that hold tens of thousands of people linked to ISIS. Aminah's mother, Ariel Bradley, was a Hixson-born evangelical Christian who eventually joined ISIS.
Aminah Mohamad's path back to the United States is uncertain at this time. She has lived most of her life in a war-torn country. Both of her parents are dead, according to Buzzfeed. One of her brothers was also killed in an airstrike and her second brother is reportedly missing.
Bradley was among the first activists working with Chattanooga Organized for Action in 2010, a group that pushes for racial equality, fair housing policy and empathy for the poor. During the same year, she became interested in The Twelve Tribes, a religious sect that owns and runs The Yellow Deli restaurant and lives communally. She started to dress more modestly, pulled cardigans over her bare shoulders and wore skirts below her knees.
Then she started wrapping a scarf around her head. She was working at the University Pizza and Deli, which was owned by a Palestinian man and was a gathering spot for local Muslims. Friends at the time said she was infatuated with a young Muslim man. On her Tumblr account, she started writing about the teachings of the Islamic prophet Muhammad. At some point, she converted.
Online, Bradley started to search for a husband.
In December 2011, Bradley disappeared overseas to marry a man — Yasin Mohamad — that she had met online who was living in Sweden. A few people from home saw her return to Chattanooga a handful of times over the next few years, including one trip home to give birth to Aminah.
The day after a 24-year-old Muslim man from her hometown attacked two military sites in Chattanooga, killing five servicemen, a tweet, found and confirmed by BuzzFeed News, offered some terrifying insight.
"Gifted this morning not only with Eid but w/ the news of a brother puttin fear n the heart of kufar [non-believers] n the city of my birth. Alhamdullilah [thanks be to God]," Bradley wrote, before making her Twitter feed private.
Bradley's husband died at some point after June 2015. Bradley reportedly married another man — an Australian pediatrician named Tareq Kamleh — a "prominent" ISIS member who appeared in several propaganda videos, according to BuzzFeed. Bradley had a second son with Kamleh, Yousef, in 2016.
Galbraith connected BuzzFeed with a Canadian woman — who wished to remain anonymous to protect her safety — who joined ISIS in 2014. The woman has since "regretted that decision and denounced the organization," according to BuzzFeed. Galbraith helped get the woman out and she is now waiting to be repatriated to Canada.
Both Galbraith and the Canadian woman have worked over the past 18 months to help rescue Aminah, who was reportedly left in the custody of one of her stepfather's other wives.
In the Syrian camps, "Aminah was made to wear long robes and a niqab, a veil that exposes only the eyes, to conceal her identity and race, since her caretaker was Black and she was white," BuzzFeed reported. "On the night of July 17, a team of Syrian Democratic Forces soldiers descended on the Somali enclave within the Roj camp and retrieved Aminah, according to messages sent to Galbraith from a senior SDF official who had been briefed on the raid."
(c)2021 the Chattanooga Times/Free Press (Chattanooga, Tenn.)
Visit the Chattanooga Times/Free Press (Chattanooga, Tenn.) at www.timesfreepress.com
Distributed by Tribune Content Agency, LLC.