US-led coalition disputes reports of drone strike on Iran-backed militia truck
by
Chad Garland
Stars and Stripes
July 19, 2021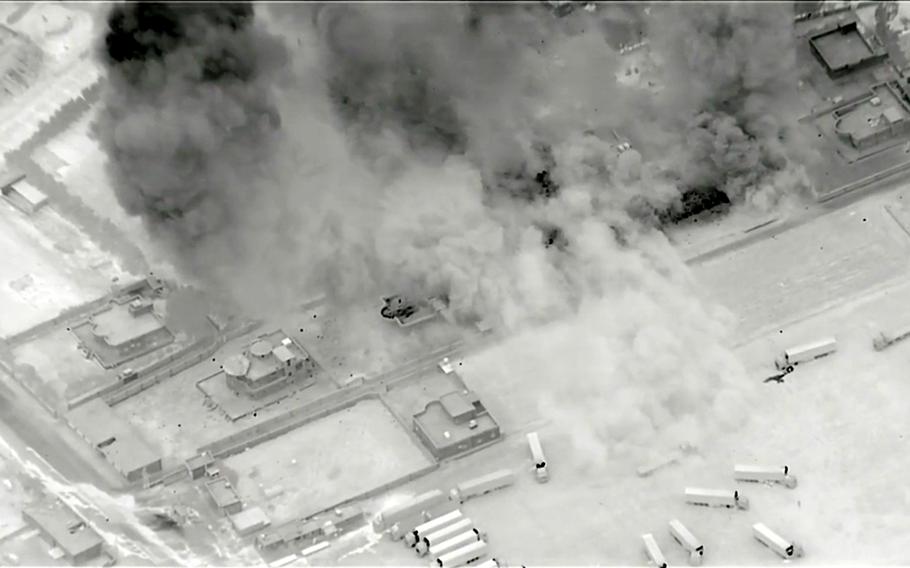 Military officials disputed reports that a U.S. drone attack destroyed an Iran-backed militia's truck in eastern Syria, calling them an attempt to discredit the U.S.-led coalition.
The news came as U.S. and Iraqi leaders are expected to meet in Washington next week, where they will discuss the battle against the Islamic State group and other militants.
The coalition "has not conducted airstrikes of any nature in the Combined Joint Operations Area today or yesterday," spokesman U.S. Army Col. Wayne Marotto said in a statement Sunday, following reports that a drone had fired a missile that destroyed the vehicle but caused no casualties.
Officials believe the earlier reports were an attempt at disinformation, a military official told Stars and Stripes Monday. The official pointed to a report by the Kurdish news site Rudaw quoting a militia commander in Anbar province, who also denied the attack.
Unnamed Iraqi militia officials had told The Associated Press that the drone first fired a warning shot and the driver jumped from the truck before the missile hit it. The vehicle supposedly belonged to the Iran-backed Kataeb Sayyid al-Shuhada.
The region has seen "an increase of disinformation released by adversaries," an unnamed senior U.S. military official told Kurdistan 24.
The reports came just weeks after U.S. warplanes struck sites along the Iraq-Syria border that the Pentagon said were used by the militia groups to support drone and rocket strikes inside Iraq. Those air raids killed four militiamen.
Shortly after the June 27 strikes, Kataeb Sayyid al-Shuhada's commander vowed retaliation. That week saw near daily attacks hit installations housing U.S. troops in Iraq and Syria.
Several thousand American and allied forces are deployed to the two countries to battle ISIS. They largely provide training, equipment, intelligence assistance and air support to the Iraqi government forces and partner militias that make up the Syrian Democratic Forces.
In recent days, the coalition has assisted SDF forces in operations that have resulted in the killing or capture of ISIS militants, including the head of a network that was smuggling the terrorist group's affiliates out of a displacement camp, officials have said.
Coalition forces have come under attacks for years from rockets and, since April, bomb-laden remotely piloted aircraft, which the U.S. has blamed on Kataeb Hezbollah and Kataeb Sayyid al-Shuhada.
The Shiite militias are formally part of government forces in Iraq. Thousands of Iran-backed fighters are also deployed to parts of Syria to assist President Bashar Assad's forces in the 10-year civil war there that has killed half a million people.
Iraqi officials have expressed concerns over U.S.-Iran tensions playing out on Iraqi soil, and in a televised interview Sunday, Iraqi Prime Minister Mustafa al-Kadhimi told Al-Arabiya that his government was working to encourage dialogue.
"It is not in anyone's interest to have a conflict in Iraq, as it will have very large regional repercussions," said a translated statement about the interview, which his office issued via the Telegram app.
Kadhimi will visit Washington next week to meet with President Joe Biden, the White House said Friday.
The leaders will discuss the withdrawal of U.S. combat forces, among other shared interests, Kadhimi said. A NATO mission in Iraq is expected to take on more training activities to bolster security forces.