Two wounded in rocket attack on Iraqi base housing US forces
by
Chad Garland
Stars and Stripes
July 7, 2021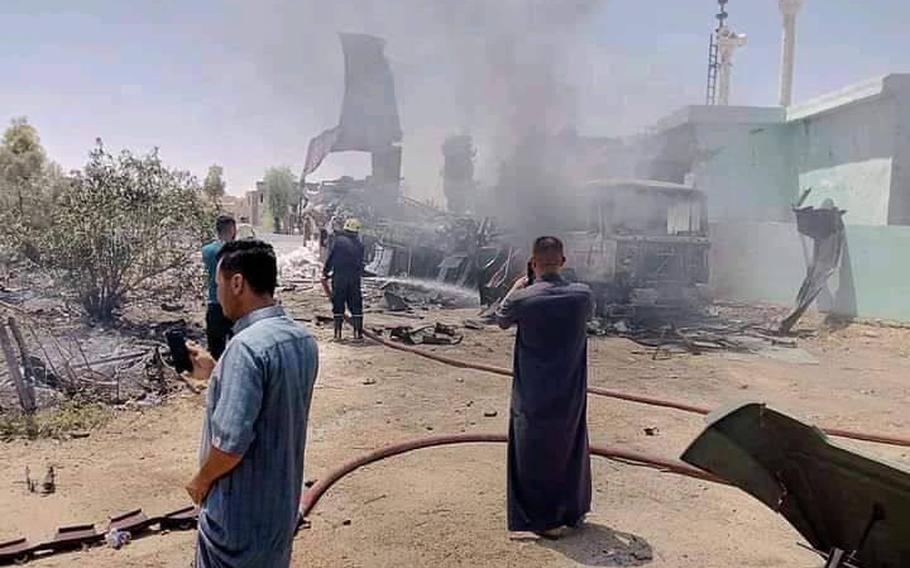 Two members of the anti-Islamic State coalition suffered minor injuries following a rocket attack on a base housing U.S. troops in western Iraq, while allied troops thwarted a drone attack on a coalition outpost in Syria on Wednesday, military officials said.   
About 14 rockets fell on al Asad Air Base at about 12:30 p.m., said U.S. Army Col. Wayne Marotto, a coalition spokesman, who confirmed the injuries and that all personnel had been accounted for. Military officials did not say whether the injured were U.S. service members.
The projectiles landed on the base and its perimeter, and damage was being assessed, Marotto said in a Twitter post.
In Syria, drones were used to attack the al-Omar oil field in Syria's eastern province of Deir el-Zour on Wednesday morning, the U.S.-backed Syrian Democratic Forces said in a statement. The attack was foiled and caused no damage, The Associated Press reported. Several hundred U.S. troops are stationed in northeastern Syria to help fight ISIS.
U.S. military officials in Iraq said they had no further information on the SDF statement Wednesday.
The rocket attack targeting al Asad was the fourth on a U.S. compound in Iraq this week.
Late Tuesday, a drone impacted near Irbil International Airport, outside the capital of Iraq's northern Kurdish region. U.S. troops are housed at a facility on the airport grounds.
Just after midnight on Tuesday, a counter-rocket system at the U.S. Embassy in Baghdad shot down an armed drone over the diplomatic compound, U.S. officials said. Three rockets also struck al Asad on Monday. None of the attacks prior to Wednesday caused injuries, Marotto said.
The U.S. has blamed the repeated rocket attacks over the past several years on Iran-backed militias seeking to oust American forces from the country, where some 2,500 remain deployed to assist the government in battling the Islamic State group.
The militia groups began using drones earlier this year with an April attack on the Irbil airport and have conducted at least six so far, with several other attempts thwarted.
"Coalition forces are co-located with our (Iraqi Security Forces) and (Kurdish) Peshmerga partners on ISF bases," Marotto said. "Each attack against the Coalition endangers the lives of ISF and Peshmerga forces."