Israel and Hamas revert to routine of provocation, reprisal
by
Steve Hendrix
The Washington Post
June 19, 2021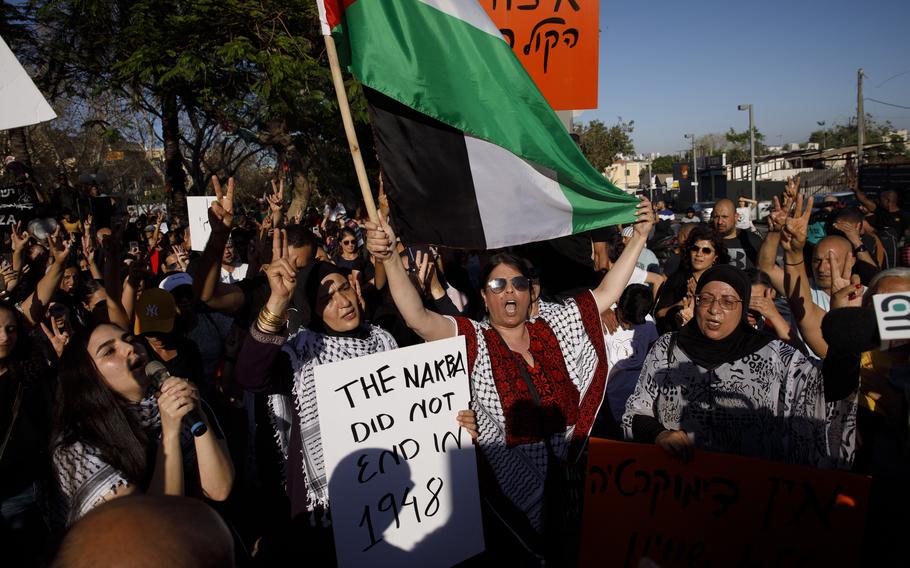 JERUSALEM - Like many Israelis, Ohad Zwick had his eyes on the sky over Gaza on Tuesday night and wondered how Israel's new government would handle its first confrontation with Hamas, the militant group that rules the enclave.
On just the second day of Prime Minister Naftali Bennett's tenure, Jewish nationalists marched through East Jerusalem, which Israel occupied in the 1967 war, yelling "Death to Arabs." In what Hamas said was a response, the group launched incendiary balloons from Gaza, injuring no one but burning crops and wildlands. Hours later, Israeli warplanes struck two "military sites" in Gaza, injuring no one but unnerving residents.
This was a version of the finely calibrated dance of provocation and reprisal well known to residents on both sides of the Gaza-Israel border.
"We laugh about it, to be honest," said Zwick, who lives with his wife and three children in the Israeli port city of Ashdod, just miles from Gaza City, one of the southern Israel communities where the tit-for-tat rituals have long shaped life. "They hit a few sand dunes, kill some ants, and nothing ever changes."
Nearly a month after a cease-fire ended 11 days of intense fighting, neither side is eager for a return to a full air war, according to military and political analysts, although the situation remains volatile. Hamas launched more fire balloons Thursday and Israel hit additional sites in Gaza, again with no reported injuries. But so far, Hamas has not resumed rocket fire, which would all but ensure a more muscular response from the Israeli military.
Both sides are pressing their demands in negotiations over a longer-term truce being brokered by Egyptian mediators. Israel is insisting that Hamas return the remains of soldiers it has held since 2014 and two Israeli citizens it is assumed to hold. Hamas wants Israel to release hundreds of Palestinian prisoners and stop blocking millions of dollars that Qatar is seeking to provide to pay Palestinian government salaries in Gaza.
As the talks go on, an international program to help Gaza rebuild is waiting to launch. Israel has yet to open the border crossings except for humanitarian and emergency traffic. No mail has reached Gaza since fighting broke out May 10.
"The resistance does not want to return to military confrontation, but mediators must intervene in order to improve the living conditions of the Gaza Strip," said Hossam al-Dajni, a political analyst in Gaza City.
Neither side has been able to break out of the dynamic that has defined their confrontation since the early 2000s. That's when Hamas turned to homemade rockets that could strike Israel beyond the borders of Gaza. Most of the rockets and balloons, which were added to the arsenal much more recently, cause more fear than damage, and Israel's retaliatory strikes in many instances are restrained.
Three times before - in 2008, 2012 and 2014 - the hostilities have escalated dramatically, causing significant casualties, only to revert to the routine of low-level conflict. Short of a massive ground invasion to rout Hamas and other militant groups from Gaza, analysts say, the confrontation is likely to do so again after the fighting last month.
"I think is Israel is locked into a long-term situation where we are going to repeat these major escalations every few years," said Chuck Freilich, a former Israeli deputy national security adviser. "I don't think there are any great military options at the moment. What are we going to do now that we didn't do during the first 11 days?"
Israeli military commanders said privately during the recent escalation that they were determined to break a cycle that forces them to pull their punches in answer to weapons fired at Israel. Part of their strategy was to target the militants' rocket-making facilities, which commanders say are concealed in warehouses and factories throughout the enclave.
A senior military official briefing reporters at the time said Israeli bombing was taking a toll on the assembly plants. But he acknowledged that thousands of rocket launchers were untouched and that nothing would keep Hamas from rebuilding its capacity unless political leaders changed tacks.
"What was is not what will be," said Defense Minister Benny Gantz at the conclusion of the fighting.
Gantz, who remains defense minister in the new coalition government, has said Israel should respond "brutally" to Hamas attacks on southern Israel.
The new government has taken a tougher line on Hamas by retaliating for incendiary balloons and not waiting for rocket fire. But critics say that revised approach won't alter the basic dynamic.
"The challenge facing the government that was inaugurated this week is to change the paradigm," wrote commentator Ben Dror-Yemini in the newspaper Yedioth Ahronoth. "The residents of southern Israel, hundreds of thousands of people, live in perpetual fear that is relieved only briefly and intermittently." Dror-Yemini called for Bennett to push for an international Marshall Plan to both rebuild Gaza and demilitarize it.
The long periods of relative quiet allow people on both sides of the border to go about their daily lives, accommodating the intermittent sirens and strikes, which usually produce more noise than direct human harm. But this is also a permanent state of tension.
In Gaza, for example, Israeli strikes shake buildings and wake children even when bombs fall in open fields.
"We are not able to live in this way," said Shahira Al-Diri, 44, of Gaza City. "It is very stressful for the soul. We are between the fire of war and the fire of siege."
In the Israeli communities surrounding Gaza, Hamas rockets frequently land in farmlands or are intercepted by Israel's air defense batteries. But the incoming fire triggers sirens that give thousands of civilians just seconds to race to bomb shelters.
"It is surreal to live here and look out the window to see rockets flying across the sky," said Zwick.
The 42-year-old city employee has lived his whole life in Ashdod. For decades, he endured the siren-and-shelter routine as the price of staying in a community he loves. But now that he is a father, the grinding routine of menace, not to mention the flare-ups of war, is taking a toll.
"It feels different now," he said. "Look, I'm really a person of peace. I feel sorry for the public in Gaza, that we all have to live like this. But I really don't see the solution."
- - -
The Washington Post's Shira Rubin in Tel Aviv and Hazem Balousha in Gaza City contributed to this report.