Austin: US drawdown in Afghanistan 'slightly ahead' of schedule
By
Stars and Stripes
May 27, 2021
---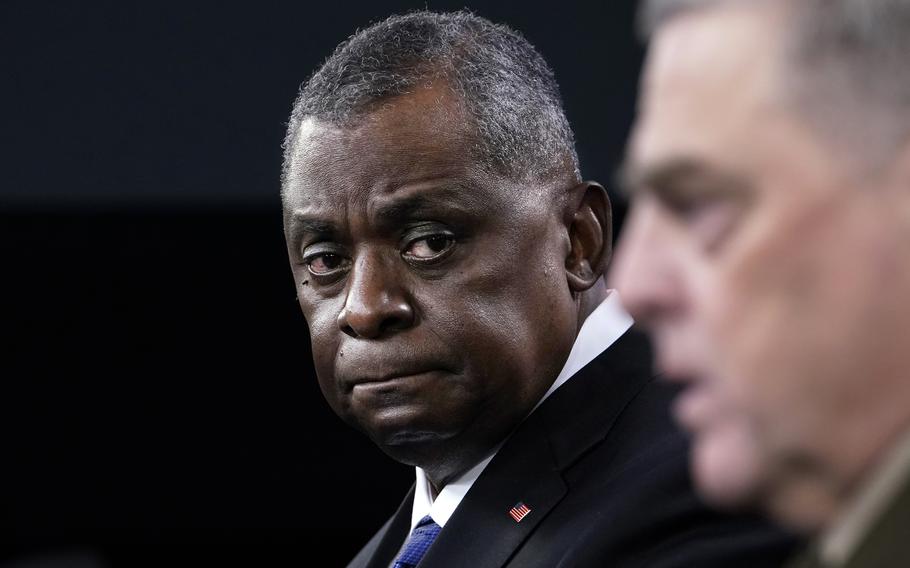 The U.S. drawdown from Afghanistan is 'slightly ahead' of schedule, Defense Secretary Lloyd Austin told lawmakers Thursday, as the military worked to remove all its forces from the country where it has fought for nearly two decades.
Austin provided no additional details about the drawdown effort in Afghanistan, where U.S. troops have remained since first invading in October 2001 just weeks after the 9/11 terrorist attacks on the United States. He offered the update on the withdrawal that began May 1 and are scheduled to be complete by Sept. 11 during a hearing Thursday before the House Appropriations Committee's defense subpanel.
"We accomplished the mission for which our troops were sent to Afghanistan," Austin said in his opening remarks. "I am proud of that and of the brave men and women who made it possible, and those who gave their lives for that mission."
Austin testified Thursday alongside Army Gen. Mark Milley, chairman of the Joint Chiefs of Staff, in the hearing called ostensibly to review the Pentagon's fiscal year 2022 budget request. But the hearing lacked specifics of that forthcoming spending plan, which is set to be unveiled by the White House on Friday.
The Defense Department will request some $715 billion in President Joe Biden's first federal budget proposal, which would keep Pentagon spending essentially at the same levels as it was under former President Donald Trump. News reports on Thursday, including from The New York Times and The Washington Post, revealed Biden's federal budget request would call for a total of some $6 trillion, among the largest White House budget requests since World War II — accounting for inflation — and dwarfing Trump's roughly $4.8 billion request last year.
While Biden's increases on domestic discretionary spending will be welcomed by congressional Democrats, some liberal lawmakers have encouraged the president to significantly cut defense spending. Republicans, meanwhile, have called for increased Pentagon spending, based in part on a 2018 Congress-mandated study that called for yearly increases of 3% to 5% in defense spending to retrain military advantages over power rivals China and Russia.
Rep. Ken Calvert of California, the top Republican on the House subpanel, said Thursday that he was "greatly concerned" a flat budget would slow the U.S. military's modernization efforts, which Austin and Milley listed among the Pentagon's top priorities.
The defense secretary defended his budget request as "adequate" in preparing the U.S. military for a future fight against a peer adversary, including China. Austin has labeled China as the Pentagon's "pacing threat" as Beijing works to modernize its own forces aimed at reaching parity with American military power in the coming decades.
Milley said the 2022 budget request "would bias the future over the present [combat readiness] slightly."
Austin and Milley said Thursday that the 2022 budget request calls for the Pentagon's largest research, development, testing and evaluation budget in its history, investing heavily in future weapons and cutting-edge programs including hypersonic weapons, artificial intelligence, long-range fires, modernized nuclear weapons and missile defense capabilities. The defense leaders did not reveal precisely how much that budget would increase over the 2021 proposal, which last year was billed as the Pentagon's largest-ever RDT&E request.
Austin said the 2022 budget would also include a funding proposal to aid the U.S. military in watching Afghanistan after its troops have left the country.
"Our budget will help us develop the over-the-horizon capability we need to ensure that terrorist attacks on our homeland can never again emanate from that country," Austin said, adding the only American troops who remain in Afghanistan will be confined to a small contingent to guard U.S. diplomats in Kabul.
U.S. officials have repeatedly talked about the "over-the-horizon" capabilities that they intend to keep near Afghanistan as they seek to ensure terrorist groups — such as al-Qaida and the Islamic State — do not find safe harbor in the country. But, to date, no one has publicly detailed what specific capabilities they hope to retain near Afghanistan after the drawdown is completed.
U.S. Central Command said this week that the drawdown was between 16% and 25% complete about one month into the operation. Officials said the United States had turned over five bases to Afghan security forces, shipped 160 "C-17 loads of material" from Afghanistan, and identified more than 10,000 pieces of gear for destruction.
Defense officials have declined to say how many troops remain in Afghanistan. More than 2,500 had been in the country when Biden announced last month that he would end the U.S. military's role there. No lawmakers asked Austin or Milley any Afghanistan-related questions on Thursday during the more than two-hour hearing.
Only Calvert mentioned America's longest-ever war, expressing concern in his opening comments about Biden's withdrawal decision and planning efforts to move Afghan interpreters and others who helped U.S. troops on the battlefield out of that country.
The Pentagon's chief spokesman John Kirby said Wednesday that the Defense Department was working with other federal agencies on plans to remove those Afghans, but he gave no details about that planning effort. Neither Austin nor Milley addressed the issue during the hearing.
"Many colleagues of mine are concerned specifically about the Afghan interpreters, and I share that concern, but I'm also aware there were many other individuals at great risk," Calvert said Thursday. "I look forward to hearing the department's plan to ensure they're safe."
Twitter: @CDicksteinDC
---
---
---
---