Pentagon now reports 109 troops suffered brain injuries in Iranian missile strike
by
Caitlin M. Kenney
Stars and Stripes
February 10, 2020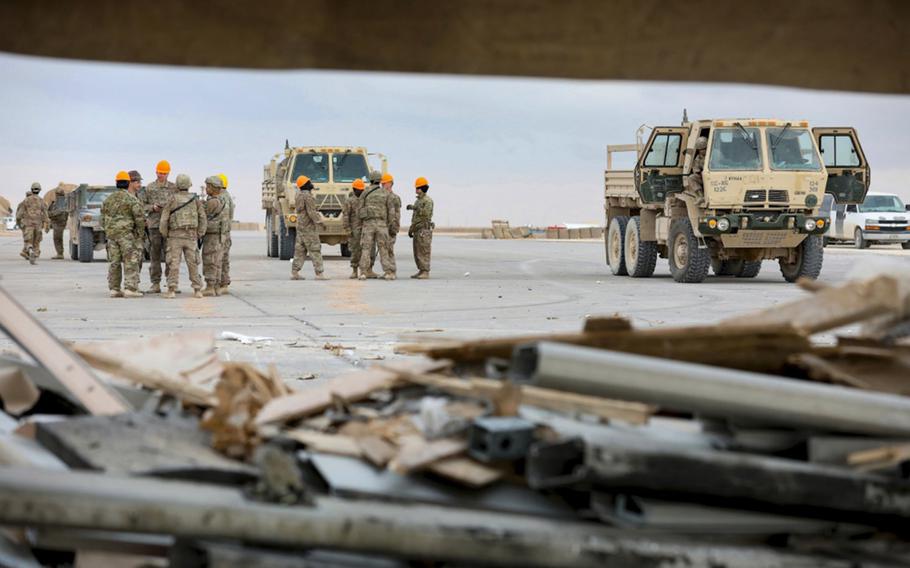 WASHINGTON — An additional 45 service members have been diagnosed with traumatic brain injuries stemming from the Iranian missile attack Jan. 8 on al Asad Air Base in Iraq, the Pentagon announced.
As of Monday, 109 U.S. troops have been diagnosed with mild cases of TBI.
The Pentagon said 76 service members have returned to duty, 75 of whom were treated in Iraq. One was transported to Germany but also has returned to duty in Iraq.
There have been 27 service members who have been transported to Germany for evaluation and treatment, six more than the previous report. Of those troops, 21 service members were sent to the United States and five are still in Germany being evaluated.
Seven service members are en route from Iraq to Germany, according to the Pentagon.
The reported number of injured troops has continued to grow in the weeks after the attack due to the nature of traumatic brain injuries, where symptoms can manifest or worsen over days and weeks. The Pentagon's statement Monday said the numbers can still change and the announcement is just a "snapshot in time."
"The Defense Department is steadfast in its efforts to deliver programs and services intended to lead to the best possible outcomes for our service members," Alyssa Farah, the Pentagon press secretary, said in a prepared statement. "We are grateful to the efforts of our medical professionals who have worked diligently to ensure the appropriate level of care for our service members, which has enabled nearly 70 percent of those diagnosed to return to duty. We must continue to address physical and mental health together."
Last month's attack came after the U.S. assassination of Gen. Qassem Soleimani on Jan. 3 in a drone strike. Soleimani, the commander of Iran's Islamic Revolutionary Guard Corps, was responsible for the deaths of American service members in Iraq and throughout the Middle East.
Pentagon spokesman Jonathan Hoffman said Feb. 3 that the individual military services determine the criteria for whether to recommend an individual for a Purple Heart medal, which is given to troops who are injured by an enemy.
Twitter: @caitlinmkenney
---
---
---