Germans strike pay raise deal for on-base workers
by
Matt Millham
June 18, 2013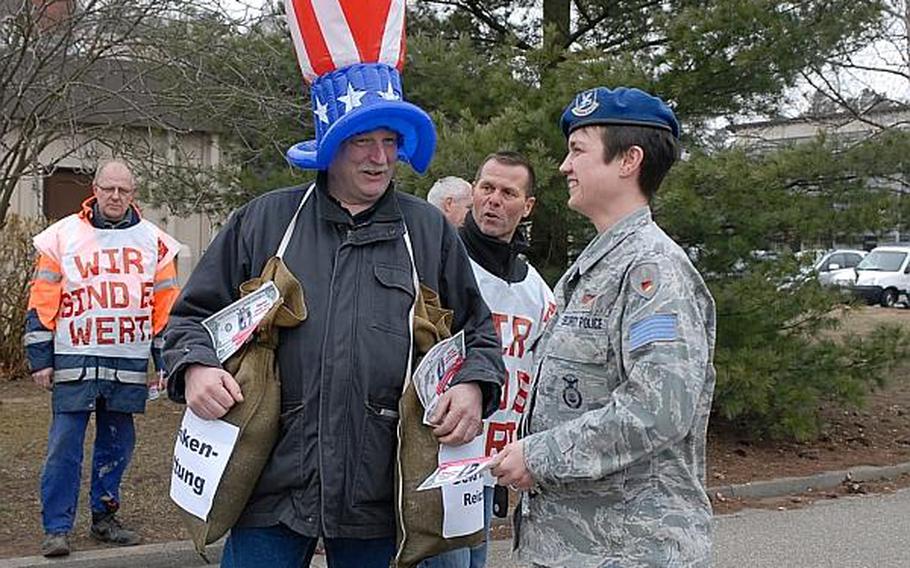 KAISERSLAUTERN, Germany — German civilians working for the U.S. military are all but assured a pay raise that includes a one-time payout to be made about the same time American defense employees in the country are furloughed.
The deal was agreed to Friday by negotiators representing the German workers and foreign militaries in the country, who employ about 22,000 local nationals, according to ver.di, the union representing the workers.
According to a statement on the union's website, the deal would see the workers' pay increase 30 euros a month starting January 2014. In addition, they would get a one-time 500-euro payment sometime in July and an additional holiday, Dec. 31.
The deal "will become final on 2 July" if there are no objections to the deal on either side, said Mark Ray, a spokesman for U.S. Army Europe, which represented the U.S. and other foreign forces in the negotiations.
"The comment period typically expires without anybody raising any issues," Ray said. "So we expect that to happen in this case."
Jürgen Dehnert, a ver.di spokesman, said approval of the deal at this stage is little more than a formality.
The raise will be the first in three years for the German workers, roughly 18,000 of whom work for U.S. forces at Army and Air Force bases across the country. Another 4,000 work for British, French, Canadian and Belgian forces based in Germany.
Ver.di had sought a 5.5 percent pay raise for the workers, and in a statement said the 30 euros per month raise for regular employees and 15 euros per month for apprentices was a "success," but that it might not keep pace with inflation.
As expected, news of the deal raised the hackles of some American employees of the Defense Department in Germany, who have also endured years of pay freezes and now face a summer of furloughs that will reduce their pay by 20 percent for 11 weeks beginning the week of July 8.
The deal, hammered out days after the latest in a series of strikes held by German workers demanding higher pay, has led to some hard feelings, "but it's misdirected at the local workforce," said one American worker, who did not want to be identified because she was afraid of losing her job for speaking out.
The problem, she said, is that the Defense Department is going ahead with the furlough of American workers at the same time it is giving raises to foreign workers.
"I would say the main thing it's doing is, it's eroding our trust in our government," she said.
Stars and Stripes' Marcus Klöckner contributed to this report.
millham.matthew@stripes.com Twitter: @mattmillham