Aviano airman guilty of attempted murder in stabbing of fellow airman
by
Kent Harris
December 12, 2017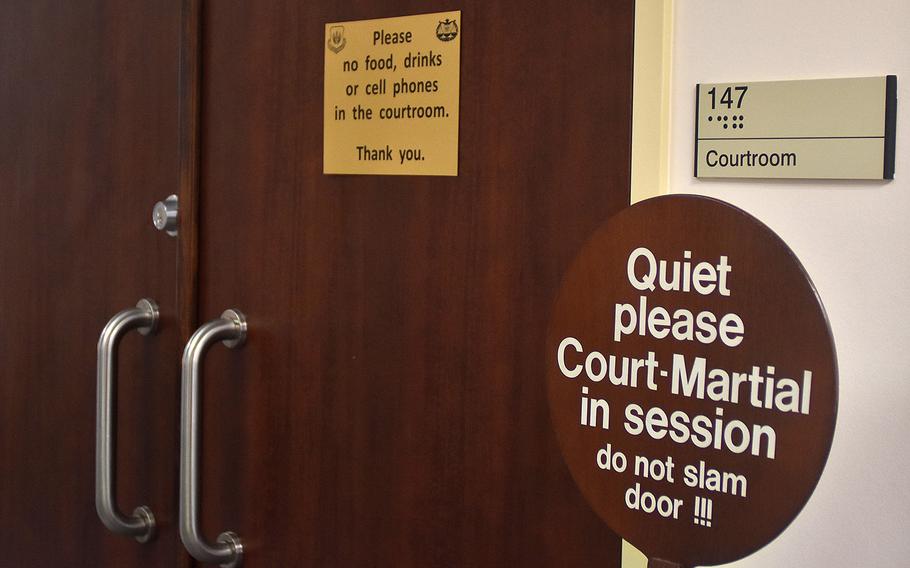 AVIANO AIR BASE, Italy – An airman who stabbed another airman in her dorm room was sentenced to 18 years in prison at a court-martial Tuesday.
Lt. Col. John Harwood, an Air Force judge, found Airman Cameron A. Owens guilty of attempted murder, aggravated assault, unlawful entry and conduct prejudicial to good order and discipline.
Harwood found Owens not guilty of a charge of breaking and entering.
Harwood could have sentenced Owens to life in prison without parole. But he decided on a lesser term, along with reduction in rank to E-1, forfeiture of all pay and a dishonorable discharge. Owens will be credited with 245 days of confinement in Italian and American custody.
Owens' conviction stems from an early morning attack on a 21-year-old airman sleeping in her dorm room on April 11.
The victim was the lone witness the prosecution called during the sentencing phase of the trial Tuesday morning.
Under questioning from Maj. Christine Norton, one of three prosecutors working the case, she said she still feels pain whenever she eats, is left with facial scarring and has trouble sleeping.
"It was the most terrifying thing I've ever experienced," she said. "I was thoroughly convinced these were my last moments."
The woman, who is now stationed at another Air Force base, said she believes she will be haunted by the crime for life.
"As much as I want to forget about what happened to me ... I will be constantly reminded," she said. "Every time I look in the mirror, I will see the scars."
Norton called for a sentence of 20 years in prison, reduction in rank to E-1, forfeiture of all pay and a dishonorable discharge.
She called the case "the stuff of nightmares" and said it's possible it has shaken other airmen's faith in their service and their safety in their own dorm rooms.
"There were guards at the gate and airmen surrounding her, and still, she was not safe," Norton said.
Owens presented an unsworn statement to the judge following his conviction Tuesday morning.
He apologized to his victim and the Air Force and said he couldn't provide a motive for his actions, which both the defense and prosecution labelled, "odd, random and bizarre."
"I wish I could take it back," he said. "What [the victim] experienced is something that no one should have to experience."
Owens said he "can't explain all the actions that happened that night, say what happened. I wish I could."
His statement followed emotional testimony by his mother, Stephanie, who said his actions that day were "not the person I've known for 18 years. And raised. And love unconditionally."
Under questioning by Maj. Jacob Ramer, one of Owens' two defense attorneys, Owens' mother said she permanently separated in 2006 from her Army husband, who was "physically and emotionally" abusive to her and her four children. Owens and his three younger siblings were placed in foster care for several months before his mother regained custody and then moved to another state.
She said after the family's relocation her son had "thrived" and later added he has "never been a violent person."
Capt. Andrew Paulson, Owens' other defense attorney, asked Harwood for a sentence of four years in prison. He argued that Owens deserved to be punished, but that he had no prior criminal history and no history of drug use or mental health issues.
A longer sentence would hamper his chances of being a productive citizen after his release, Paulson said.
After three days spent on pretrial motions and three more on the prosecution's case, the defense called its lone witness Monday morning.
Kenneth Moses, a former San Francisco police investigator and director of an independent crime lab, testified about blood patterns found at the scene.
His testimony was part of a broader attempt by the defense to argue that while Owens carried out the attack, he didn't mean to kill his victim, whom he had never met.
Ramer later argued during his closing that the prosecution never established a motive for the attack and so couldn't prove an intent to murder. He called a prosecution theory that Owens was potentially looking for another airman who had days earlier rebuffed his romantic advances "preposterous and nonsense."
In his rebuttal, prosecutor Maj. Brent Jones said the government didn't need to provide a motive.
Jones said that if he walked over to the exchange, grabbed a knife and stabbed someone, no motive would be needed to convict him of a crime.
Earlier, in his closing arguments, Jones criticized the defense argument that Owens was just wandering around a dorm building he didn't live in early in the morning, routinely entering rooms he didn't have permission to visit, with no intent to do anything wrong.
"He just happened to stab someone in the face while she was sleeping. Accidentally. You know how that sounds? Ridiculous."