Anti-omicron booster delivered to Ramstein; doses on the way to Army bases in Europe
By
Stars and Stripes
September 22, 2022
---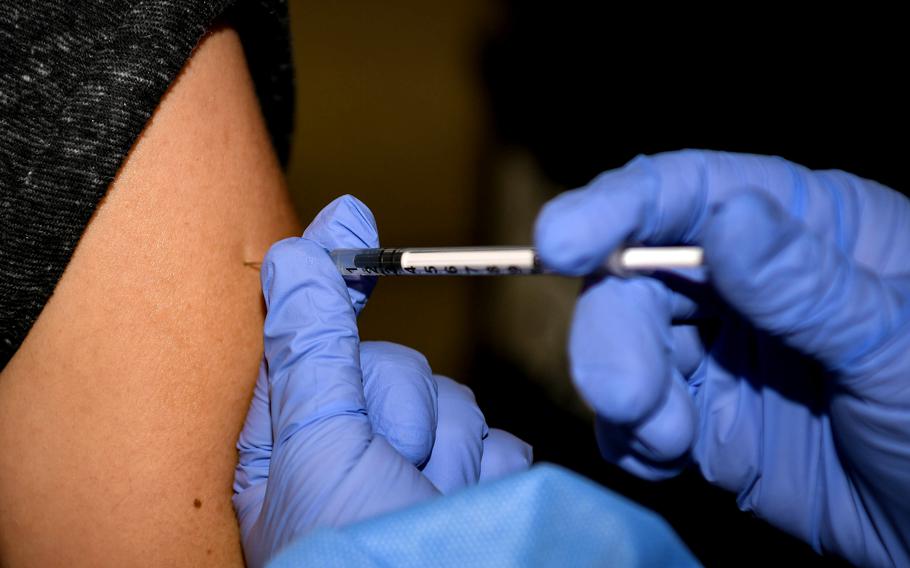 Stars and Stripes is making stories on the coronavirus pandemic available free of charge. See more stories here. Sign up for our daily coronavirus newsletter here. Please support our journalism with a subscription.
KAISERSLAUTERN, Germany — Booster shots specific to the omicron variant of the coronavirus are starting to arrive at U.S. military bases in Europe, and appointments are being offered to eligible people in the largest American military community abroad.
Ramstein Air Base, near Kaiserslautern, is one of the first installations on the Continent to begin providing authorized bivalent COVID-19 boosters, which offer protection against the BA.4 and BA.5 omicron subvariants.
The base received thousands of Pfizer booster vaccine doses Tuesday, base spokesman Ronald Jung said. The first appointments start next week, from 3-3:45 p.m. Tuesday and Wednesday, according to the schedule.
As of Thursday afternoon, a few appointments were still available. Slots can be booked at the Defense Health Agency online appointment portal, https://informatics-stage.health.mil/COVAX/.
The shots will be administered at Ramstein immunizations, on the first floor of Building 2114.
In addition, thousands of doses of Moderna's omicron booster are expected to arrive soon, Jung said Wednesday, adding that Ramstein does not expect any vaccine supply shortages.
Pfizer's updated booster is approved for people age 12 and older, and the new Moderna shot is for people 18 and older. All eligible Defense Department personnel in the Kaiserslautern Military Community may get vaccinated at Ramstein, officials said.
Soon, however, eligible people living elsewhere in Europe will have more booster options.
The Army received its initial shipment of the shots, and its clinics in Europe are finalizing vaccination plans and schedules, which should be announced within the next two weeks, said Kirk Frady, a spokesman for Regional Health Command Europe.
Some bases may offer both the COVID-19 booster and the influenza shot at upcoming vaccination events, since both can be administered at the same time, Frady said.
Defense Department health officials did not immediately respond to a query Thursday about when the booster is expected to be available at Navy bases in Europe. When available, the shots will be given by appointment, health officials said earlier this month.
The new shots target the original coronavirus strain as well as BA.4 and BA.5, the omicron subvariants that the U.S. Food and Drug Administration says people stateside are catching the most.
The variants are prevalent in Europe, too, and are predicted to continue circulating this fall and winter.
People are eligible for the new booster two months after they've been fully vaccinated with either Johnson & Johnson's original one-shot regimen or the two-shot primary series from Pfizer or Moderna, or two months after receiving any booster shots related to those vaccines.
The Centers for Disease Control and Prevention says that the original Pfizer and Moderna COVID-19 vaccines are no longer authorized as booster doses for ages 12 and older.
Stars and Stripes reporter Alison Bath contributed to this story.
---
---
---
---