Ukraine sees grain export starting soon as Zelensky visits port
By
Áine Quinn, Salma El Wardany, Volodymyr Verbyany
Bloomberg
July 29, 2022
---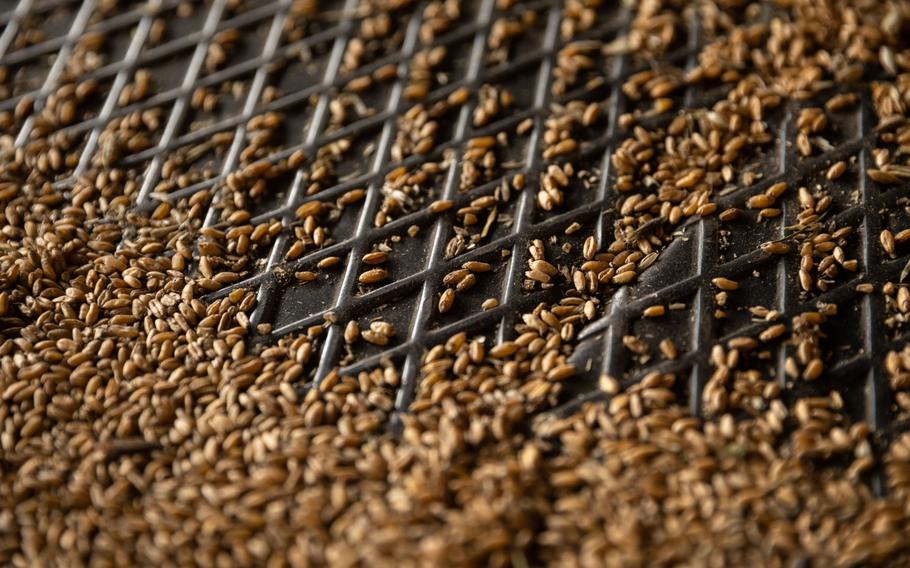 Ukraine said it is close to restarting grain shipments, although the timing will depend on go-ahead from the United Nations, which helped broker last week's deal, and there were still few details available about how the process will unfold.
"Our side is fully ready," Ukrainian President Volodymyr Zelensky said in the Odesa region, where he was watching grain being loaded onto a Turkish ship at Chornomorsk port.
Crop markets are watching closely for concrete moves toward unlocking the millions of tons of grain that have been piling up in Ukraine, which is one of the biggest wheat, corn and vegetable-oil suppliers. The war has shaken the food trade and spurred warnings about a global crisis, while the country is under pressure to resume exports to boost its war-devastated economy. Its farmers have also warned they are running out of space to store crops.
There have been incremental signs of progress: Ukraine's Sea Ports Authority told companies that a small test boat would sail on Friday, and a group of insurers set up a program to cover cargoes of food from Ukraine -- a key step as insurance has been seen as one of the big challenges to shipments. However it's been a week since the agreement was reached between Russia, Ukraine, Turkey and the UN, and some traders and exporters said they were still waiting for information about how and when vessels will depart.
"The infrastructure minister is in direct contact with the Turkish side and the UN, we are waiting for their signal that we can start," Zelensky said.
The ships will need to navigate through safe pathways through the mined seas and Infrastructure Minister Oleksandr Kubrakov told reporters that Ukraine was hoping to receive confirmation on Friday from the UN about the corridors. Shipments can only happen when "procedures are clear and the parties in the Joint Coordination Committee have agreed to those movements," UN Under-Secretary-General Martin Griffiths said at a briefing late Thursday.
A successful resumption of grain and oilseed shipments from Ukraine is seen as key to easing a global food crisis, but many analysts and western officials have been skeptical about whether last week's deal can be implemented. Shipowners are facing a myriad of challenges including getting insurance and recruiting crews to operate the ships as safety concerns remain. Russia's attack on Odesa's sea port with cruise missiles hours after signing the deal also raised questions about its commitment.
A group of G-7 ambassadors to Ukraine and their Turkish colleague were in Odessa Friday "to demonstrate that the world will be watching," the U.K Ambassador to Ukraine Melinda Simmons said in a tweet.
The Sea Ports Authority told companies at a meeting on Thursday that a small test boat would sail today, said Shota Khajishvili, the co-founder of Risoil, which operates a terminal at Chornomorsk port. Khajishvili said he had two ships ready that he was hoping could sail on Saturday if the test run goes to plan. A trader who has a shipment waiting to depart at the same port said separately they had also been notified about Friday's test, while asking not to be identified discussing private dealings.
Both Ukraine's sea port administration and Infrastructure Ministry didn't immediately reply to requests for comment. Ukraine's military authorities declined to comment.
Ascot Group is leading a group of insurers in offering up to $50 million of cover for grain and food cargoes from Ukraine's ports. The program was put together by Marsh, the world's largest commercial insurance broker.
"The creation of this facility is an important step in releasing crucial grain supplies from Ukraine," said Marsh Global Head of Marine and Cargo Marcus Baker. Cargo insurance is just one leg of what will required to get shipments to market, he said, as hull war insurance will also be needed.
Kremlin spokesman Dmitry Peskov said on Friday that the agreement to unblock exports depends on easing restrictions on the export of Russian grains, fertilizers and other agricultural commodities- though Russia has continued shipping big volumes of wheat since the war began.
Bloomberg's Daryna Krasnolutska, Alaric Nightingale and Abdel Latif Wahba contributed to this report.
---
---
---
---