German purchase of nearly three dozen F-35s from US cleared by State Department
By
Stars and Stripes
July 29, 2022
---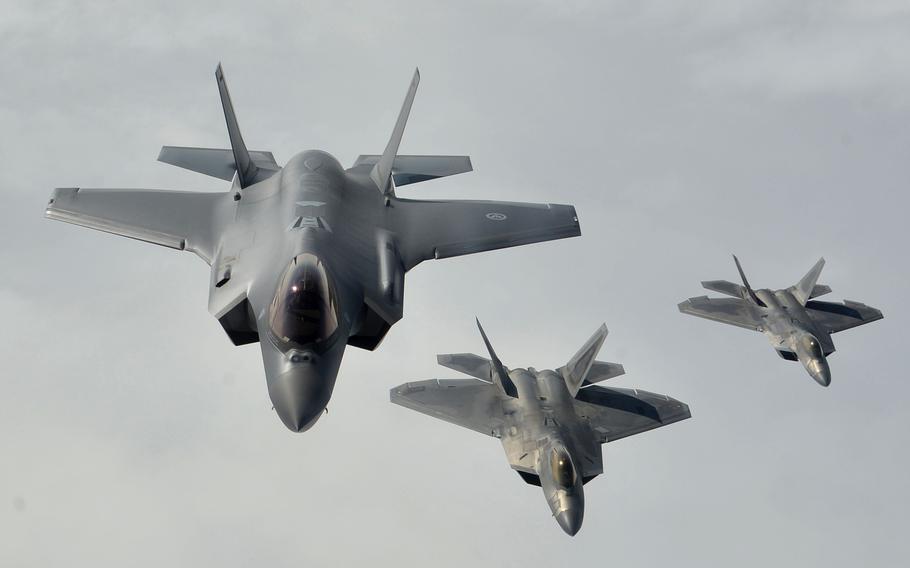 An $8.4 billion deal to sell a fleet of F-35 Joint Strike Fighters to Germany along with a supporting arsenal of missiles and munitions has been greenlighted by the U.S. State Department.
The deal for 35 planes still requires final approval from Congress, a formality that will clear the way for Berlin to make one of its most significant military upgrades in years.
"The proposed sale will improve Germany's capability to meet current and future threats by providing a suitable replacement for Germany's retiring Tornado aircraft fleet in support of NATO's nuclear sharing mission, the centerpiece for deterrence in Europe," the department said in a statement Thursday.
Earlier this year, the German government announced its desire to acquire the stealthy jets, which it plans to station at Buechel Air Base. The installation in southwestern Germany's Eifel region is about 40 miles from the U.S.-operated Spangdahlem Air Base.
The base is a central part of NATO's nuclear sharing mission, which involves American B-61 nuclear weapons at certain locations in Europe. Reports over many years saying that U.S. nuclear bombs are stored at Buechel were inadvertently confirmed in a 2019 NATO document.
In the event of an alliance decision to use the weapons, they would be carried by nuclear-capable aircraft, such as the F-35.
Germany's decision to acquire the F-35 is part of a roughly $100 billion planned upgrade to its military that Chancellor Olaf Scholz announced in the aftermath of Russia's unprovoked full-scale invasion of Ukraine in late February.
The F-35s, made by Lockheed Martin, are expected to be delivered to the German air force by 2026.
"This proposed sale will support the foreign policy and national security of the United States by improving the security of a NATO ally that is an important force for political and economic stability in Europe," the State Department said.
---
---
---
---