Air Force dining facility at Ramstein reopens after $7M facelift begun just prior to pandemic
By
Stars and Stripes
July 19, 2022
---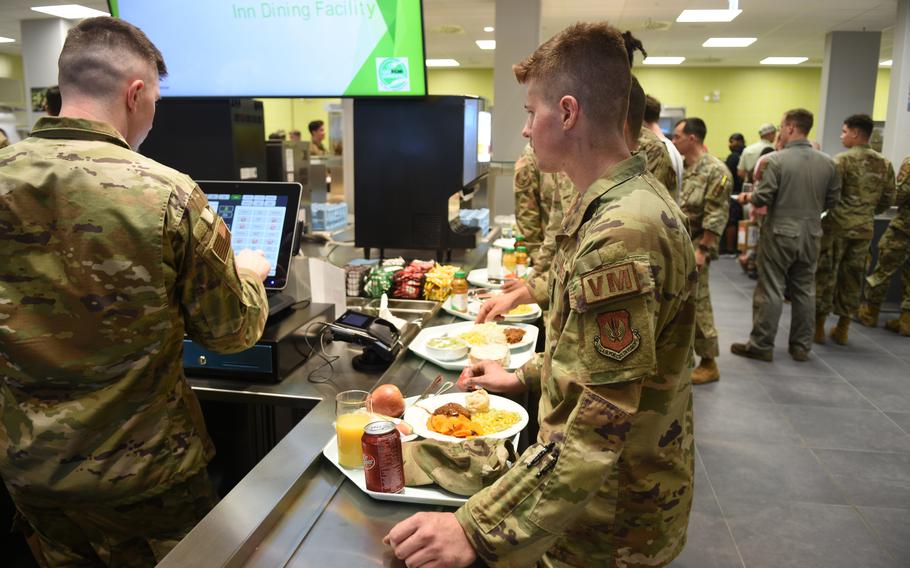 RAMSTEIN AIR BASE, Germany — A crowd of airmen gathered in eager anticipation Monday outside the Rheinland Inn Dining Facility as the smell of dinner cooking wafted through the air for the first time in more than two years.
The cafeteria, which was built in the 1950s and primarily serves enlisted airmen living in the dorms, closed in January 2020 for major renovations, during which it received a modern facelift.
A bistro-style eating area with bright-green walls and Germany-themed artwork, Wi-Fi, flat-screen televisions, air conditioning and state-of-the-art kitchen appliances were among the upgrades.
Airmen who packed into the dining hall shortly after the doors opened Monday were hungry and eager to see the changes, several said.
"I like the colors inside, the aesthetic," said Airman 1st Class Khalil Content, who works nearby for the 450th Intelligence Squadron. "Especially after COVID, (it's nice) to mingle more, see each other and enjoy some good food."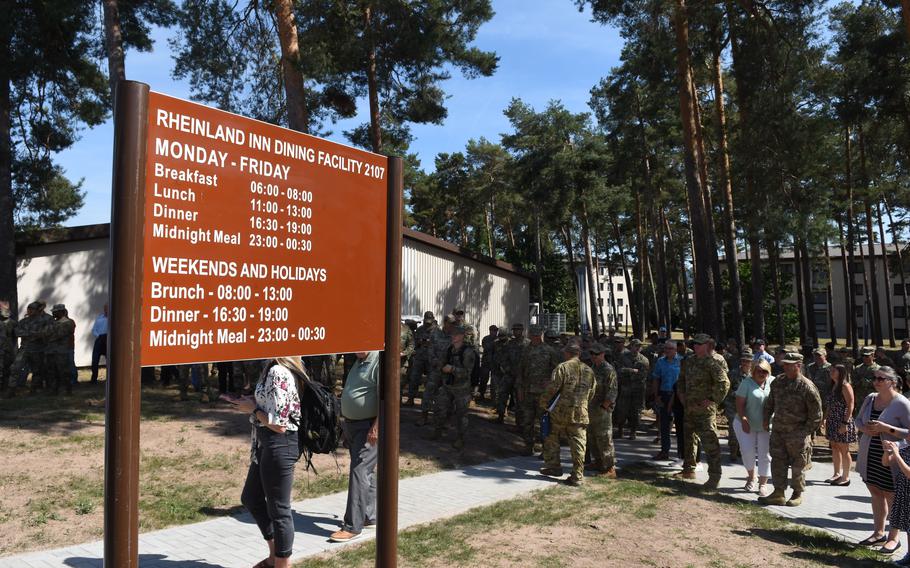 And Airman 1st Class Jack Thomas Ledger said he appreciates the convenience of the facility, which will allow him to incorporate breakfast into his morning routine of getting up early and going to the gym.
"I'd just starve myself until lunch" because there were no healthy breakfast options around, Ledger said.
Base officials celebrated the reopening with a ribbon cutting, cupcakes and a balloon arch outside the entryway. Before airmen could eat, however, a few speeches were given, punctuated by balloons popping in sweltering summer heat.
"I think we took this building down to about one wall, and with just over $7 million, we rebuilt it," said Col. Amy Glisson, 86th Mission Support Group commander. "That's a huge amount of teamwork to do it."
All Defense Department ID card holders and their immediate family members, including retirees, are authorized to use the facility, which seats 264, base officials said.
But the dining facility's primary customers are the approximately 1,200 airmen who live in Ramstein's dorms, said Lt. Col. Matthew McWhirter, 786th Force Support Squadron commander.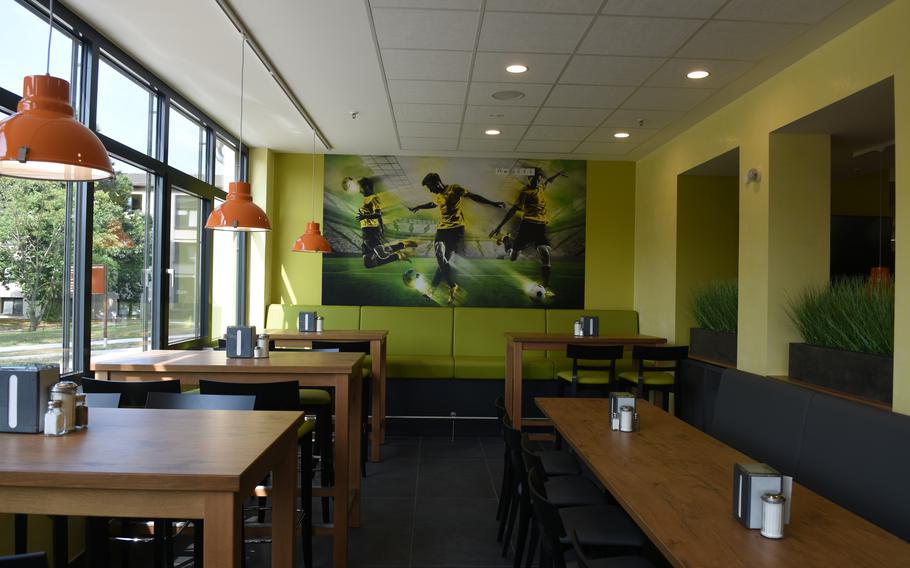 "The majority of buildings around here are where the dorm airmen are at, so it's a short walk," he said. "And with the four meal periods, it gives them options to come when they can."
On weekdays, the facility serves breakfast from 6 to 8 a.m., lunch from 11 a.m. to 1 p.m. and dinner from 4 to 7 p.m. From 11 p.m. to 12:30 a.m., it offers a midnight meal for shift workers.
Weekend and holiday hours vary slightly, with brunch served from 8 a.m. to 1 p.m., dinner from 4:30 to 7 p.m. and the same hours for the midnight meal. Carryout is also available.
Prices are in dollars, and orders are a la carte. Credit cards are accepted. Beginning Aug. 1, the meal card system will be in place, allowing participating airmen to swipe their ID card instead of exchanging money at every meal.
But there was one downside for many airmen to the reopening of the dining hall: smaller paychecks.
That's because they no longer receive a boost in basic subsistence allowance to compensate for the absence of the dining hall. At one point, the monthly rate was $700.
"It was a little dagger to the heart to lose it because you don't realize how much you're actually getting until you don't get it anymore," Content said.
But on the flip side, that situation was a recipe for gaining weight, he said, adding that it will be easier to eat more nutritiously at the dining hall.
Most of the time, at least.
"I'm ready for some lobster tail and some steak," he said.
---
---
---
---